Tesla Charging Station in China
The Tech Industry is very cozy with the Chinese government and not just because iPhones are cheaper to make there. Tech companies willingly participate in Chinese government censorship and suppression of their citizens. Tech companies know that most laptops, cell phones, televisions, and other electronic devices that they sell all over the world regularly report user data back to their masters in China but have no problem with this as long as the get their financial cut.
Governments in the United States are tinkering with the idea of mileage taxes which have rightly raised the specter of government tracking your every movement—which my cell phone and health band already do.
Now this from China.
SHANGHAI (AP) — When Shan Junhua bought his white Tesla Model X, he knew it was a fast, beautiful car. What he didn't know is that Tesla constantly sends information about the precise location of his car to the Chinese government.

Tesla is not alone. China has called upon all electric vehicle manufacturers in China to make the same kind of reports — potentially adding to the rich kit of surveillance tools available to the Chinese government as President Xi Jinping steps up the use of technology to track Chinese citizens.

More than 200 manufacturers, including Tesla, Volkswagen, BMW, Daimler, Ford, General Motors, Nissan, Mitsubishi and U.S.-listed electric vehicle start-up NIO, transmit position information and dozens of other data points to government-backed monitoring centers, The Associated Press has found. Generally, it happens without car owners' knowledge.

And critics say the information collected in China is beyond what is needed to meet the country's stated goals. It could be used not only to undermine foreign carmakers' competitive position, but also for surveillance — particularly in China, where there are few protections on personal privacy. Under the leadership of Xi Jinping, China has unleashed a war on dissent, marshalling big data and artificial intelligence to create a more perfect kind of policing, capable of predicting and eliminating perceived threats to the stability of the ruling Communist Party.

China's electric vehicle monitoring raises surveillance fear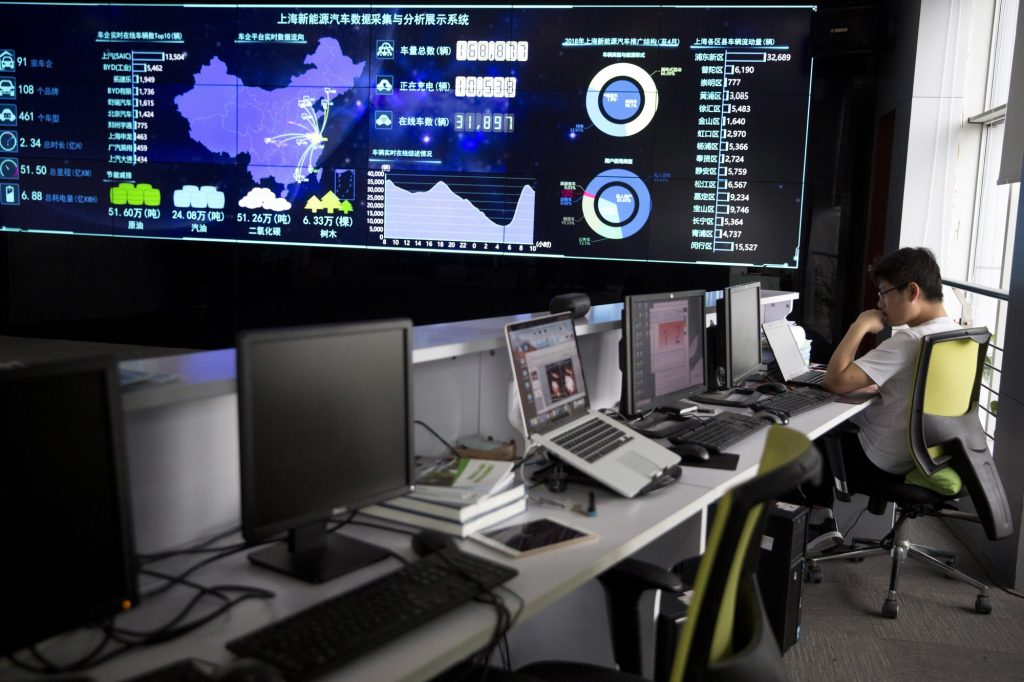 Oh, remember all those self-driving cars the utopian folks here in California want to unleash on the public? The article addresses that too:
There is also concern about the precedent these rules set for sharing data from next-generation connected cars, which may soon transmit even more personal information.

Many vehicles in the U.S., Europe and Japan transmit position information back to automakers, who feed it to car-tracking apps, maps that pinpoint nearby amenities and emergency services providers. But the data stops there. Government or law enforcement agencies would generally only be able to access personal vehicle data in the context of a specific criminal investigation and in the U.S. would typically need a court order, lawyers said.

Automakers initially resisted sharing information with the Shanghai monitoring center; then the government made transmitting data a prerequisite for getting incentives.

"The automakers consider the data a precious resource," said a government consultant who helped evaluate the policy and spoke on condition of anonymity to discuss sensitive issues. "They gave you dozens of reasons why they can't give you the data. They give you dozens of excuses. Then we offer the incentives. Then they want to give us the data because it's part of their profit."

There was concern that data pulled from electric vehicles might reveal proprietary information about, for example, how hybrids switch between gas and battery power, and eventually set automakers up for commercial competition with a Chinese government entity. As cars become more connected, carmakers are looking to tap new revenue streams built on data — a market McKinsey estimated could be worth $750 billion by 2030.

The Chinese government's ability to grab data as it flows from cars gives its academics and policymakers an edge over competing nations. China tends to view technology development as a key competitive resource. Though global automakers have received billions in incentives and subsidies from U.S., European and Japanese governments, they are contributing data to the Chinese government that ultimately serves Beijing's strategic interests.

Global automakers stressed that they share data to comply with Chinese regulations. Nearly all have announced plans to aggressively expand their electric vehicle offerings in China, the world's largest car market.

"There are real-time monitoring systems in China where we have to deliver car data to a government system," Volkswagen Group China chief executive Jochem Heizmann said in an interview. He acknowledged that he could not guarantee the data would not be used for government surveillance, but stressed that Volkswagen keeps personal data, like the driver's identity, secure within its own systems.

"It includes the location of the car, yes, but not who is sitting in it," he said, adding that cars won't reveal any more information than smart phones already do. "There is not a principle difference between sitting in a car and being in a shopping mall and having a smart phone with you."

Jose Munoz, the head of Nissan's China operations, said he was unaware of the monitoring system until the AP told him, but he stressed that the automaker operated according to the law. Asked by the AP about the potential for human rights abuses and commercial conflicts posed by the data sharing, Munoz smiled and shrugged.
If you read the American media, you'd think the real threat to our nation comes from Russia. Really?
In the 1980's, Japan was famous for saying, "Business is war". Almost 40 years later, China has raised the concept to an art form—with the support of likeminded people in America—and the stakes are not just commerce but the freedom of the world. We have never seen a global totalitarian regime rule the planet but China is positioning itself to be the first.
Those that see this as a possibility are considered nutjobs by the Liberal Elites. Donald Trump is concerned that America's dependence on China is a problem but most folks don't care as long as YouTube and Facebook are working on their cell phones.