General Motors announced that it is terminating 15 percent of its workforce. That is just over 14,000 jobs.
The cuts will eliminate more than 14,000 jobs in all, roughly 8,100 white collar positions and more than 6,000 factory jobs, according to the company.

GM to halt production at several plants, cut more than 14,000 jobs
I can't recall the last time I saw more white collar jobs cut than blue collar. Per the above article, GM is also closing several production facilities. Hardest hit at Michigan, Ohio, and Toronto, Canada.
The Detroit automaker said plants in Ohio, Michigan, Maryland, and Ontario will be "unallocated" in 2019 and it will cease operations at two additional plants outside of North America by the end of next year. It will also wind down operations at propulsion plants in White Marsh, Maryland, and Warren, Michigan.
GM is expecting the move to save the company 6 billion per year starting in 2020. Speaking of the blue collar jobs:
More than 6,200 jobs are at stake: roughly 1,500 in Hamtramck; 1,600 in Lordstown; about 2,500 in Oshawa; and a total of 645 at transmission plants in Warren in suburban Detroit and near Baltimore.

The Hamtramck plant makes the Chevrolet Volt and Impala, the Cadillac CT6 and the Buick LaCrosse. Those vehicles and other cars made at the targeted facilities will be terminated.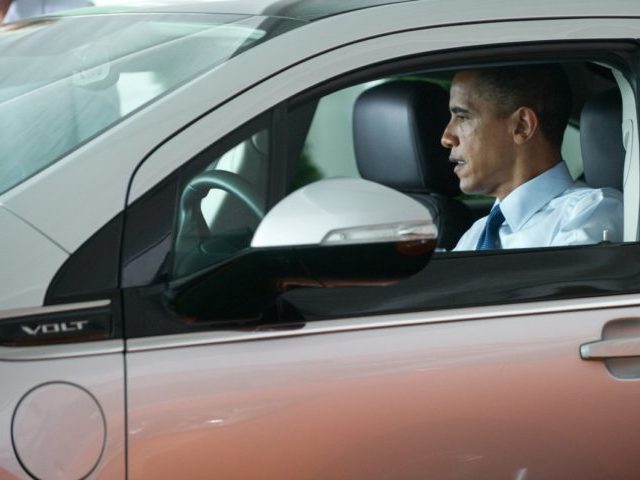 This brings us to the most sarcastic article on the subject.
Six years ago, President Barack Obama promised to buy a Chevy Volt after his presidency.

"I got to get inside a brand-new Chevy Volt fresh off the line," Obama announced to a cheering crowd of United Auto Workers activists. "Even though Secret Service wouldn't let me drive it. But I liked sitting in it. It was nice. I'll bet it drives real good. And five years from now when I'm not president anymore, I'll buy one and drive it myself."

Now it looks like Obama will not get his chance to make good on the promise. General Motors announced Monday that it would cease production of the hybrid electric plug-in Volt and its gas-powered sister car the Cruze. The announcement came as part of a larger restructuring by the car company as it seeks to focus production around the bigger vehicles in favor with U.S. consumers.

The Volt and the Cruze were two of the signature achievements of the partnership between the Obama administration and General Motors following the auto-industry bailout. Although the Volt was long-planned by GM executives, it received a lot of support from the administration. Obama described the Cruze as "the car of the future."

Watch: Six Years Ago Obama Promised to Buy a Chevy Volt. Now It Is Dead
President Trump and the United Auto Workers are on the same page about this announcement. Per CNBC:
"This callous decision by GM to reduce or cease operations in American plants, while opening or increasing production in Mexico and China plants for sales to American consumers, is, in its implementation, profoundly damaging to our American workforce," said Terry Dittes, a UAW vice president who leads negotiations with GM.
The Detroit Free Press reports:
President Donald Trump, who made keeping manufacturing jobs in the U.S. a major campaign point and promised Lordstown workers that their jobs were safe, was disappointed in the announcement.

"We don't like it," Trump said.

He said that he was "very tough" with Barra.

"I spoke with her when I heard they were closing," Trump said in response to a reporter's question specifically about the Lordstown closure. "And I said, 'You know, this country has done a lot for General Motors. You better get back in there soon. That's Ohio, and you better get back in there soon.' "
This move by GM does not bode well for Elon Musk and Tesla. General Motors decision to short-circuit production of the Volt insures that the federal government will not by subsidizing production and purchase of electric or alternative energy vehicles anytime soon. A corollary with this is that government subsidy of charging stations and electric car infrastructure is gone also.
Conclusion: the free market wins and utopian Liberals lose. Government arbitrarily picking winners and losers in the market place will get trumped by consumer choice every time.