We here at the blog have warned you; lockdowns, extra $300 a week benefits, vax vs anti-vax, and general fear would eventually lead to issues in the overall economy. You likely thought we were tin foil hat wearing wackos. Well, include Sysco as a wacko as well, or maybe they are credible?
Sysco is the largest food distributor in North America. You may recognize their trucks delivering to restaurants. Sysco provides food supplies to restaurants, jails, schools, and most concert venues or event halls. Chances are if you go out or "grab a bite" somewhere you likely are eating something from a Sysco truck. Well Sysco reported earnings earlier this week and, on the call, gave these dire warnings and I quote.
Sysco, North America's largest wholesale food distributor, which is turning away customers in some areas where demand is exceeding capacity.

U.S. Food Suppliers Are Having Trouble Keeping Shelves Stocked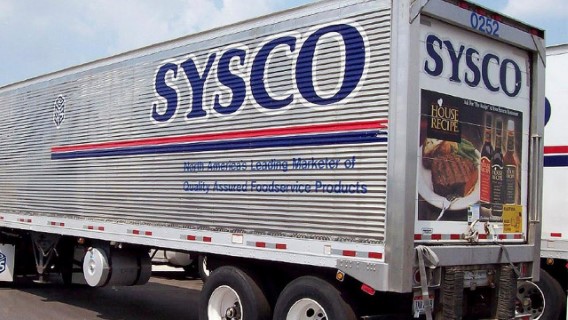 "There are certain areas across the country that are more challenged by the labor shortage and our volume of orders is regularly exceeding our capacity," Sysco Chief Executive Officer Kevin Hourican said in a letter to clients earlier this month. "This has, unfortunately, led to service disruptions for some of our customers."

Hourican's troubling observations were confirmed by an analysis from DecaData, which tracks retailer transactions with shoppers and manufacturers; it showed that retailers are bumping up against manufacturer capacity as they stockpile ahead of the holiday season. In July, the incidence of suppliers limiting or putting a cap on orders from customers was more than double what it was in January, its data show.

Largest US Food Distributor Having Trouble Keeping Shelves Stocked; Price Shock Imminent
I know what you are thinking, its one supplier, crying wolf, well united Natural Foods is another large distributor, here is what they said.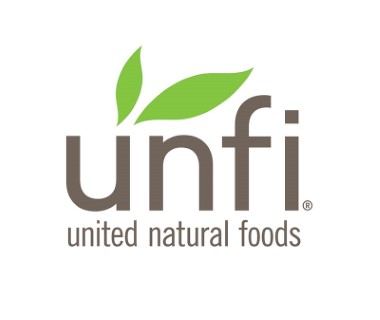 Another major distributor, United Natural Foods is having trouble getting food to stores on time. The company blamed not just labor shortages, but also delays in the procurement of some imported goods like cheese, coconut water and spices, as causing the problems.

"We anticipate additional supplier challenges in the short term with gradual improvement through the fall and winter," a United Natural Foods representative said. The company's top priority is to support customers "by working diligently to recover and bring their shelves back to normal inventory levels as quickly as possible."

U.S. Food Suppliers Are Having Trouble Keeping Shelves Stocked
Look at how desperate these corporations are to hire workers.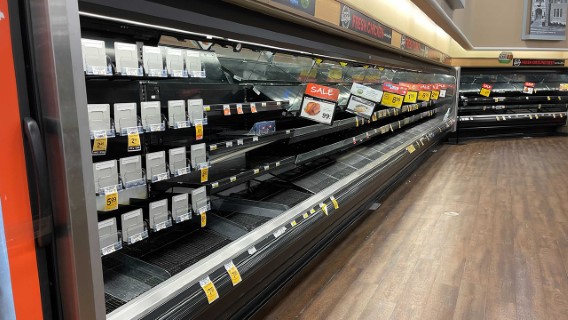 U.S. companies across industries are reporting a dearth of workers amid sweetened unemployment benefits, stimulus payments and a pandemic that has reduced the appeal of in-person employment. Houston-based Sysco is aggressively hiring warehouse workers and truck drivers and offering referral and sign-on bonuses along with retention money for current staff.

The entire food sector is seeing "massive labor shortages," Benjamin Walker, senior vice president of sales, marketing and merchandising at Baldor Specialty Foods told Bloomberg. "Service levels are the lowest I've seen in my 16-year career, and it doesn't seem like it's going away anytime soon." Finding truck drivers is "next to impossible," he said, while freight costs are rising daily. The company's orders are arriving late and consequently facing delays in being sent to customers. On the outbound side, on-time deliveries are still above 50% but have fallen from the usual rate of more than 90%.

"We all thought it would be over by now. It's just one thing after another," he said.

"This is going to be the norm for a while."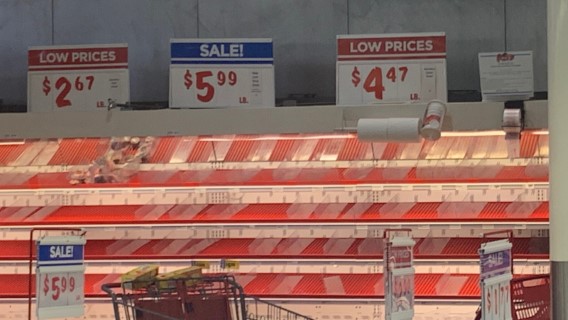 Folks get ready. In addition to menu shortages, inflation is coming to restaurants in a very big way soon. For the elite, that means they may not have a steak on the menu, for the serfs, the chicken dish you ordered; they may be out of it. The price increases hit the corporations first as they have to buy from distributors, but they are coming to a grocer near you, mark my words. You can already see it in the "ads" each week, you may notice sales prices don't seem as great anymore. You may have also heard about water and toilet paper shortages or quotas placed on how many you can buy. This is not a test or a joke people, we are facing inflation like never before seen in a millennial's lifetime. A burger (2 patties) no cheese, or bacon at Five Guys runs almost $10, that does not include fries and a coke. That price would be laughable a year or two ago, it could be a sale price in another year.
Truth be told, the labor shortage is due to a variety of things, yes, the $300 a week is a thing still and will continue to be. Also, most truckers have worked non-stop with mandatory overtime since this started, they are burned out, and want/need a family life balance. As far as the slaughterhouses/production lines for veggies etc., those workers feel the same way, and frankly the wages are not typically conducive to long term employment at one place.
In addition, the shortage of labor has been brewing for years, and our education system is to blame. I will expand on this in another blog but for years of my childhood anything other than a management desk job with stock options and 10% annual salary increases was a loser job. Actually 2 former teachers of mine impressed that on me; work at a grocery store…loser, construction…loser, truck driver…loser. Well, we know are desperate for these positions so much so hiring bonuses are being dangled, they still cannot hire folks. The reason is truck driving is a skill you need a separate license for, your regular Class C license isn't what you need. Getting a class A license takes time, and a behind the wheel test, and lots of training; the acquisition cost to a company is very high. This is not going to be a short-term fix.
A corporation as big as Sysco unable to deliver foods to some customers; and in some area's not taking new customers at all. A recipe for massive disaster. Again, I'm not citing high prices yet, its scarce availability.
The Chief