Yep, you're minding your own business and just living your life when Facebook, Linked-In, or some other social media alert is sent to you reminding you that you've been friends with Aunt Martha for ten years or Uncle Bob has been on the job for 12 years. The only problem is that you distinctly remember going to Uncle Bob's memorial three years ago or Aunt Martha met her untimely end back when you were still in high school.
In my life, I have two people that I know are dead that kept popping-up several times each year in my email alerts. I finally got mad about it and took action. The platform that I went after was Linked-In. Here's my experience. I'll use only one person as my example in this post.

George was one of my old pastors back when I was attending a now defunct parish of the Reformed Episcopal Church. When he transferred out of the area I kept in touch. He loved the Internet and social media. My only gripe with him was that he was an Apple user. Apparently when he died of a heart attack, he left no master list of accounts and passwords for his wife to delete his digital footprint.
I went to his memorial service several years ago but Linked-In kept sending me reminders on his behalf such as these.
Congratulate George XXXXXX and 2 others for work anniversaries
Congratulate George XXXXXX for 6 years at XXXXXX the XXXXXX Church
The last reminder about George was received this week. I finally got tired of these messages and contacted Linked-In. Amazingly, they actually wrote me back.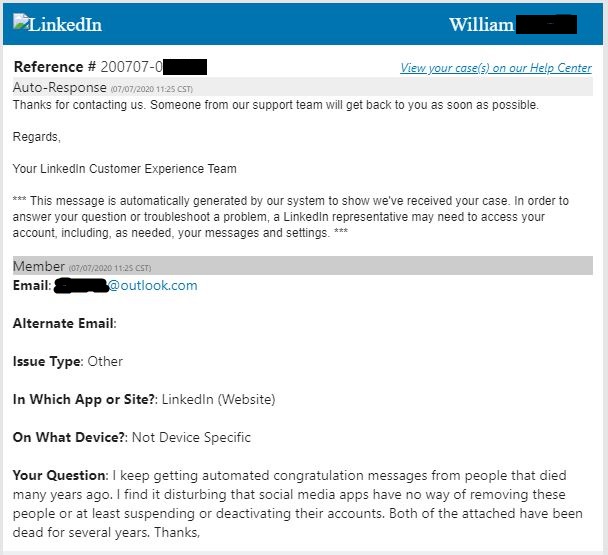 I certainly appreciate you taking the time to contact us about this.

Due to the gravity of the situation, we have a formal notification process to address the death of one of our members. Please complete the following form and we can proceed with our confirmation process:
The form was simple which surprised me; however, you do need a Linked-In account to access the form. Linked-In asked for your contact information and then that of the dead person.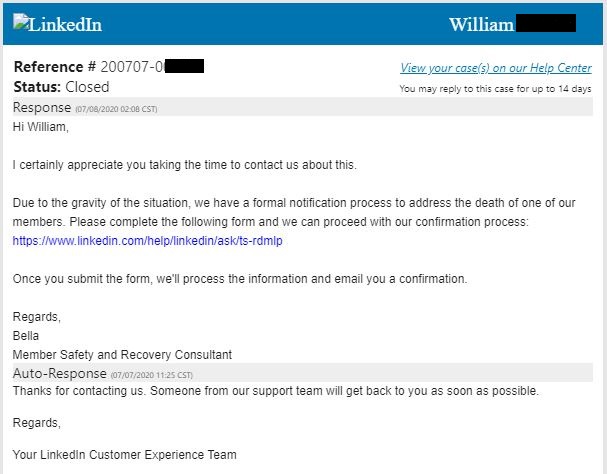 Information about the Deceased Member:
Name of the Deceased Person:
Please copy and paste the URL of the LinkedIn profile from your browser: linkedin.com/in/XXXXXXXX
Your Relationship to the Deceased Person:
Additional Information:
Email Address of the Deceased Person:
Date They Passed Away:
Link to an Obituary or Relevant News Article:
Do You Have Any Additional Information to Add?:
Digital Signature:
I submitted the form and 12 hours later I got a response that the account had been closed.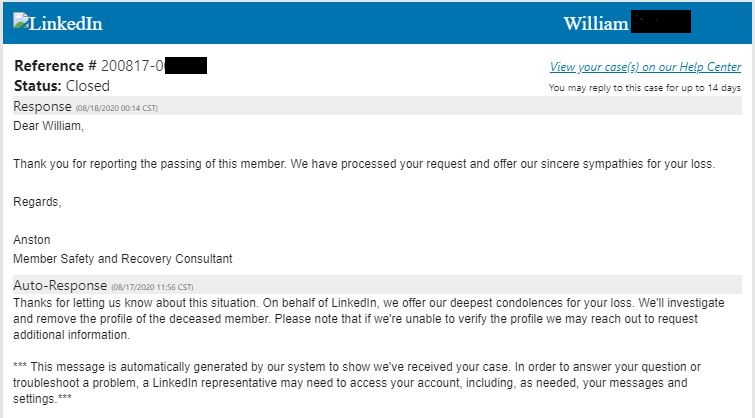 George still has active pages on Facebook and other social media locations. As recently as yesterday, I found another active account that he had opened on yet another website. George made quite an impact on me and I don't need to be reminded of his contributions, at least not by Linked-In.
If you have similar links for Facebook or other sites, I'd be glad to post them on the blog.