By Chief
Hell hath frozen over. The apocalypse may actually be happening. I woke up and read an article about Covid closures this AM and blood almost shot out of my eyes. That or I thought perhaps my bottled water was really a bottle of the sacrament provided by the "Drunken Jedi."
Folks the Los Angeles County Board of Supervisors met last night about enforcing a "zero dining" rule for all restaurants due to the Covid pandemic. Local Health director Barbara Ferrer another worthless government hack who hasn't seen a patient in decades was defending shutting down all dining, outdoor included to stem the positive tests for Covid. She backed it up with a CDC study listed below….
The Los Angeles County Department of Public Health admitted during a Board of Supervisor's meeting Tuesday that there is no hard scientific evidence linking the recent COVID-19 surge to back up their move to shut down outdoor dining.

In laying out the department's case to proceed with the recently proposed restrictions set to take effect on Wednesday, Dr. Muntu Davis said that restaurant-specific contact tracing data around the coronavirus was scarce, "as a public health department we have to look at the highest risks, and where we can reduce those risks," adding that restaurants fit the high-risk category.

Instead of specific data, the health official cited a CDC study that targeted 11 different outpatient healthcare facilities in 10 states as the "best information we have." The study found that those patients with COVID-19 were twice as likely to have dined out at a restaurant.

Los Angeles Dept of Public Health admits no science link between outdoor dining, COVID-19 spike
Yes, you read that correctly, the LA department of public health admitted the study is bunk. Imagine using a study where people weren't asked if they dined in or outdoors, just if they dined? Remember Janice Hanh? She is a former congresswoman and a very liberal one at that, she weighed in……
Supervisor Janice Hahn noted she had never seen the type of community pushback that the board has been hearing and noted that the public is "really losing faith and trust in the decisions that we're making." She questioned why the Department of Public Health wouldn't just target restaurants not following the rules rather than prohibiting all outdoor dining.
That's right folks, Hahn says the people are losing faith in their government officials, she is starting to sound like William and I.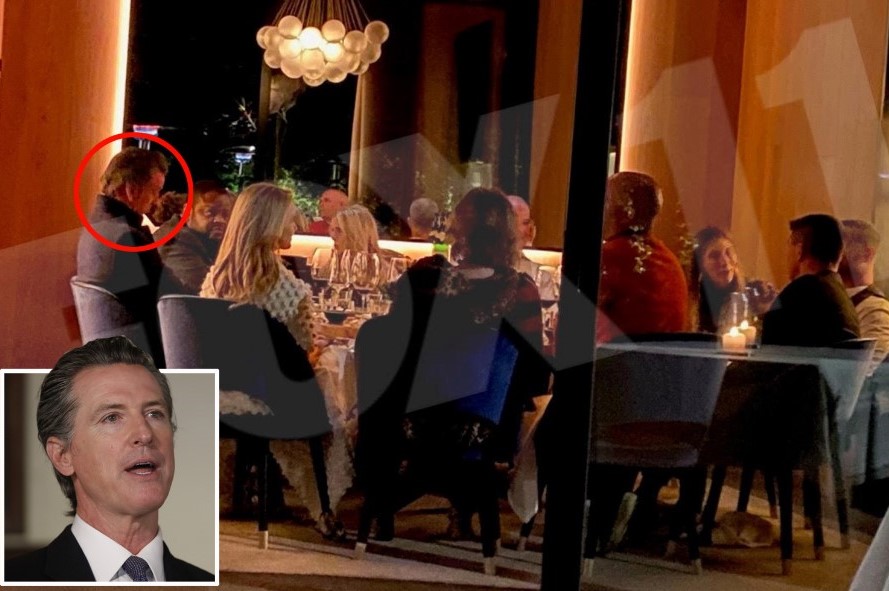 Check out Supervisor Chair Kathryn Barger's take…….
Los Angeles County Board of Supervisors chair Kathryn Barger argued during the meeting that without firm data showing that restaurants are specifically a leading cause in the spike in COVID-19 cases, she "cannot in good conscience" support the proposed modification to shut down outdoor dining on Wednesday.

"I feel that what is happening today is truly going to devastate not only the workers but their families," Barger added, saying that she felt the closures were "arbitrary and punitive."

Barger also said she believes public health panicked when the county's case numbers began to rise, and that the order is simply a "knee-jerk reaction to something that has no scientific backing to show that we are going to slow the spread."

"If anything, we have basically put a final nail in many of these restaurants coffins," she added.

While she is disappointed in the outcome, Barger said that she knows she did the right thing to push back against the order and fight for an industry that "is being targeted unfairly and and is being subjected to really unfair practice."
In actuality I think Barger is a republican but Hahn is very liberal, and she added even more….
Hahn, who was also disappointed by the outcome, stressed the need for federal financial intervention.

"It's killing me to think that at this point, a few weeks before the holidays, we are considering an order to force restaurants to maybe shut down permanently. We know they will lay off employees if they are restricted to takeout and curbside only," she said. "I really don't think that's something I want to do… We are careening down another economically tragic road."

The Los Angeles Economic Development Corporation has predicted that approximately 700,000 jobs in the food industry would be lost during the county's shutdown, and 75% of all projected job losses would affect people earning $50,000 or less.
While William and I oppose a federal government bailout, sadly with the "election" of Joe Biden, we will see many a blue state, county, city, and municipality approach him hat in hand for a bailout. We do not know the outcome, but I do not think there will be much of a stomach for congress to do this. Folks this underscores what William and I have believed since day 1, this has nothing to do with science, it has to do with politics. The government has strangled local businesses, big and small, look at Disney's parks in Southern California? Wouldn't a better take be to allow indoor, with masks and distancing, outdoor, and take out? Rather than a shutdown of all operations other than takeout? Have health service staff check on local businesses to make sure distancing, masks, cleaning etc. are being followed? I guess add a punitive option for violations. We are at a loss for words here at the blog, all we can say is stop watching so much cable people. This shutdown is based on nothing but irrational thoughts from folks who haven't a clue about how economics work. I thought we had a team of contact tracers. How come they can't do their work and find out where the spread is occurring from? The restaurants are being unfairly targeted. Wait until after 12/31 folks when the real Armageddon starts. Businesses will no longer want to "try to keep afloat" stores will close, and the eviction moratorium will need to be lifted. Were sorry but another round of treasury department loans and $1,200 checks ain't gonna cut it. Look for massive economic decay soon, perhaps the best thing to come out of this is some people's true colors; Madame Pelosi, Comrade Newsome and the Duchess of Lansing, Whitmer as well as the 90-Day Guy took a big hit. Pelosi getting a hair blowout, Newsom dining at the French Laundry, Whitmer wanting to take her boat out, and 90-Day Guy for exposing himself as a pro government shutdown liberal.
Buckle up,
The Chief