I downloaded Microsoft's Internet Explorer 7 Beta 2 yesterday. Some bugs were encountered quite soon after installation.
First, I am using MSN Messenger to manage a Hotmail account. My computer at work keeps asking me if I want to install Windows Messenger every time I check my e-mail. This never happened until I installed IE 7.
Secondly and more importantly, I can't get links on some websites to function. I tried to make my son a doctor appointment today but was unable to do it because IE 7 could not navigate on the Kaiser website.
In the first screen shot, you will see ranges of the alphabet that are clickable in previous versions of IE but will not function using IE 7.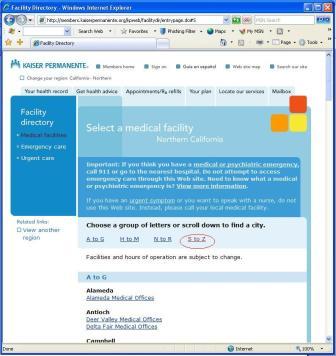 To get to this screen go http://www.kp.org
Click on A Member
Select your Region select Northern California and click continue
From pulldown menu go to Locate our services and select Facility Directory
In the second screen shot, the departments should be links to another page but they also will not work. This example can be reached by selecting Kaiser Permanente South Sacramento Medical Center.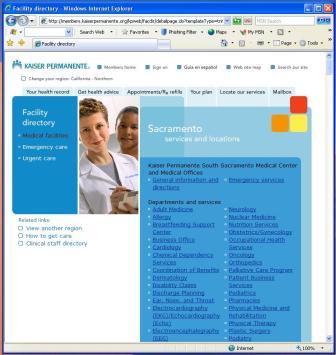 When these issued are resolved I will be sure to let my readers know the fix is available.
04-27-2006
Additional Bug
In Hotmail, when I select Print View, the window that it brings-up does not have a print icon on the menu. I found that pressing Control and P key simultaneously will bring-up this print menu.