The wife and I decided to take a trip to Ikea today to window shop and dream about making some upgrades to the house. As you can see, we were not alone.

When we arrived just before 10:30 this morning, there were hundreds of folks waiting outside to get in, plus several hundred already in the store. Oh, and about another hundred waiting outside in the return line. Yes, men, women, and children were crammed into the "cattle call" lines just to get a dose of Swedish retail therapy. Folks if you thought your last trip to Home Depot was an ordeal, you ain't seen nothin' yet.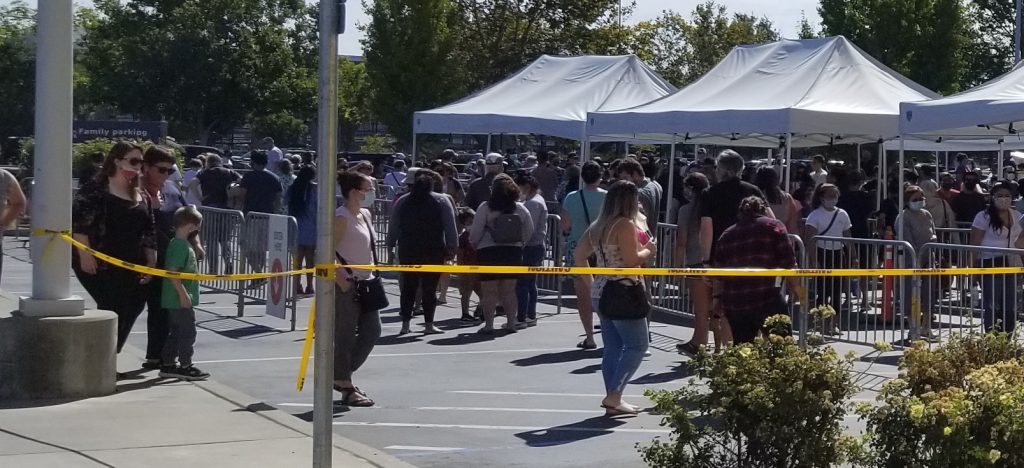 We talked to a few folks waiting in line and this is what we were told.
We spoke with a lady that was getting close to the entrance—a few dozen people away—and she had been in line for over an hour to get this far. Calculating backwards, this means she arrived shortly after nine am for a chance to get in Ikea when it opened at 10 am. FYI the line was halted because the store was at capacity and she would have to wait until some people finished shopping before more customers would be allowed to enter so she might be waiting another hour to actually enter the store.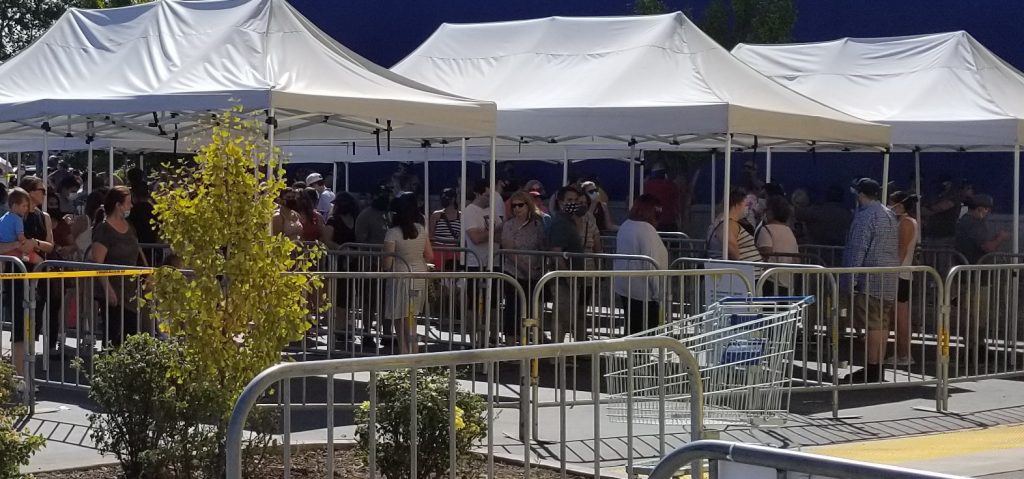 But that's nothing compared to the lady we spoke with that had just finished going thru the return line. This was her fourth day* trying to make a return at Ikea. She had driven from her home in Fairfield and arrived at 7:30 this morning. She said at 7:30 that there were already 15 people in line ahead of her. Again, Ikea opens at 10 am.
* Folks, 3 ½ round trips form Fairfield to West Sacramento is about 280 miles of driving.
As I pondered the possibilities of what to do while waiting in this ridiculously long line, I thought this might be a great place to have a church service. As you can see in the photos, much of the line is shaded by a whole series of coverings. Just put your pastor at the front of the line with his congregation behind him. Then the group could sing, pray, and listen to the sermon as they wait to enter Ikea. In the line, there's no social distancing, just face masks. The whole congregation could literally gather in one accord, at one time: to heck with the pesky 100-person limit and all the rest. Towards the end of the service, the minister could just stop advancing thru the line, stay in one spot and as people pass him, they could take Communion and give an offering.
Such a service would be more dignified than having a flash mob service at Wal-Mart or Home Depot. Such crafty skirting of Governor Newsom's bias against Christian worship would be mitigated by conducting the worship at a government approved essential business.
21st Century churches—the big ones, anyway, are big into marketing. However, I'm stumbling to create a reverential, yet marketable slogan for such a gathering. Our advertising department has rejected the following suggestions.
Mass and Meatballs.
Sacraments and Sawdust.
Preaching and Particleboard.
I Am and Ikea.
Faith and Furnishings.
Lines for Living
Anyway, if you need something to do for a few hours while we are in the midst of triple digit temperatures, try the line at Ikea.