Folks we are experiencing one of the worst droughts in the history of California and nobody living in a populated area has any clue that its unfolding. Why?
When Jerry Brown was Governor, we had certain days that we could water our yard. Water companies would pay you several thousand dollars to rip out your lawn and replace it with rocks. The media was publicizing conservation at much the same pace and intensity that they have been pushing social distancing, masks, and vaccinations during Covid yet there is hardly a word about water.
Each story of the drought is treated as a separate and unrelated event with no real consequences. However, for those of us native Californians, the conclusion is unmistakable. Below are a few examples that should cause you concern.
The state's more than 1,500 reservoirs are 50% lower than they should be this time of year, according to Jay Lund, co-director of the Center for Watershed Sciences at the University of California-Davis.

Folsom Residents Asked To Conserve Water To Combat Ravages Of Drought On Folsom Lake
Klamath River Basin
A recent AP news release was titled 'Water crisis 'couldn't be worse' on Oregon-California border'. And the unfolding historic drought is predicted to worsen.

Clearly, the growing needs for domestic water to support human needs and food production as well as wildlife habitats must not be ignored. That said, dam removal proponents are short-sighted and are merely looking to their own needs, which do not consider the big picture.

The shocking truth is that; in the middle of a record period of historic drought and 'water crisis', the governors of Oregon (Kate Brown) and California (Gavin Newsome) have collaborated with Berkshire Hathaway's profitable Pacific Corp and a relatively few minority stakeholders to circumvent a Congressional Act, the Klamath River Basin Compact, and wrongfully remove 4-dams during a drought that's intensifying.

Klamath Dams Removal In The Midst Of 'Water Crisis' – Antithesis Of Water And Wildlife Conservation
Three of the four Klamath River dams proposed for removal are in Siskiyou County, CA, where a referendum proved that 78.84% of voters were against the Klamath dam removal project.

In Klamath County Oregon, where one of the Klamath River dams is located, voters considered whether the four hydroelectric dams on the Klamath River should be removed. That vote proved 72% of voters are opposed to the Klamath River dam removal project.
Shasta Lake
Lake Shasta this summer is facing possibly its lowest level in at least 44 years, and that could be bad news for the people who rely on it for drinking and irrigation water, as well as endangered salmon that depend on it to survive.

Dam operators have to go all the way back to 1977 to compare how bad this year's water situation is shaping up to be, said Don Bader, area manager for the U.S. Bureau of Reclamation, which manages the dam.

"It's dry. It's second worst, so far. It's probably going to exceed '77. But the kicker is in '77 we didn't have all the requirements that we have now," Bader said.

Lake Shasta is facing its worst season in 44 years. Here's what that means for those who rely on it.
Because of the drought and low lake level, several of those communities have already had their water allocations from the bureau reduced about 45%.
Most water being released from Shasta Lake now is not for farmers but fish.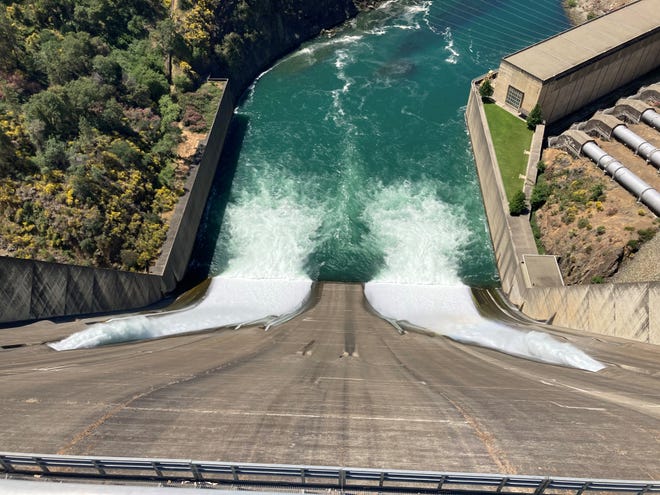 A study from the National Oceanic and Atmospheric Administration's Southwest Fisheries Science Center tends to support that. The study says that more than 80% of the salmon eggs in the river could die this summer as a result of warm water in the Sacramento River.
As of Tuesday, Shasta Lake was at 54% of average for the date and Trinity Lake was at 62% of average, according to the bureau.

The rainfall total at Shasta Dam was just under 24 inches since Oct. 1, according to the California Department of Water Resources. The previous record for low rainfall was 24 inches in 1977, Bader said.

"Things have just fallen off the cliff in the last six weeks. So that's where we are now. Day to day, they're making all kinds of decisions down in Sacramento about what can we do to salvage the rest of the season," Bader said.
Currently, Shasta Lake is at 40 % capacity or 73 feet below this time last year.
Oroville Lake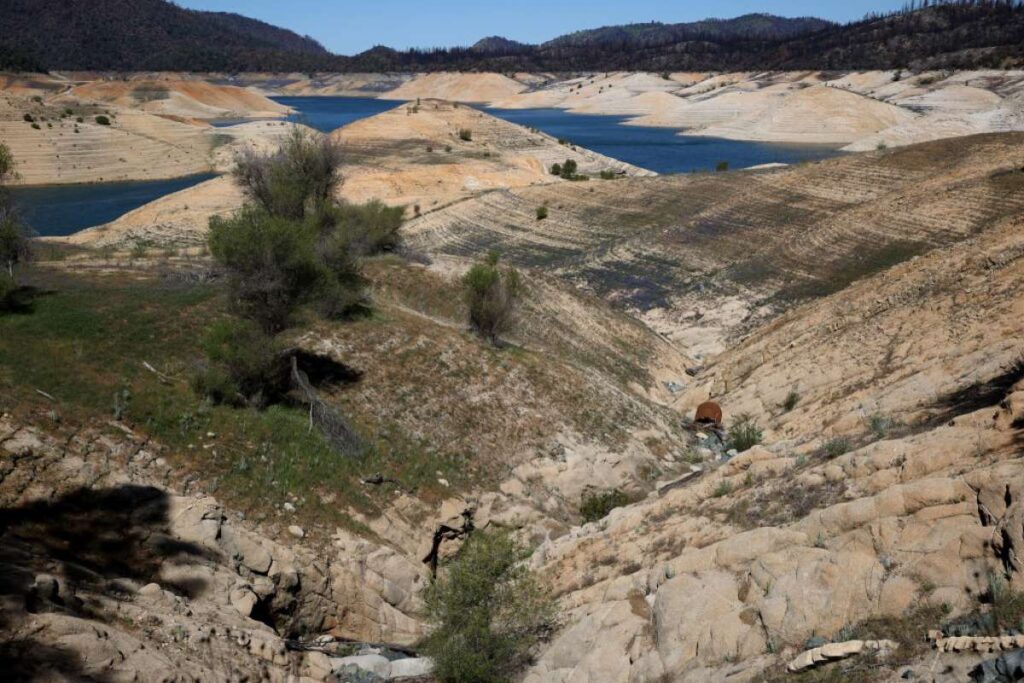 DWR State Water Project Chief of Utility Operations John Yarbrough said Friday the lake capacity measured at 709 feet, where at normal capacity it would be sitting at 900 feet.

The last time the water was this low was during the 2014-2015 season, when the lake's lowest point was 715 feet — making 2021 even drier, according to DWR Public Information Officer Liza Whitmore.

Yarbrough confirmed the department projects the lake could drop even lower than the historic low from 1976-1977 of 645 feet, by late summer or early fall.

"The thing that's different this year and unique from other droughts we've experienced is this year the snow pack … the amount of runoff was only about 20% of what we expected," he said.

"We started with a snow pack that was smaller than average but from that snow pack the amount of water we got was dramatically less than what we expected."

How could low water levels at Lake Oroville signal risk for Butte County's rural communities?
Water in a key California reservoir is expected to fall so low this summer that its hydroelectric power plant will be forced to shut down for the first time, officials said Thursday, straining the state's already-taxed electric grid.

An unrelenting drought and record heat, both worsened by the changing climate, have pushed the water supply at Northern California's Lake Oroville to deplete rapidly. As a result of the "alarming levels," officials will likely be forced to close the Edward Hyatt Power Plant for the first time since it opened in 1967, California Energy Commission spokesperson Lindsay Buckley told CNN.

The water in Lake Oroville — the state's second largest reservoir — is pumped through underground facilities to generate electricity, which can power up to 800,000 homes when operating at full capacity.

A California reservoir is expected to fall so low that a hydro-power plant will shut down for first time
Folsom Lake
Conditions were ripe for exploring the lowest depths of Folsom Lake, which is a reservoir of the American River. California's historic drought meant water levels were incredibly low in the reservoir, just over a third of its usual storage capacity.

Dramatic photos show California's water-starved Lake Oroville
See drone video of low water level at Folsom Lake in June 2021.
Video: Folsom Lake shrinks to surprising lows over the weekend, water 68 feet lower than last year – ABC7 San Francisco
Mystery plane found in California lake turns out to be from 1986 crash–UK Guardian.
Farmers Cutoff
Around 6,600 farmers in the Central Valley — which encompasses Sacramento County to Kern County — may face potential disaster after being warned by the state of possible water cutoffs.

The warning is more than just a cautionary notice for the agricultural community, as farmers say it could lead to catastrophe.

'This could be devastating': 6,600 Central Valley farmers notified of potential water cutoff
The State Water Resources Board notified the affected farmers Tuesday that they could face water cutoffs as the state deals with the ongoing drought that has already cut off federal and state irrigation supplies.

"We are seeing unprecedented amounts of fallowing. We've already lost several corn crops across the state," Raudabaugh said. She explained that a number of farmers have fallowed land, meaning acres will not be used and will be left untouched.

"If you have orchards or vineyards and you're told to cut back your water, cut off your water, you're essentially killing that orchard and that vineyard," Bruce Blodgett, the executive director of the San Joaquin Farm Bureau said.
For about half of what California has spent at EED since Covid started, we could have fixed the water infrastructure enough to last for the next 30 years. A few years ago, the number was about 75 – 80 billion dollars. Instead, in the last few years California has dismantled three dams and has zero intentions of building any new water storage despite billions authorized by voters for just that purpose.
Given the above, how come Governor Newsom is not enacting draconian water restrictions? I suppose he has a reason, but clearly Newsom can't recall.