When it comes to business and entertainment, China seems to be dictating American policy. Just as they govern their own nation with fear, American companies are succumbing to fear of the Dragon of the East. When given a choice, Americans are choosing profit over principle every time.
China has made a huge investment in Hollywood over the last several years. As a result, they have actively reshaped the plots and casting of many big budget movies. Sometimes the changes made headlines and other times it hasn't. One of the earliest changes that I recall was the remake of Red Dawn.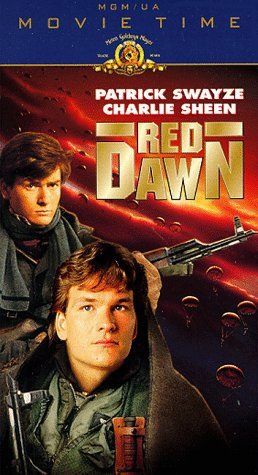 In the original 1984 movie, troops from Cuba and Russia make a surprise attack on the United States and get bogged down in a protracted fight. A group of high school students wage a guerrilla war against the invader's supply routes.
As Hollywood often does, they remade the movie in 2012. Since the Soviet Union had fallen decades before, they needed a new villain, an aggressor nation with the military might to take on the United States. The logical choice was China. However, a curious thing happened in the midst of post-production. The studio nixed the China thing and made the producers change the aggressor nation to North Korea.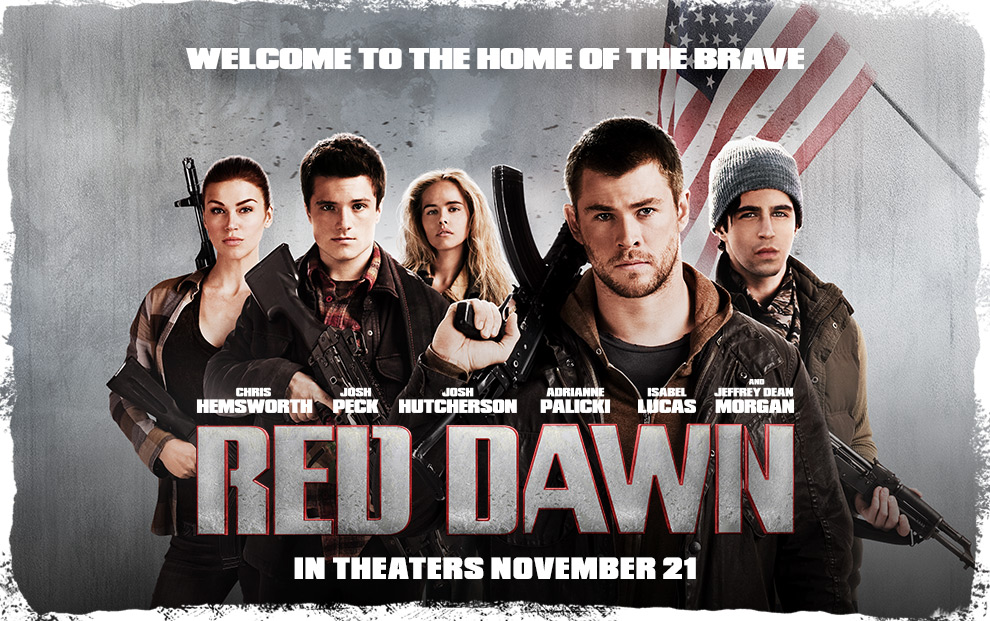 Was China originally the country invading the USA?


Yes, the People's Republic of China (PRC) was originally presented as the invading regime, but after pressure from the PRC government and studio concerns on how it could impact the international box office, the film was digitally altered in post-production to replace all the PRC flags, posters and dialogue with that of North Korea.

From IMDB Red Dawn (2012)
Since then, it has become commonplace to change scripts or edit movies in such a way to get distribution in China. Even Hollywood "tent pole" movies like the Avengers have been altered to make it marketable in China.
Such changes are just the tip of the proverbial spear.
Today, two more news stories about compromising to please China are in the headlines. First up, the National Basketball Association (NBA).
The headline from ultra-rightwing publication Rolling Stone says it all.
The NBA Chooses China's Money Over Hong Kong's Human Rights
Daryl Morey did the right thing — at first.


In a Friday night tweet that he has since deleted, the Houston Rockets general manager expressed support for the legions of protesters who have taken to the streets of Hong Kong.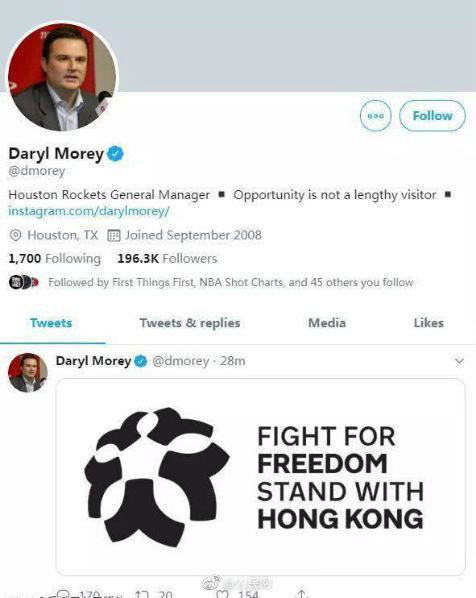 However, the problem for Morey is that the Chinese also love basketball. And thanks surely to the stardom of former Rockets great Yao Ming — now the head of the Chinese Basketball Association — Houston trailed only Golden State in popularity in the nation, per a recent survey. There appears to be too much money to be made in China for the NBA to stand up for human rights.

Yao himself responded to Morey's tweet with condemnation, calling it "an inappropriate comment related to Hong Kong" and the CBA suspended its "exchanges and cooperation" with the Rockets. Chinese sportswear maker Li-Ning did the same, suspending its association with the team. The Chinese government also weighed in via its consulate, saying that it was "deeply shocked" by the tweet. The Rockets owner, Tilman Fertitta, quickly disowned Morey's tweet:


Listen….@dmorey does NOT speak for the @HoustonRockets. Our presence in Tokyo is all about the promotion of the @NBA internationally and we are NOT a political organization. @espn https://t.co/yNyQFtwTTi
— Tilman Fertitta (@TilmanJFertitta) October 5, 2019


The Rockets and the NBA could have stood up for Morey, for decency, and for the protesters and their human rights.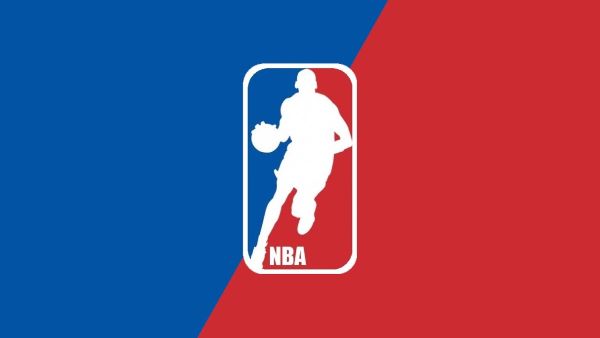 The NBA issued a sorry statement, declaring the league realizes that the tweet may have "deeply offended" Chinese fans and that they "have great respect for the history and culture of China," as if that had anything to do with a bill that could be used to disappear journalists and critics of an autocratic regime. Morey, who The Ringer reports was at one point in jeopardy of losing his job, tweeted his own apology that read like it was dictated by his boss. Brooklyn Nets owner Joe Tsai, a co-founder of Chinese e-commerce conglomerate Alibaba, published an open letter on Facebook that referred to protesters as a "separatist movement." Even James Harden, the Rockets' star guard, issued a mea culpa for some reason, even though he wasn't involved.


That last bit of rank submission to an autocratic regime captured the full extent of the NBA's sellout to China. Several politicians on the left and right, including presidential candidate Julián Castro and Rep. Ben Sasse (R-MO), called out the NBA's cowardice. Even Rockets fan Ted Cruz took a principled stand:


We're better than this; human rights shouldn't be for sale & the NBA shouldn't be assisting Chinese communist censorship.
— Ted Cruz (@tedcruz) October 7, 2019
Wow. Folks when Rolling Stone is singing the praises of Ted Cruz, you know that something is seriously wrong.
The next story probably won't make it to your INBOX but it goes much the same way. Before getting into the particulars here's a few nuggets of background. eSports is a big thing in a small segment of popular culture. This is where aspiring kids go to make millions of dollars playing video games competitively. A big hub of this activity is South Korea. Blizzard Entertainment was purchased a few years ago by Activision. Blizzard is best known for their World of Warcraft game. Hearthstone is a virtual card game that is modeled after Warcraft type characters.
The popular player ended a recent livestream with a call for his country's liberation in a post-game interview. "Liberate Hong Kong," Ng Wai said. "Revolution of our age!"


During the Hearthstone Grandmasters stream, the Hearthstone Pro was wearing a mask similar to those used by rioters in Hong Kong.


After the livestream ended, Ng Wai was immediately removed from the game's Grandmasters rank and the developer is currently withholding his tournament prize money. The player also received a 12-month ban from the game's professional events. The player will be unable to participate in Hearthstone eSports until October 5th 2020.
Unfortunately, government interference within China is a constant issue for its citizens. Even amongst the horrendous police brutality shown within the Hong Kong riots, the country still finds time for rampant censorship. With some developers being destroyed for slight anti-government inclusions, Blizzard's huge Chinese presence does need to be protected in a business standpoint. From a moral and ethical standpoint, however, Blizzard is certainly not looking good.

Hearthstone Pro player Chung Blitzchung Ng Wai has been exiled by game developer Blizzard after supporting the Hong Kong riots.
For those of you that self-identify as low information voters, this is why I have problems with the way we conduct business with China. This also should help explain why I support President Trump's efforts to change our relationship with China. Do I agree with everything Trump does with China? Probably not, but his instinct is correct. America businesses that put profit over principle are behaving shamefully.