These next two stories hit so many different strands of product liability and malfeasance for Tesla that I couldn't pass them up. Photos are from the respective articles quoted below. Oh, and NHTSA is National Highway Transportation Safety Administration.
It was just days ago that we reported that the NHTSA was opening an inquiry into the use of Tesla's "Smart Summon" feature. Then, just hours ago we followed up by reporting that a petition had been filed with the NHTSA claiming that Tesla was using over the air software updates to cover up dangerous battery issues.


Today, we offer a stark reminder that just because the NHTSA has started to perk up its ears, doesn't mean that Teslas haven't stopped going up in flames all over the world. The most recent example comes from Austria, where after a Tesla was involved in an accident and caught fire, firefighters had to use a special container to transport the remains of the vehicle and the battery.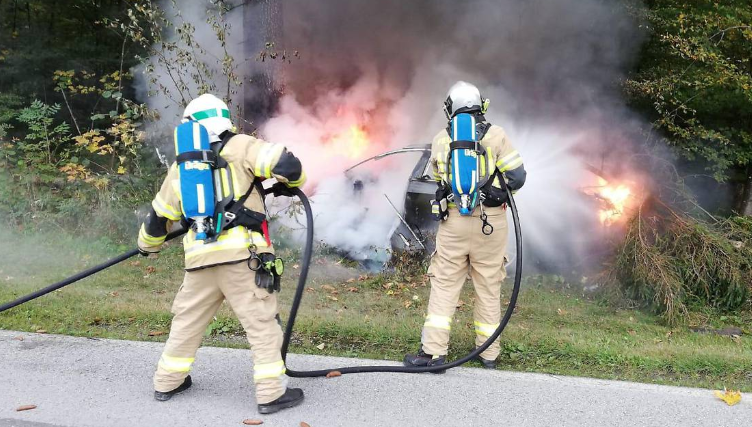 According to a translated version of this ORF News story, a 57 year old driver lost control of his Tesla and crashed into a tree, after first hitting the guardrail. It was then that the vehicle caught fire.


The driver was lucky, as "people passing by the scene of the accident took the man out of the vehicle and called emergency services."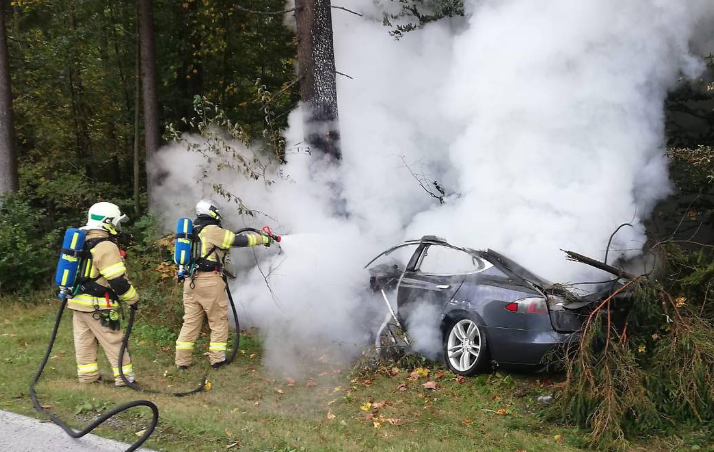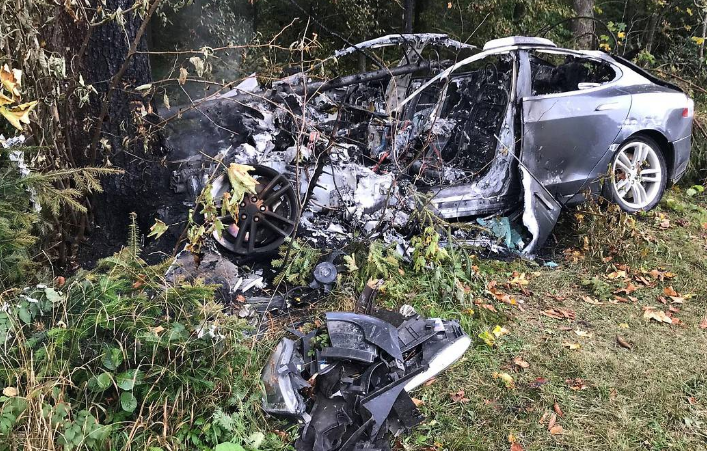 In order to put out the fire, the street had to be closed and fire authorities had to bring in a container user to cool the vehicle. The container held 11,000 liters (11 tons) of water and was designed to eliminate the biggest risk in an EV accident which is the battery catching fire.


The Tesla battery is mounted on the underside of the vehicle and contains acids and chemicals that can easily escape during a fire, placing the firefighters in danger.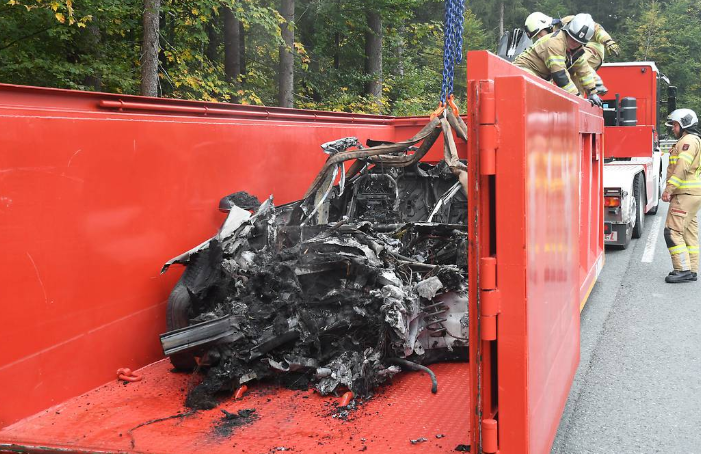 Here is the problem: according to the article, some 11,000 liters of water are needed to finally extinguish a burning Tesla but an average fire engine only carries around 2,000 liters of water.


Fire brigade spokesman Peter Hölzl warned that the car could still catch fire for up to three days after the initial fire.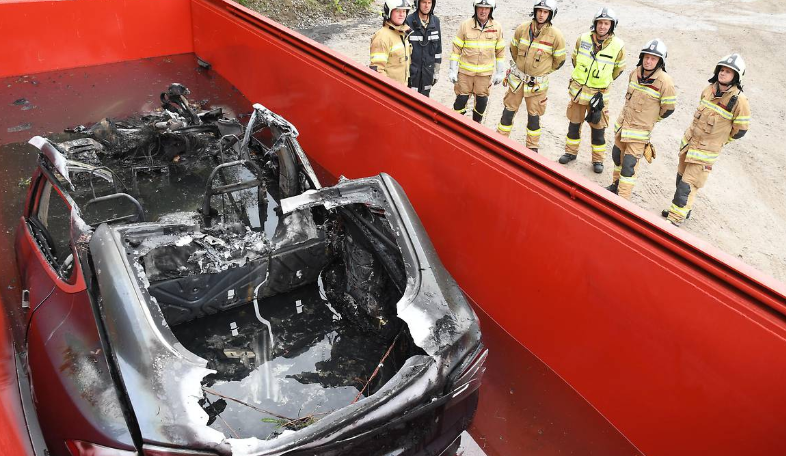 The container used is said to be suitable for all common electric vehicles. It measures 6.8 meters long, 2.4 meters wide and 1.5 meters high, it is (obviously) waterproof and weighs three tons.

11 Tons Of Water And "Special Container" Used To Extinguish Burning Tesla In Austria
(emphasis in original story)
We have previously documented the failure of Tesla's Smart Summons on the blog and now we learn of another issue about Tesla batteries which I will get to in a moment. Then the hazards faced by firefighters. Why does Europe have a full immersion bathtub for electric vehicle fires, and nobody here does? You did catch the part about a Tesla can catch fire up to three days after an accident? I bet that little nugget isn't in the owner handbook.
Here's part of the battery story.
A notice published on Tuesday by the NHTSA said they had received reports about a possible defect in Tesla battery packs that could cause fires. The battery packs affected reportedly received new management software as part of over the air updates that were issued by Tesla in May.


The petition was filed by the Law Offices of Edward C. Chen, a California law firm representing a number of Tesla drivers in the U.S., according to Bloomberg.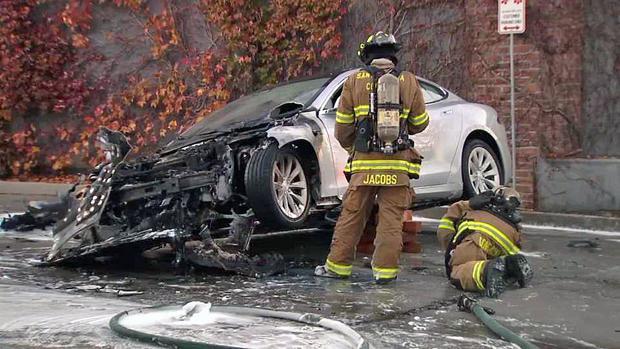 Chen argued that Tesla is using software updates to cover up a potentially wide spread and dangerous issue: "Tesla is using over-the-air software updates to mask and cover up a potentially widespread and dangerous issue with the batteries in their vehicles."


Chen has also argued that Tesla owners "saw the range of their Teslas on a charge fall by 25 miles (40 kilometers) or more after Tesla released two battery software updates beginning in May."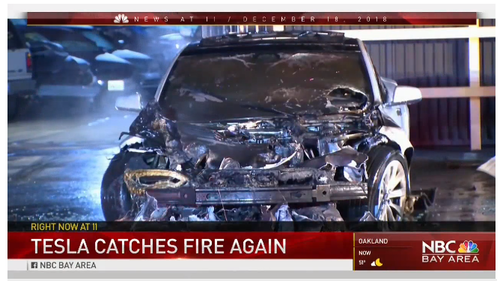 The notice states: "The petitioner alleges that the software updates were in response to a potential defect that could result in non-crash fires in the affected battery packs and that Tesla should have notified NHTSA of the existence of this potential defect and conducted a safety recall. The petitioner also alleges that this software update reduces the driving range of the affected vehicles."

The NHTSA Is Now (Finally) Looking Into Tesla Battery Fire Issues
(emphasis in original story)
Folks, I keep saying that the moment the government subjects Tesla to the same standards as other automakers that they are in for a world of hurt. Thankfully that day may finally be approaching.
Electric vehicles are a novelty not a solution. In a fair and free market, they would all but disappear. We tried electric vehicles a century ago and they failed in the market. It would take much more than cheap and abundant electrical power to make them mainstream. The proof that such a day is still far from us is the insistence of politicians and environmentalists that wind and solar are the answer.