Folks you hear us at ReallyRight.com rail against cable constantly, here is yet another reason, a real-life example from this past week.
I was chatting up a fellow colleague, he also devoid of cable, and we were speaking in open terms about the coming doomsday scenario regarding the water shortage here in California. We joked about picking up pallets of water from a local Costco or Sam's, whomever had it the cheapest, and debating who was more likely to load it in my truck. Joking of burning out all our lawn and replacing with AstroTurf, with the work being done by non-combustion engine machines. The 90-Day Guy walked in and started making fun. He had zero clue about the drought; I kid you not, zero. He wondered which channel we saw it on, to which we both replied, KCRA3 news app. He still said he hadn't heard it anywhere, as if we follow some obscure tin foil hat form of media.
Folks the local news has been on this issue for about 2 months now. I have seen photos of our Dictator Gavin Newsom pictured in lakes and other bodies of water with what would appear to be about a 50% at best supply of water.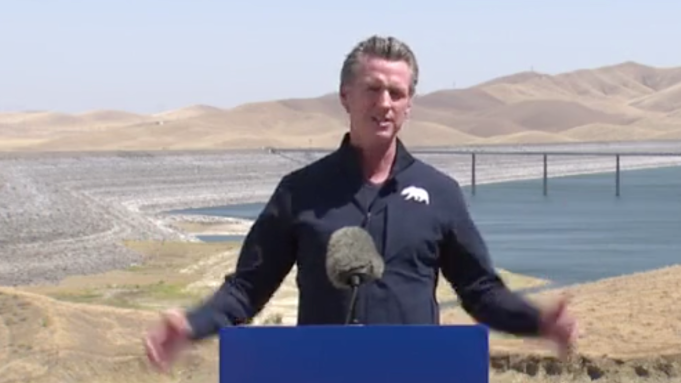 In many north state counties (i.e., where no one lives) are on restrictions, and at some point, will be under severe cutbacks.  These will be announced shortly. In the opinion of this blogger, it will happen right around recall time, after it's been certified Newsom will either not be recalled, or he will go down in flames.  Rumor has it farmers and others are already under severe cutbacks.  90-Day Guy had an ear to ear aww shucks grin.  He is clueless.
Folks I call this the cable watchers' conundrum for this very reason. Imagine paying roughly $2K a year for cable yet you are completely in the dark on local issues, however you know all about what McConnell, Pelosi, Biden, Harris, McCarthy, and AOC had to say on all topics of national attention. As a rule, cable networks have zero interest in California, or really most states for that matter.  If it bleeds it leads, and sex sells, which is all they care about as these type issues drive ratings.  For months now the news has been dominated by BLM, George Floyd murder cops, Joe Biden, the US Capitol "insurrection" and other trash, nary a mention of the real issues in this country.  These are the issues he knows about, issues no reader of this blog cares about.  Seriously, I could not give a rip less about the issues listed above.
The conundrum is this, they believe wholeheartedly all is well, similar to those on Titanic or Poseidon who thought it was no big deal while the rats and others were scrambling.  Problem is when the national guys pick it up, it is far too late and the 90-day types panic as they react by grabbing all the toilet paper, Clorox wipes, Lysol etc. Sound familiar?  90-Day Guy even told me he did as much.  He and all the others panicked. Guess he missed this on Fox. Water crisis 'couldn't be worse' on Oregon-California border: Oregon's Klamath County is experiencing its driest year in 127 years
The same story played out with the torrential downpours we had a few years ago, I had told him in advance they would flood the Wilton and other unincorporated areas around the county, he panicked.  The levees overtopped as they were supposed to, flooding outlying areas. His response, he jumped in his car and headed toward Tahoe…keep in mind, that this choice saw him literally having to drive thru the areas where the flooding was occurring in the valley in order to get to higher ground.  He thought the safest place was not in a building or a house, but in a compact sports car.  As if he thought he could outrun the flood.  About a week later, he returned and threw his wife under the bus, it was all her idea, he said she watches too much TV.  He asked why I didn't overreact, and my response was, you are far safer in a building where you can climb/get to higher ground than inside a car.  The car is likely to die in 6 inches or so of water and if it goes higher you will be taken for a ride; it won't be fun, likely ending in death.  Keep in mind he was the smart one.
Harken back to when the Oroville dam was in peril. I had been discussing it for a couple weeks, he ignored or rolled his eyes at me, thinking I was an alarmist.  Then the day finally came, the spillway at Oroville failed, he went nuclear. He got into his car and jammed it home, keep in mind we are so far from the Oroville dam that the flood or even remnants would not have gotten close to us.  He panicked on command, just as cable wanted him to do.
The less time you have to react the better, notice the news doesn't break in saying we may have a problem, the news shows the levee or spillway failing.  At that point everyone with a brain knows it's too late, but not the 90-day types, they think they have inside info.  Look for the shelves to be devoid of water soon and look for panic to set in among all those who re-did their yards during Covid.  It won't be pretty, consider yourself forewarned.  By the time Tucker, Hannity, or any of the other news networks pick it up, it'll be too late.  But maybe a vaccine will exist? LOL
BTW we are now on day 432 of "2 weeks to flatten the curve."
Johnnie Does