Rumor has it that CRA's favorite warrior, Jorge Riley, may be granted their highest honor at the California Republican Assembly's statewide convention later this month. The Freedom Fighter Award was first bestowed by CRA on Lt. Colonel Oliver North in 1991.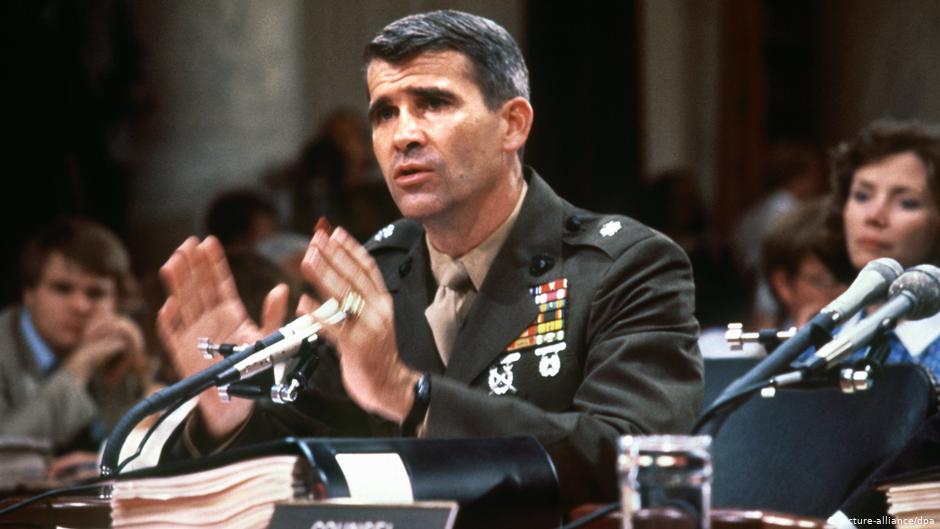 Why Oliver North got the award
Marine Lieutenant Colonel Oliver North did something really, really bad. He sold weapons to Iran in an effort to help fund rebels fighting Nicaragua's Socialist government.

Time Magazine
Translation, in the midst of the Cold War, North found a way to finance the opposition to the socialist/communist government of Nicaragua (funded by Russia) by selling US arms to another country (Iran) and funneling the proceeds to freedom fighters that the American Congress refused to help. The Congress was majority Democrat and loved hanging out with Communists like Castro and other likeminded dictators.
North's nationally televised testimony before Congress portrayed the political class as a bunch of idiotic, children that knew nothing about protecting American interests abroad. His testimony shredded the premise for the hearings which really was a witch hunt that Democrats hoped would implicate President Ronald Reagan and give them an excuse to remove him via impeachment. Democrats were so sure they had Reagan in their sights that they never even bothered to depose North and others before the live television broadcast.
After the Congressional dog and pony show was over, Reagan was still firmly in control of the White House. North was charged and convicted of lying to Congress—something Congress does to the American people on a daily basis with no repercussions. North's conviction was eventually overturned because he had been granted immunity prior to his Congressional testimony.
The California Republican Assembly invited North to speak at their convention and wanted a way to thank him for his service to our country and for making the other Party look like a bunch of jackasses. At the time, CRA was claiming more than 30,000 members.
The Award in Recent Years
In the years since, the Freedom Fighter Award has been occasionally granted to others. The most recent recipient was Tom Hudson. Hudson presided over CRA as the membership shrank to less than 1,000 souls scatted throughout the state.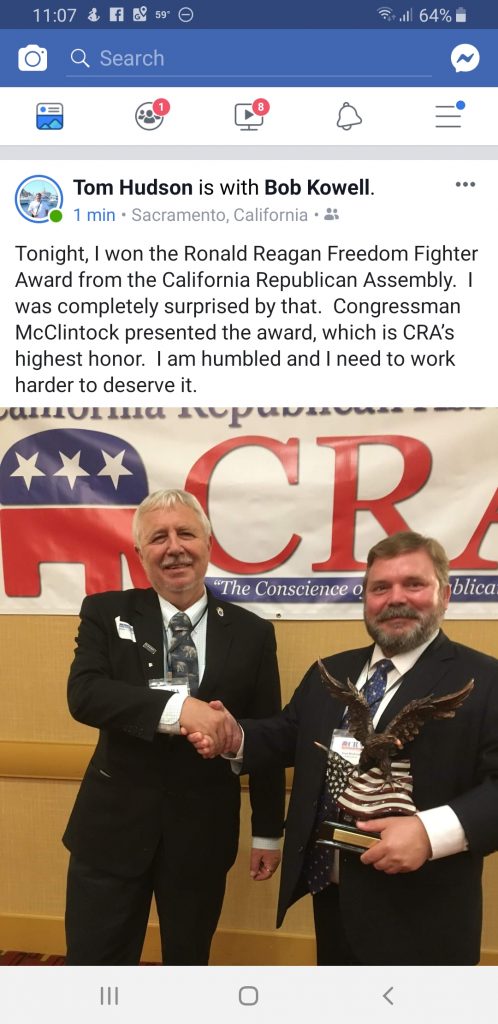 Hudson is best known for his ferocious defense of CRA when the Just Us Brothers shredded the records of the organization—including its membership records—and deleted or withheld much of the financial ones as well. Hudson and his fellow CRA attorney, Craig Alexander, prosecuted George and Aaron to the fullest extent of the law. As a result, the Park Brother left California in disgrace and moved to Nevada.
Oops, Tom promised to do all that stuff and more to the Just Us Brothers but after filibustering for over a year eventually did nothing. However, the Park Brothers really did leave California for the Silver State.
Riley on Deck?
In the wake of his recent recognition for leadership by the Sacramento Chapter of CRA, Jorge Riley, seems on track to gain the Freedom Fighter award in a matter of weeks. Riley brought much needed attention to CRA as a result of his penetration of security at the Nation's Capitol. By one act, Riley has done more on social media to publicize CRA than all his predecessors during the last two decades of the organization's history. Who knew there were any Republicans left in California? Thankfully, Riley set the record straight and finally got the media talking about what a difference that one man can make. (Riley's job on the statewide CRA Board was to boost the CRA on social media.)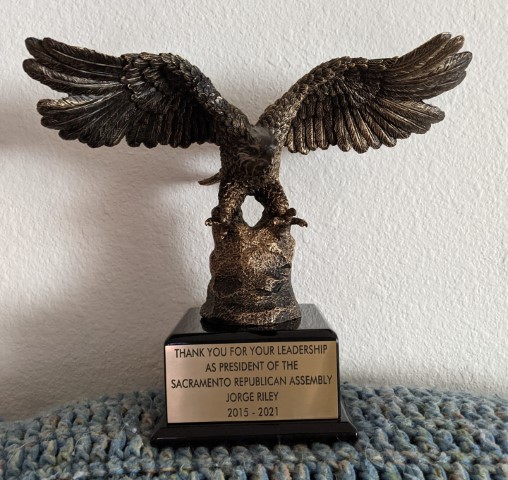 So why else are we so confident that Riley will be so honored?
Look at the CRA support that Jorge Riley has received.
Riley is supported by Bill Cardoza. Bill has been in, under, and around, those controlling the levers of power in CRA since Barbara Alby and Greg Hardcastle took over the organization in the late 1980s and early '90s. Bill then followed this group as they then took over the California Republican Party. Word is that he bought the plane ticket so Riley could pay his respects to Speaker Pelosi on January 6th.
Riley is supported by the aforementioned Tom Hudson. As a CRA Board officer, Hudson is uniquely qualified to recognize raw talent when he sees it on CNN.
Sue Blake helped guide the Sacramento Republican Party into obscurity by selling-out her values for an opportunity to hangout with political consultants and cigar smoking armchair quarterbacks.
Riley also has the backing of both current and former rank-and-file members of the Service Employees International Union (SEIU). Any Republican that can gain such support without compromising his values, is worthy of another look; especially, here in California.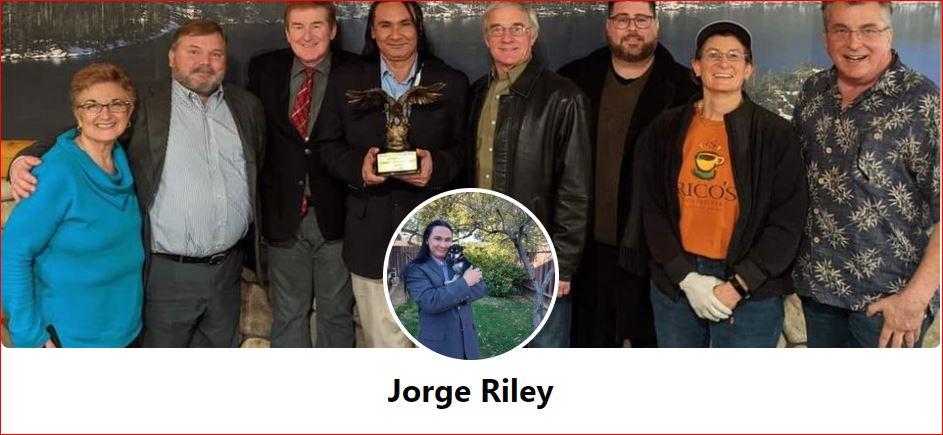 I could go on, but as they say, "A picture is worth a thousand words." Pictured above, Angela Azevedo, Tom Hudson, Bill Cardoza, Jorge Riley, Russell Gray, Justin Hardcastle, Sue Blake, and Todd Freeman.