In what passes for journalism and reporting in the 24/7 news cycle, it doesn't matter if you are right, it matters if you report it first. Don't believe me? Just watch the local or even major news networks as they stumble over each other to be "first." They do not care about the truth as long as they can strike first blood in the ratings war. If they are wrong, they will ignore it, brush it under the table, blame an anonymous "source," or issue a retraction several days later on the page where the obituaries are listed. Ironic as those listed in that section are brand new Democrat voters!
Now to the story which prompted my ire. On June 19th in Wilton Manor (Ft Lauderdale) the Stonewall Democrats (a far left LBGTQIAHSUHNCKMAHNXLANAETS 1 issue club) had their annual Pride Parade. Present were Congressperson Debbie Wasserman-Schultz and Ft Lauderdale mayor Dean Trantalis. The parade was a typical one, floats, bands, walking, etc. The procession was about to begin when a white pickup truck rammed into the waiting participants killing 1 and injuring 2.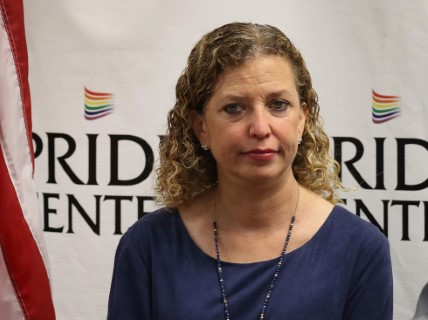 All would agree this is a tragedy, now to my point….. Trantalis, like most Democrats, are far superior to the unwashed so he decided to run to the press with this statement.
"This is a terrorist attack against the LGBT community," Trantalis told Local 10 News. "This is exactly what it is. Hardly an accident. It was deliberate, it was premeditated, and it was targeted against a specific person. Luckily they missed that person, but unfortunately, they hit two other people."

Play video in this Twitter post
Tragedy Strikes Wilton Manors Pride – Story Still Unfolding
Of course, the folks at MSNBC ran with it. I happened to see their report while paying a visit to a local gym. The narrative quickly turned into a white male driver (this part was true) Trump supporter who hates gay rights rammed the parade. Only things left out were "MAGA hat wearing, AR-15 holding, male making out with wife, mows down pride parade participants." Wasserman-Schultz was devastated, the parade was cancelled. It wasn't until the following day when things got a little more clear. The man driving the car was a white male, 77-year-old Fred Johnson Jr. His truck emblazoned with a rainbow-colored pride flag flying from it. MSNBC doctored the photo to not show the flag; remember it's about optics and a narrative, truth before facts folks. Johnson Jr. was later shown wearing a pride shirt and was identified as "one of us" by members of the gay man's chorus. Johnson Jr. has a handicap, so he was chosen to drive for the parade. Maybe not such a great idea looking back on it?
Once the facts started leaking out, the Democrat media machine took over. This was much ado about nothing, and an unfortunate accident. The police began to investigate, I find this odd since police types are generally not allowed near Democrat events…oh wait it as a white man who did the deed…proceed! The men's chorus even put out this statement, because well … it was just an unfortunate thing.
"This was a horrible accident," he said. "I offer my sincere regret to those who were impacted. I love my chorus family and the community. I would never do anything to intentionally harm anyone."
Trantalis issued a kind of apology, mostly just walking it back slightly, and now it's all a non-story. Mostly because it doesn't fit the narrative any longer. Why beat on one of their own, it's more fun to do it to the other side. End of story. Anyone wonder why the ratings for left leaning news, and readership of daily newspapers are falling fast? There is your answer.
Let me now offer my "first take" on this story, and if I'm wrong, we may or may not issue a retraction, but if the libs can do it, I will too.
Far left deranged, whacko, white, male, Fred Johnson Jr. fled his old person home, revved up his truck, overdosed on opioids, and rammed a far-left demonstration. Johnson was unhappy about his role in the gay man's chorus and decided he had enough. He rammed 5 innocent folks, killing 1, seriously injuring four. He was aiming for the mayor and congresswomen but like most Democrats, his aim was horrific. Johnson, for his part, admitted being gay afterwards, but everyone knows that's just a lie. His actions led to a far-right militia of folks to show up with lights flashing and the words "police" inscribed on their cars. Thankfully no black or brown folks were around as massacre would have taken place.
Johnson must be held accountable for his actions. As a white man, this was a hate crime, and it took place on June 19, the new federal holiday to celebrate Juneteenth, as a result he must hate black people. Sentence him to death ASAP, no trial, no counsel to be provided. This deranged human must be wiped from earth. Also, Johnson Jr. needs to pay reparations for what he did, on Juneteenth mind you!