Suzanne Jones: Photo from Lincoln Club of the Sierras
Folks, it looks like my $25 advertising investment on Facebook is paying big dividends. Placer County Supervisor, Kirk Uhler, is now trailing his challenger, fellow Republican, Suzanne Jones, in the race for Placer County Supervisor, 4th District. When I last looked in on the race, Uhler was up by about 107 votes but after yesterday's update was posted, he now trails by 180 votes, a swing of about 287 votes.
Here's the details.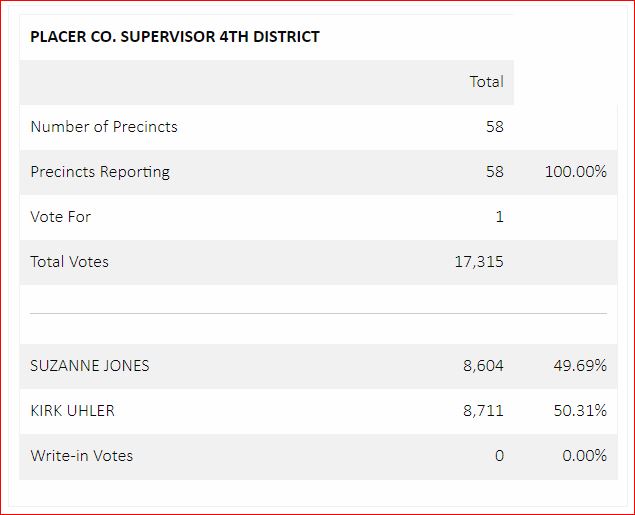 Meanwhile, a few days and 3,643 votes later…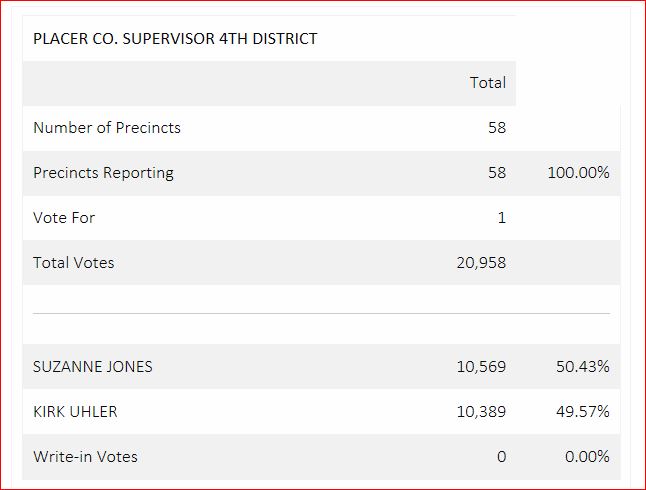 Just for reference, in Uhler's 2016 race versus Victor Bekhet, a total of 19,784 votes were cast. Thus I would conclude that Uhler has no hope of beating Jones although the race is within the margin of a recount.
Congratulations to Supervisor Jones.
When you hitch your fate to the Just Us Brothers, such an outcome is no surprise. My only question is will Aaron Park scrub his blog of all the personal attacks on Suzanne Jones (and Tom Hudson) or let them stand?
Lastly, hey Kirk, Aaron always has this outcome when he is given the title of "campaign manager." Like you, he thrives in the shadows not in the light. For a guy that thinks they're friends, you don't pay much attention to Aaron's track record of mayhem and destruction. An ethical person wouldn't associate themselves with him. At least now your wife can apply for the director position she's been coveting without it being a violation of campaign laws on conflict of interest.