"Elections have consequences." It's the political way for winners to tell losers: "Tough luck, you lost. Get over it."
—Barack Obama 2009
Donald Trump has been cramming that statement down the Democrat's throats for over three years now. But this last week, he has taught them a new corollary to that sentiment, failed impeachments have consequences too.
In what the mainstream media thought was a preemptive strike, they made the case that failed impeachments shouldn't have any repercussions. Consider the following from Bloomberg news.
President Donald Trump mostly stifled his fury toward the impeachment … Now that he's been acquitted of two impeachment charges, they're bracing for payback.

It may be about to begin.
It's not just the witnesses — such as Lieutenant Colonel Vindman, an NSC analyst — who could face retribution for speaking out. The deeper anxiety among many career national security officials is that Trump, feeling vindicated by the Senate's acquittal, will act on longharbored suspicions that bureaucrats at the State Department and the NSC are out to undermine his agenda.

Unburdened by impeachment, they fear that Trump could unleash his anger at the foreign policy establishment he's long equated with what some of his advisers and supporters call the "Deep State."

Trump Impeachment Fury Sows Fear of Payback Among Diplomats
"Active-duty officers are scared of word getting out and then facing retribution, not just from the president but also from political ambassadors," said Lewis Lukens, the former deputy envoy in London who was removed last year by Trump's choice to lead the embassy there, New York Jets owner Woody Johnson. "The president's acquittal will reinforce in his mind that he can get rid of career people, not just at State, who he thinks are blocking or slow-rolling his agenda."
So far the fallout from impeachment has been relatively muted. Gordon Sondland, the hotelier and U.S. ambassador to the European Union — who testified there was a "quid pro quo" in Trump's Ukraine dealings that everybody knew — continues his work in Brussels.
Folks, the digital ink on this story was not even dry when the stuff hit the fan. Alexander Vindman and his brother were sacked by Trump along with Ambassador Gordon Sondland.
Donald Trump has recalled the US ambassador who testified in the impeachment inquiry against him, becoming the second prominent witness to be fired in the aftermath of the president's acquittal on charges of abuse of power and obstruction.

"I was advised today that the president intends to recall me effective immediately as United States Ambassador to the European Union," Gordon Sondland said in a statement released on Friday evening. The hotelier from Oregon became a diplomat after donating $1m to Mr Trump's inauguration committee.

During his explosive testimony at the impeachment inquiry, Mr Sondland contradicted claims from Mr Trump and his top aides that there was no quid pro quo when the White House withheld aid from Ukraine as a way to pressure Kyiv to launch an investigation into former US vice-president Joe Biden.

His recall came within hours of the dismissal of Lieutenant Colonel Alexander Vindman, the US army officer who told impeachment investigators that Donald Trump made "inappropriate" demands of his Ukrainian counterpart.

Lt Col Vindman, a Ukraine expert, was sacked from his post at the National Security Council and "escorted out of the White House", his lawyer said

Donald Trump fires US ambassador to EU and impeachment witness
But President Trump was just getting started.
White House counselor Kellyanne Conway on Monday hinted that additional officials could be forced out of their roles following the ousters last week of Lt. Col. Alexander Vindman and Ambassador Gordon Sondland — both high-profile witnesses in the impeachment investigation of President Donald Trump.

Asked during an interview on "Fox & Friends" whether there will be more dismissals in the days to come, Conway said…

Kellyanne Conway says more officials may be ousted after Trump's Senate acquittal
With the digital ink not dry on that story, it was announced that Trump fired 70 more people from the National Security Council.
In some sense, as Paul Bedard of the Washington Examiner reported, Trump "is making good on his promises to 'drain the swamp.'"

In this case, he's targeting leftist appointees to the NSC hired by his predecessor, Barack Hussein Obama.

"Officials confirmed that Trump and national security adviser Robert O'Brien have cut 70 positions inherited from former President Barack Obama, who had fattened the staff to 200," Bedard reported. "Many were loaners from other agencies and have been sent back. Others left government work."

Trump Fires 70 at NSC, Biden-Burisma Questions Remain
Folks, look for this purge to continue under the radar. Trump values loyalty above all else and he will do what it takes to get the Executive Branch to be responsive to the Chief Executive.
If you recall, President Bush was plagued with similar subterfuge with holdovers that he kept in his Administration—note that this malady doesn't affect Democrats because they keep no holdovers.
Lastly, is Alexander Vindman the real life Radar O'Reilly?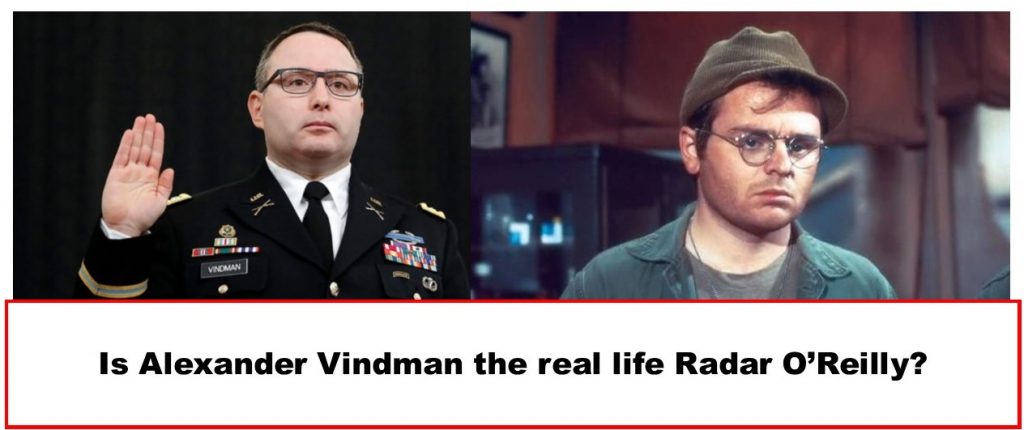 Oh, and some folks left today as a result of the government not throwing the book at Roger Stone. Seems like this guy is being prosecuted as the result of tainted FBI warrants. Roger is full of BS and going to jail while Biden did worse and gets a pass. Not fair. I think all the Mueller related cases need to be dropped in light of the lies that the FBI told FISA to spy on the Trump campaign.