Before I get into what a mess this really is, let me start by saying that it has taken me several days to verify what was sent to me and research further to present what follows. If needed, I have only reluctantly relied on anyone's thoughts, opinions, or remarks on the issue before us.
It's been a while since we've looked in on Kirk Uhler and the Placer County Mafia. Uhler is up for reelection yet again. Reportedly he's still up to his old tricks, although the law may finally be catching up to him. It's a good thing that Republicans only believe in term limits for other people or he might have to find another way to personally enrich himself.
Recap
When we last left this ethically challenged politician in 2016, we had chronicled the following:
2009 Uhler got his wife a job on the county's dime. The position was created just for Tami Uhler. It was never advertised. Oh, last we checked it was paying a salary of $92K. (More on that shortly)
2014 Uhler doubled his salary as a supervisor
Uhler combines his Supervisor gig with his "day job." This enables him to offer turn-key solutions to access all that Placer County has to offer in exchange for throwing a little business his way. Think pay-to-play, quid pro quo, or even Aaron Park's "If you advertise here – it means an endorsement.".
Uhler also has his hand in an online gambling operation where he is listed as a vice-president of the corporation.
2015 Uhler along with the Just Us Brothers looted the Placer CRA treasury in a move only Adam Schiff or Bernie Madoff could truly appreciate.
Kirk Uhler and The Just Us Brothers
Nepotism Defined
Recently, Supervisor Uhler was the subject of several emails that were sent to me from the bowels of his district. Attached were several hundred pages of information concerning the nepotism of Uhler's wife living off the taxpayers while her husband engineers further pay increases for her and that fact that the Fair Political Practices Commission (FPPC) has been repeated asked to get involved in the situation. (See Appendix 1 below for links to the eleven letters on file with the FPPC.)
Oh, for folks in Rio Linda, nepotism is "the practice among those with power or influence of favoring relatives or friends, especially by giving them jobs."
Nepotism is against the law and has been for decades. This was one of the issues that Jerry Brown used as a reason to dismantle the Board of Equalization (BOE). BOE had about one in five employees being directly related and others hired as political favors.
Nepotism scandal embroils recently gutted state tax board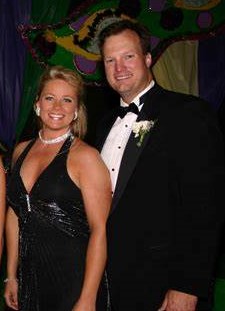 Summary of Initial Concerns
Per the emails that I received, in 2019 Uhler lead the charge to give his wife a thirty percent raise in one year. This caused a flurry of activity and correspondence with the Fair Political Practices Commission (FPPC). The FPPC is the State body charged with insuring that politicians and political campaigns follow state law. The correspondence which I shall go thru in detail is from the Office of the Placer County Counsel (the county's lawyer) and the FPPC.
The issues of fact and law under dispute are related to Uhler's wife, Tamara (a.k.a. Tami), and her employment by Placer County.
Tami's Job
Let's look at some nuggets in the document dump that I was sent and try to reconstruct what happened and when. The questions needing to be asked include whether Placer County can employ Uhler's wife, is her $30K raise justified, and did Uhler engineer its approval behind the scenes. On the face of it, what happened doesn't pass the proverbial "smell test."
Tamara Uhler, the Placer County Assistant Director of Child Support Services ("Assistant Director"), is married to Kirk Uhler, a member of the Placer County Board of Supervisors. Assistant Director Uhler's service began in July of 2009, after Supervisor Uhler was elected to the Board of Supervisors. The Assistant Director reports to the Director of the Department of Child Support Services ("Director"). The Assistant Director position is an at-will, unclassified management classification, with no written employment contract. An appointment to the Assistant Director classification was completed by the Department Head pursuant to County Code, and no confirmation or affirmative action from the Board of Supervisors was required.

FPPC letter 10-21-2019 File No. A-19-193 Page 2 (Appendix 3 below)
Let's unpack the above quote.
The FPPC states above that Kirk Uhler was already a Supervisor. I was curious how long he had been a Supervisor, so I looked up.
Kirk returned to the Board of Supervisors on Dec. 19, 2006 to fill the vacancy created after 4th District Supervisor Ted Gaines was elected to the State Assembly in November. At the Dec. 19 meeting, the four remaining board members selected Kirk from a field of five candidates who applied to serve the final two years of Gaines' term. Kirk was sworn into office immediately after the vote.


Kirk represented the 4th District on the Board of Supervisors from 1993-96. He was only 25 years old when elected to the post, becoming the second youngest Supervisor in California history.

KirkUhler.com
2009 Tamara Uhler was given the job of Assistant Director of Child Support Services.
This Assistant Director "position is an at-will, unclassified management classification." This means Tami is not part of a labor union and can be hired or fired just like anyone in the private sector. To get this job, Tami required "no confirmation or affirmative action from the Board of Supervisors."
Please note that no record has been produced that the job opening was advertised or that Tami ever had to compete for the position. Furthermore, as far as we know, no one other than her was ever interviewed for the job.
Allegations of a conflict of interest, a violation of public trust, unfairness in the Placer County hiring process and even nepotism surround the recent appointment of a county supervisor's wife to a management position.

While wrongdoing has not been identified by an official investigative body, the move has raised concerns from citizens and county union leaders who are calling for action. The relatively high-paying position was not advertised, and the position had been vacant for two years.


Tami Uhler, wife of Placer County Supervisor Kirk Uhler, was appointed to the assistant director of the Placer County Department of Child Support Services July 7 with a starting salary of $92,000 plus benefits, according to county officials.

Uhler appointment raising concerns
Per an FPPC letter on the subject of conflict of interest, Tami's hire was wrong. The letter is written in legalese but when you remove the double negative in the section and the excess verbiage, it boils down to this:
Accordingly, new Regulation 18702.5(b)(1) would expressly reinsert this exception, and would provide as follows:
a personal financial effect is … material if the decision would:
(1) Affect only the salary, …(of) the public official or a member of his or her immediate family receives from a … local government agency … the decision is to … promote … a member of his or her immediate family… when the member of the public official's immediate family member is the only person in the job classification or position.

Repeal and Adoption of Regulation 18702.5 pages 2 & 3
So, if Tami was just one of many people working in the same classification, then this rule would not apply but since she is the only one, it's a big problem.
Meanwhile Tami Gets Huge Raise
If you recall, when Tami was hired in 2009, she was making about $92K. Today, she is getting double that amount thanks to the Placer County Supervisors.
Folks, Placer County—like most government websites—doesn't list and compile historic data on the pay of government employees, but there is a place you can go to find the information; namely, the Transparent California website.
Their data on Placer County only goes back to 2011 but here is what you will find on Kirk and Tami Uhler.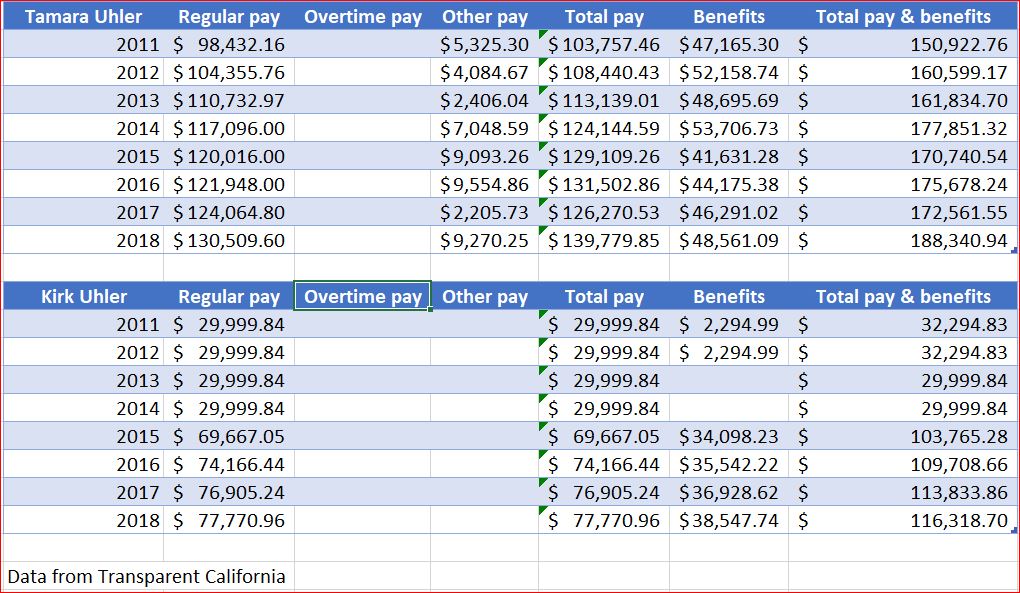 Note: The wages and benefits are estimates based on many factors since on the one hand pay scales are public information but an individual's W-2 is confidential. For this reason, the numbers from Transparent California will not exactly match some numbers used from the Placer Country website.
Before going further, we need to clarify something for people that have never worked for a government agency. Most employees are paid a salary not an hourly wage. Pay increases are of three types and may occur on different anniversary dates. First, government normally gives employees cost of living increases each year. Usually, these increases are done at the beginning of a new fiscal year. In addition, you get step increases. You start at the bottom wage for your job classification and each year you get pay increases until after several years, you get to the top step. Step adjustment are often on the anniversary of the date you first started in that classification. Once at the top step, your wage will only go up via cost of living adjustments. Lastly, pay may be increased by negotiation with an employer. For many government workers, this is done via labor unions and not on the basis of individual merit.
Placer County Supervisors gave county employees a pay raise which took effect on August 3, 2019. Tami was the beneficiary of a huge raise that only applied to her. Based on comparisons with the county wage information and Transparent California, it is my opinion that Tami was at the top pay step in her job classification prior to the 2019 pay raise. I also think this is a reasonable assumption based on the fact that she has been in that position for over ten years.
Note: Pay numbers used in the remainder of this section can be found in Appendix 5 at the end on this blog post
In 2018, Tami Uhler was paid $132.433.60
She is classified as Position #19869 and her payrate is Management # 452
This is based on 2,080 hours at a salary of $63.67
So, after her raise in 2019 it should look like this:
She is classified as Position #19869 and her payrate is Management # 452
This is based on 2,080 hours at a salary of $63.67
Thus, her pay should be 2,080 hours at a salary of $64.94 or $135,075.20
This would be a two percent pay raise; however, this is not what really happened.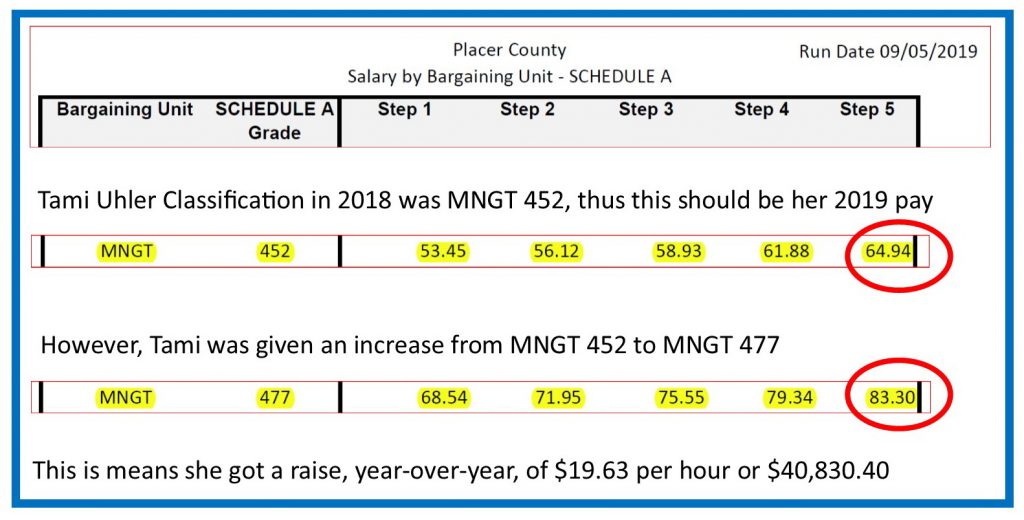 Instead Tami was raised from MNGT 452 to 477
She is classified as Position #19869 and her payrate is Management # 477
Thus, her pay actual pay is 2,080 hours at a salary of $83.30 or $173,264.00
Comparing this year and last year's salary, Tami received a 23.57 percent pay raise–not including benefits or retirement.
But it gets even better, notice the little footnote on her classification?

Here's the footnote.

When Tami leaves this position, the pay will drop down to MNGT 452. Thus, this pay raise is only for Tami and only for as long as she wishes to work for Placer County.
Yep, no favoritism or conflict of interest here, just business as usual in Placer County.
More Than Money
Uhler presided over the Board of Supervisor's Meetings on July 9 & 23 when the pay raise for his wife was approved. He never stated that he had a conflict of interest and or recused himself. The pay raise was a consent calendar item at both meetings. On July 9, during the vote on item 14, Uhler reportedly left the room.
The account that I was given is:
At the July 9, 2019 meeting, after Board agenda item 12.A.l concluded, Board Chair Uhler stood, handed the gavel to Vice Chair Bonnie Gore, and left the room without stating a word about his departure. Although he left the room and remained out of the room for item # 14.A. l, he did not state his conflict of interest or recuse himself from the vote on the next agenda item # 14.A. l "Equity Adjustments for Classified and Unclassified Management Employees". Kirk Uhler deliberately evaded the conflict of interest requirements by leaving the room and "making himself absent" just prior to item related to his wife, Tamara Uhler's salary increase.

See Appendix 4 below
At the July 23 meeting, when the vote on item 19 occurred, Uhler abstained.
On July 23, 2019, as part of consent agenda 19.A. l "Equity Adjustments for Classified and Unclassified Management Employees" the Board of Supervisors took action to "adapt the ordinance" approving the salary increases for various management positions, including the salary increase for the position of Assistant Director of Child Support Services held by Tamara Uhler. Chairman of the Board, Supervisor Uhler personally called for the vote to approve the consent agenda, which included his wife's salary increase. He called for ayes, noes and then stated he was "abstaining", not recusing himself. He did not leave the room, and he did not give any reason for his abstention.

See Appendix 4 below
The item which was voted on stated that several people were getting an eight percent raise but not a word about the position held by Mrs. Uhler was in the narrative. Unless one took a calculary to it, chances are it would not be noticed.
As a result of this review and analysis of the costs associated with salary increases, the HRD is recommending salary adjustments for 13 management classifications to place them approximately eight percent (8%)…
Salary and benefit costs to maintain a minimum of eight percent (8%) between management
classifications and their highest paid direct report are estimated at $365,000.

Equity Adjustments for Classified and Unclassified Management Employees
The letter that I was sent also challenges the premise of giving Tami any raise on the basis of an 8 percent differential.
Prior to the July 23, 2019 salary increase, the salary differential between the Assistant Director of Child Support Services ($135,075 top step) and its highest paid direct report (Senior Administrative Services Officer top step $ I 05,348) was already at a 28% differential ($29,727). This 28% differential was greater than, and therefore not consistent with the rational for the 8% differential which was stated in the board memo.

See Appendix 4 below
Uhler as Pontius Pilot
On this issue, Kirk Uhler claims that he is innocent of any wrongdoing and any enrichment of his family is purely coincidental. However, those that know him best tell a different tale.
Some people I know are upset that Kirk Uhler endorsed Jim Holmes – who also endorsed Kirk. The record of Uhler is unassailable. So, let's tell a Kirk and Jim Story.
Did you know that when the final, fateful vote was to occur on Pioneer Energy's proposed massive rate hike came down the pipe – Jim Holmes called Kirk Uhler to ask him how he was supposed to vote on the issue. With Holmes opposing the 27% rate hike, that ended the debate forever. It is because of Uhler's relationship with his colleague that this happened.

Aaron F. Park

—Uhler Campaign Manager
Oh, Uhler is on the board of Pioneer Energy
"Pioneer Community Energy is about local control," said Kirk Uhler, a Placer County supervisor and member of Pioneer's governing board, in a news release.

With PG&E electric rate increase, Pioneer Community Energy gets cheaper
Two thoughts. First, why is Uhler involved in a county supervisor vote on rate hike for a utility that he works for? Second, why is he telling other supervisors how to vote?
Given this, how are we to believe that he had nothing to do with the massive pay hike for his wife?
This is the appearance of impropriety if not the substance.
Tami Wants a Promotion
But wait, there's more. Tami wants to be Director of Child Support Services.
The Director position is currently vacant. Assistant Director Uhler has informed the Placer County Counsel and the Director of Human Resources that she intends to apply for the position. The Director, a County Department Head classification, is an at-will appointment and there is no employment contract. The Director reports to the County Executive Officer ("CEO").

The California Family Code requires the Board of Supervisors to select the Director. Appointment of the prior Director was made by the Board on June 12,2007. Pursuant to the Placer County Charter, the CEO is responsible for the appointment, suspension or removal of all appointive department heads except County Counsel, "subject to confirmation by the Board of Supervisors." Similarly, the Placer County Code identifies the CEO as appointing authority for all department heads other than elective officials "[e]xcept as specifically provided elsewhere …. "
The Board has routinely been involved in the appointment of department heads in the past, albeit not consistently through the years. As noted above, and as evidenced by the Board agenda summary of June 12, 2007, the prior Director was considered by the Board in closed session and his appointment was reported.

FPPC letter 10-21-2019 File No. A-19-193 Page 2 (Appendix 3 below)
To be promoted to Director, Tami must be approved by the Board of Supervisors. So even if her hire in 2009 was not nepotism or a conflict of interest—which I think it clearly was—promoting her to the corner office appears to be a line that can't be crossed.
In fact, our friends at the FPPC said just that.
Remember that letter that I was quoting from the FPPC?
Here is the question that Placer County Counsel, Karin Schwab, asked the FPPC.
Under Section 1090, may the Placer County Board of Supervisors appoint a Supervisor's spouse to the position of Director of Child Support Services, given that the spouse currently serves as the Assistant Director of Child Support Services?

See Appendix 3 below
The FPPC responded not just "no" but "hell no."
No. The Board of Supervisors may not appoint the Supervisor's spouse as Director, because a Supervisor has a financial interest in his or her spouse's income under Section 1090, and no exception to Section 1090 is applicable given the circumstances.

See Appendix 3 below
Comments
On paper, Kirk and Tamara Uhler have finally been smacked down by the FPPC for violating the law; however, nothing has really changed. Like our Democrat controlled Legislature, when one political party runs a state (or county) with an iron fist, the interests of the political class inevitably come first. They enrich themselves and their families at the public trough, doing good for their friends (or contributors) and God willing, just neglecting the rest of us. They view the law as being for others and not themselves. They view themselves as too vital to be bound by the constraints of us mere mortals.
Not showing self-restraint, the attitude of corrupt officials is "if you don't like it then sue us." Those of us in the real world can only fund so many fights with city hall before throwing in the towel.
Mr. Uhler may have had good intentions when he first ran for office, I will give him the benefit of the doubt. However, the road to hell is paved with good intentions and Mr. Uhler lost his way many years ago.
I have barely touched on the laws concerning public officials and conflict of interest, nepotism, and the like. (See Appendix 4 if you want to read someone's attempt to get into the conflict of interest issue in depth.) Uhler's wife is a lawyer. Instead of following the law she once swore to uphold, she uses her training to skirt just so far over the line knowing that nobody is going to go to the trouble of jerking her chain, especially in Placer County. Kirk Uhler is the king of Placer County. Hail to the King baby.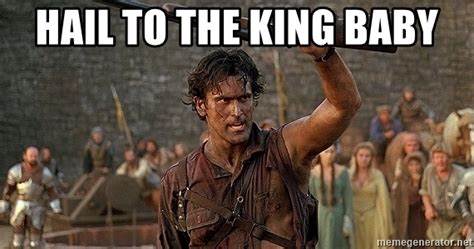 Conclusion
As I was getting ready to post the above, a few things continue to bother me. After some thought, I have decided what will happen in the real world with this issue. Let me explain and I think you will be forced to agreed with me and simultaneous not like it.
The great political observer, Scott Adams of Dilbert fame wrote a whole book with the premise that "there is a right way, a wrong way, and the weasel way. " Kirk Uhler has a track record of following the weasel way.
Given that the Assistant Director of Child Support Services position was empty for two years before being filled by Tami Uhler, and given that Tami wants a promotion, and given that the FPPC said no and given that the Director of Child Support Services position is currently empty and given that its duties are currently being performed by Tami Uhler, a reasonable person must therefore conclude that Tami will remain the de facto Director and the Board will not take any action to fill the Director position until such time as Tami chooses to voluntarily retire from Placer County with a full pension and benefits for the rest of her natural life.
Lastly, Tami already has some time in working for the District Attorney's Office so I expect her exit will be in just a few years. You might want to add pension spiking to the list of grievances committed by the Uhlers against the taxpayers of Placer County.
Appendix 1 Citizen Complaints
Here are the eleven complaints on file with the FPPC concerning Uhler's wife getting a raise via a vote of the supervisors.
Appendix 2 Placer Legal Counsel Letter to FPPC
Appendix 3 FPPC Response
FPPC related documents Advice Letter Report and Commission Review and Response to Karin Schwab letter
Appendix 4 Unsigned Letter
This letter is part of a 106 page document that I was sent. This is only the first few pages. The remainder of the letter was the author's attempt to defend and document his concerns. I generally agree with what he said but as you can see I don't just accept his word as authoritative on all points. Since it doesn't seem to be publicly available and I quoted from it, I wanted to make the source available to my readers.
Appendix 5 Sources for Tami Pay and Step