Folks, I'm including several different articles today as well as personal observations of the ongoing collapse of the once golden state. I also want to recommend one article in particular that is worth sharing to everyone. I will give you some highlights just in case it ends up behind a pay firewall someday.
Retail Apocalypse
First, the retail apocalypse continues. January 1, 2020 saw an economic bloodbath. Especially hit hard are restaurants. Reasons are increasing regulations like AB-5 and minimum wages/benefits, rent increases, and in at least one case, I suspect failure to keep up on payroll taxes.
Here's a partial list: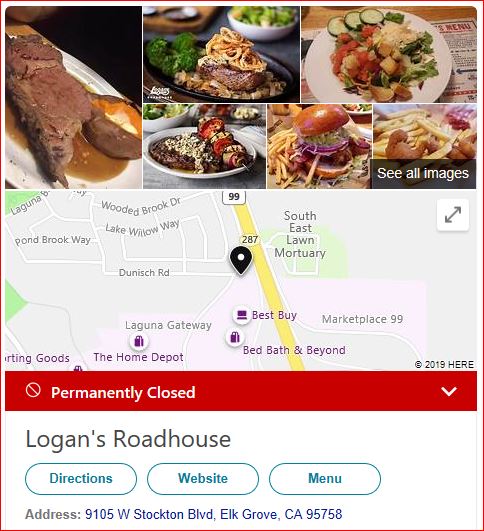 Local closures on the retail side
Dick's Sporting Goods
Cost Plus World Market

CA Jobs—Sorry Not Interested
Not only are jobs leaving California but one online job website based in San Francisco, is banning any employment listing after March first anywhere in the State of California.
Fast-growing Wonolo, which helps connect thousands of businesses with tens of thousands of contract workers, plans to halt its gig worker job postings for California on March 31.


It is all because of the new California state legislation known as AB-5, which went into effect Jan. 1 and requires companies to reclassify a wide category of California contract workers as employees.


"Given the limitations of AB-5, we anticipate that we may not be able to allow businesses to post jobs in California as of March 31, 2020. This means you will see significantly fewer jobs on Wonolo in California. We have not made this decision lightly but have done so in order to protect businesses from any unnecessary risks associated with the new legislation," Wonolo co-founder and CEO Yong Kim stated in an email sent Dec. 17 to its gig workers and viewed by the San Francisco Business Times.

Thanks to Lefty Legislation, Fast-Growing San Francisco-Based Company to Exit California Market
I find it ironic that a decade ago, the best political consultants on the conservative/Republican side based in California quit working California campaigns, instead spending their time in out of state elections. Now for much the same reasons, California businesses are concentrating on out of state markets to stay alive while ignoring their own backyard. I'm sure this is just coincidence.
High-Tech Feudalism
OK, as promised here's portions of the article that I implore you to read in its entirety. It's long but worth it.
California Preening: The Golden State is on a path to high-tech feudalism, but there's still time to change course
In truth, the Golden State is becoming a semi-feudal kingdom, with the nation's widest gap between middle and upper incomes—72 percent, compared with the U.S. average of 57 percent—and its highest poverty rate. Roughly half of America's homeless live in Los Angeles or San Francisco, which now has the highest property crime rate among major cities. California hasn't yet become a full-scale dystopia, of course, but it's heading in a troubling direction.
In the last two decades, the state has adopted policies that undermine the basis for middle-class growth. State energy policies, for example, have made California's gas and electricity prices among the steepest in the country. Since 2011, electricity prices have risen five times faster than the national average. Meantime, strict land-use controls have raised housing costs to the nation's highest, while taxes—once average, considering California's urban scale—now exceed those of virtually every state. At the same time, California's economy has shed industrial diversity in favor of dependence on one industry: Big Tech. Just a decade before, the state's largest firms included those in the aerospace, finance, energy, and service industries. Today's 11 largest companies hail from the tech sector, while energy firms—excluding Chevron, which has moved much of its operations to Houston—have disappeared. Not a single top aerospace firm—the iconic industry of twentieth-century California—retains its headquarters here.


Though lionized in the press, this tech-oriented economy hasn't resulted in that many middle- and high-paying job opportunities for Californians, particularly outside the Bay Area. Since 2008, notes Chapman University's Marshall Toplansky, the state has created five times the number of low-paying, as opposed to high-wage, jobs. A remarkable 86 percent of new jobs paid below the median income, while almost half paid under $40,000. Moreover, California, including Silicon Valley, created fewer high-paying positions than the national average, and far less than prime competitors like Salt Lake City, Seattle, or Austin. Los Angeles County features the lowest pay of any of the nation's 50 largest counties.
Perhaps the biggest demographic disaster is generational. For decades, California incubated youth culture, creating trends like beatniks, hippies, surfers, and Latino and Asian art, music, and cuisine. The state is a fountainhead of youthful wokeness and rebellion, but that may prove short-lived as millennials leave. From 2014 to 2018, notes demographer Wendell Cox, net domestic out-migration grew from 46,000 to 156,000. The exiles are increasingly in their family-formation years. In the 2010s, California suffered higher net declines in virtually every age category under 54, with the biggest rate of loss coming among the 35-to-44 cohort.


As families with children leave, and international migration slows to one-third of Texas's level, the remaining population is rapidly aging. Since 2010, California's fertility rate has dropped 60 percent, more than the national average; the state is now aging 50 percent more rapidly than the rest of the country. A growing number of tech firms and millennials have headed to the Intermountain West. Low rates of homeownership among younger people play a big role in this trend, with California millennials forced to rent, with little chance of buying their own home, while many of the state's biggest metros lead the nation in long-term owners. California is increasingly a greying refuge for those who bought property when housing was affordable.
The state, nevertheless, continues its pursuit of policies that would eliminate all fossil fuels and nuclear power—outpacing national or even Paris Accord levels and guaranteeing ever-rising energy prices. Mandating everything from electric cars to electric homes will only drive more working-class Californians into "energy poverty." High energy prices also directly affect the manufacturing and logistics firms that employ blue-collar workers at decent wages. Business relocation expert Joe Vranich notes that industrial firms account for many of the 2,000 employers that left the state this decade. California's industrial growth has fallen to the bottom tier of states; last year, it ranked 44th, with a rate of growth one-third to one-quarter that of prime competitors like Texas, Virginia, Arizona, Nevada, and Florida.
Reality is asserting itself, though. Tech firms already show signs of restlessness with the current regulatory regime and appear to be shifting employment to other states, notably Texas, Tennessee, Nevada, Colorado, and Arizona. Economic-modeling firm Emsi estimates that several states—Idaho, Tennessee, Washington, and Utah—are growing their tech employment faster than California. The state is losing momentum in professional and technical services—the largest high-wage sector—and now stands roughly in the middle of the pack behind other western states such as Texas, Tennessee, and Florida.
On its current course, California increasingly resembles a model of what the late Taichi Sakaiya called "high-tech feudalism," with a small population of wealthy residents and a growing mass of modern-day serfs.
Folks, as we often say at the editorial board meetings, California hasn't hit bottom yet. I predicted that if Trump won in 2016 that he would bring prosperity to the nation and the benefit that California enjoyed would just enable them to dig a deeper hole. That is what is happening now. The financial solvency of the state's government is built on Silicon Valley and Hollywood. When our economy catches a cold, California will suffer a fatal case of pneumonia. Too bad there's no viable alternative offered by the minority political party.