I know they are still working the kinks out of opening their new restaurant in Elk Grove, but I'm offering this early review. Please note that until Johnnie Does submits his official review that this one is preliminary.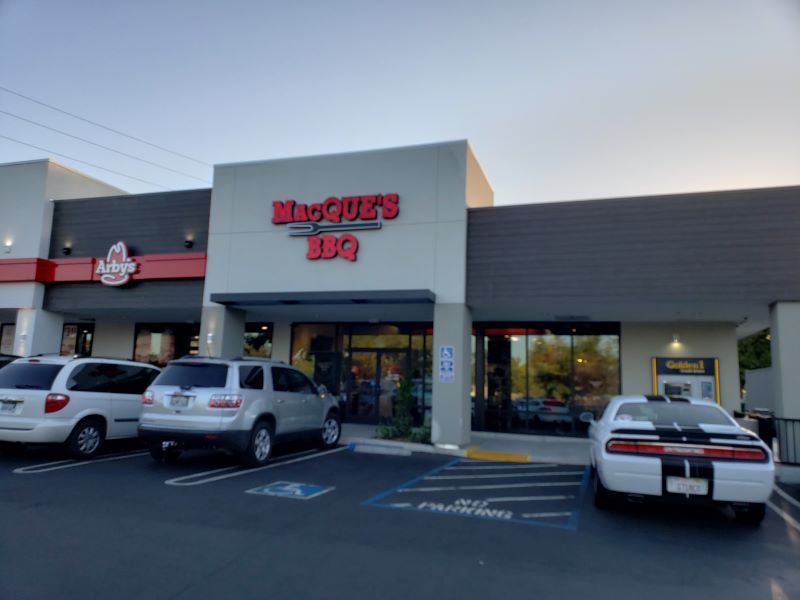 Anyway, last Thursday, I took the wife and son to try out MacQue's BBQ place. The owners are neighbors and we wanted to support them and their local business. The restaurant is tucked-in between the Arby's and the Golden1 ATM in the strip mall on Elk Grove Blvd next to Highway 99.
The first thing that I noticed was a number of people waiting in the front area for their takeout orders. Next you will notice the very small type font used for the menu board. I was not the only customer having difficulty reading the menu board. If you look around, you can locate a printed menu near the counter.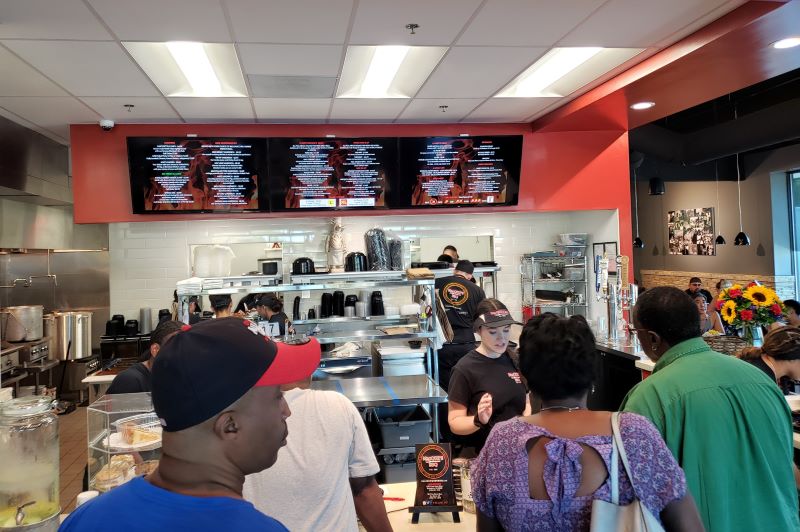 When we got to the front counter to order, we each decided to get a different menu item. This just worked out that way and helped with my decision to write a review. (Johnnie Does is a thin lad and it would be most unfair to make him consume too many calories to write a proper review.) Since we were there for dinner, we each ordered a meal from the menu. The boy got ribs, mom got chicken, and I ordered tri-tip. Food can be ordered with BBQ sauce of various types either on the food or on the side. Each of our orders came with two sides and each of us ordered a drink. It was just over $46.00 plus tip.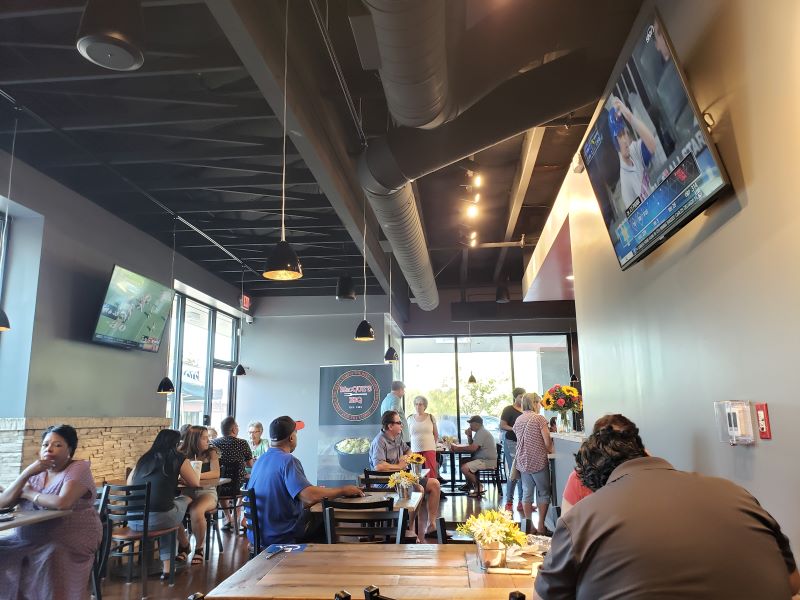 We ordered the following six sides: cole slaw (2), baked beans, corn, macaroni & cheese, and macaroni salad. There was nothing memorable about the sides except the corn was drowning in butter—not good, and the mac & cheese was not buried in cheese—good.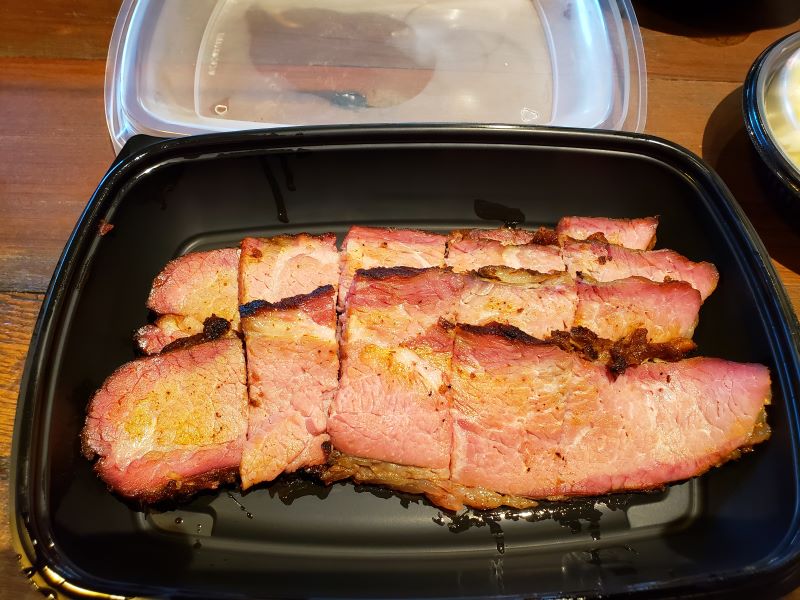 After a wait of 15 minutes or more, the food arrived. It was very much like KFC. Each item was separately packaged in a disposable container with lid. If you're from Davis or Berkeley, avoid this place; the amount of plastic going into the trash will shock you. Napkins, towelets, and plastic forks are available next to the soda machine. If you want a knife—which we did—you must ask at the counter. Even though we each had a fork served with our meal, the only way to get a knife was to get a sealed to-go packet with knife, fork, spoon, napkin, salt, and pepper. Again, this seemed like a waste of plastic and profit.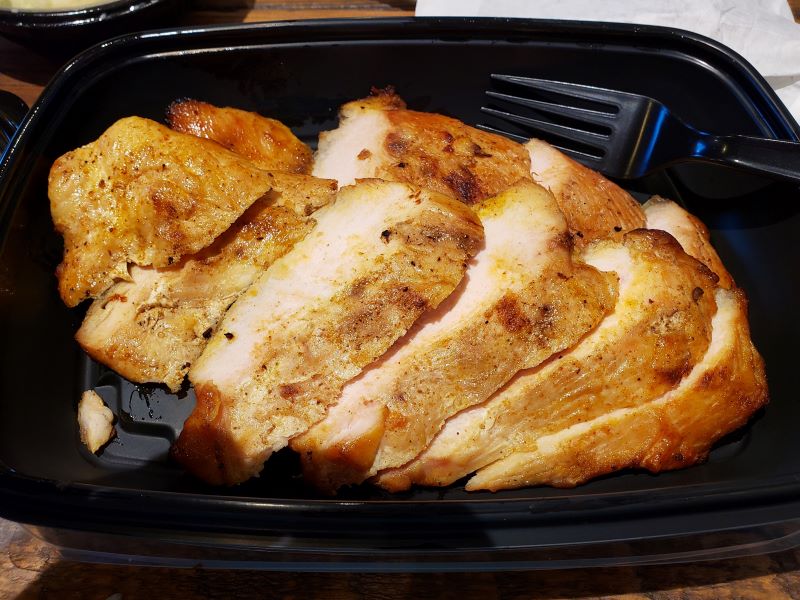 The ribs were the best menu item, the tri-tip was ok, and the chicken was…well, like sawdust. After trying it, I had the mental image of Gordon Ramsey yelling profanities and flinging it across the kitchen and toward the nearest trash can. Oh, my son was the only one of the three of us to ask for BBQ sauce served on his food. Although he got two layers of ribs on his plate only the top layer had any BBQ sauce. Get it on the side, you will be happier that it arrived at your table in yet another plastic container.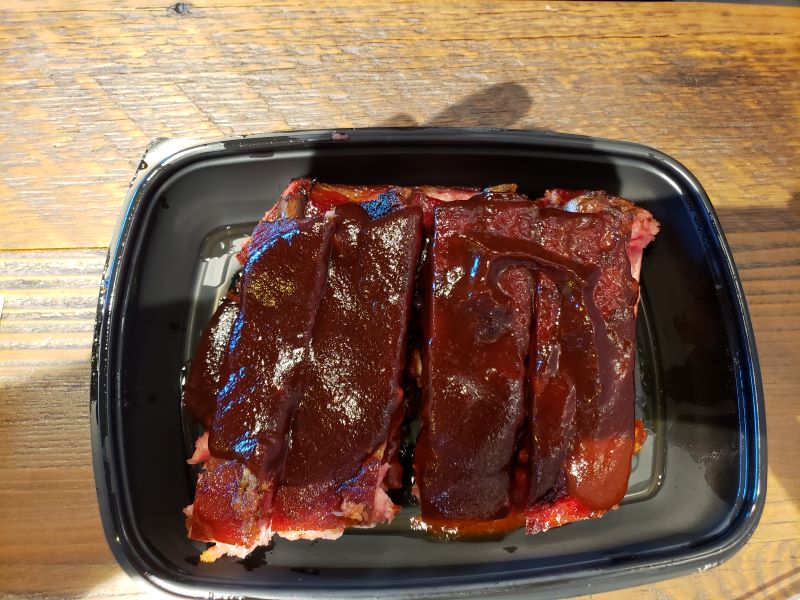 This article contains some of the photos that I took during our visit. I will leave it up to Johnnie Does to give the place a numerical rating.