Facing a cash payment of over $900,000,000 that is due and payable today (March 1st), yesterday Elon Musk took to Twitter and announced that Tesla was reshuffling the deck chairs. Tesla announced that they were eliminating their brick and mortar showrooms and opting for an online only purchasing option. Buy now and take delivery in June, (he hopes).
Tesla also announced that it is shifting sales worldwide to online only to "achieve these prices while remaining financially sustainable."
"Shifting all sales online, combined with other ongoing cost efficiencies, will enable us to lower all vehicle prices by about 6% on average, allowing us to achieve the $35,000 Model 3 price point earlier than we expected," the company said in a statement.
"Over the next few months, we will be winding down many of our stores, with a small number of stores in high-traffic locations remaining as galleries, showcases and Tesla information centers," the statement continued. "The important thing for customers in the United States to understand is that, with online sales, anyone in any state can quickly and easily buy a Tesla."
Tesla unveils $35,000 standard Model 3, shifts worldwide sales to online-only
Somehow this attempted misdirection was supposed to make Wall Street forgot that a huge chunk of their cash reserves evaporated today.
Tesla Inc. (TSLA – Get Report) shares traded sharply lower Friday after founder and CEO Elon Musk said a move to offer a cut-down version of its flagship Model 3 sedan will likely result in a first quarter loss, only weeks after telling investors he would turn the clean energy carmaker into the black.
"Given that there was just a lot happening in Q1, and we're taking a lot of one-time charges and there are a lot of challenges getting cars to China and Europe, we do not expect to be profitable in Q1," Musk told journalists on a conference call late Thursday. "But we do think that profitability in Q2 is likely." That view was reiterated in a Securities and Exchange Commission filing Friday.
Tesla Extends Declines as $35,000 Model 3 Unveiling Raises Q1 Profit Questions
After my last post on February 6th, I was given a lot of grief about being pessimistic on Tesla but three weeks later their shares went from an opening of $316.50 on 02/06/2019 to a close today 03/01/2019 of $294.79.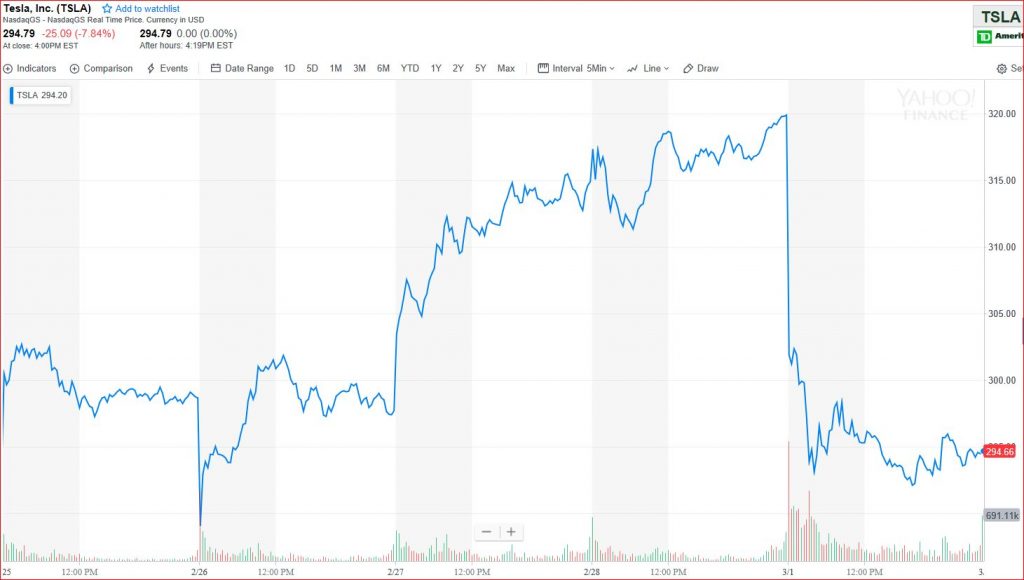 Please note the share price yesterday on the graphic as opposed to today's close.
Elon is also being accused of violating securities laws because of his behavior yesterday.
Tesla short-seller Gabe Hoffman says Elon Musk broke security laws again
Highlights of the video above include:
Tesla Model 3 sold 6.5K in January and < 6K in February
Car production is fixed price, how can they move their prices around and still make a profit?
Other Tesla news can be found below.
Tesla to shell out cash for big $920M bond payment
Tesla's cash flow numbers after this bond payment are going to get very difficult: Gasparino
Elon is keeping it afloat but his empire is listing badly and the bleeding continues.