News broke Friday morning (02/22/19) that New England Patriots owner and essentially a villain to all football fans Robert Kraft was arrested for soliciting prostitution at an Orchids of Asian massage bar in Jupiter, Florida. There was a large press conference, and the police department made it seem as if years of detective work finally took down the Sopranos. Additionally there are way more names to be released and Kraft wasn't even the biggest customer of this place.
Authorities charged at least 173 people with crimes, including human trafficking and soliciting prostitution. Six people are charged with running the ring.
Link:
Victims of alleged human-trafficking ring that ensnared Robert Kraft were forced to live in massage parlors and perform sex acts, according to police
First of all full stop, this is not the first "massage bar" to be busted by the police as a human trafficking ring, and is far from the last. A Massage Envy in Elk Grove, CA had the same thing happen to it. These places are a hot bed (no pun intended) for this type of activity, a massage place that just opened near my office has a sign when you walk in "We offer no additional "services" do not even ask." It's even a big running joke with most guys; oh I'm going to a massage parlor, looking for a happy ending.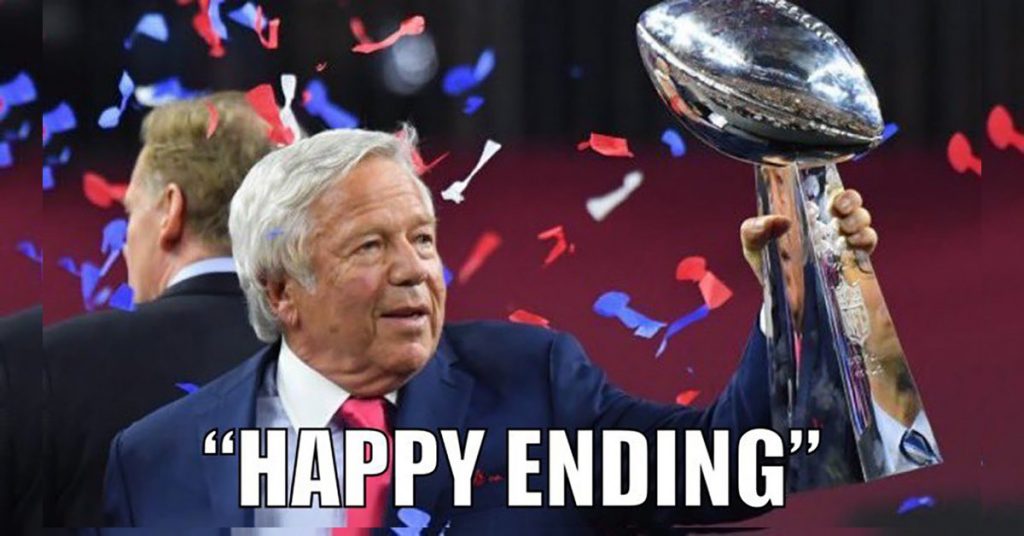 SO in total about 200 names are going to be dropped, with charges forth coming and I don't really know why. Let me lay out my case….
First of all Kraft just like any other man decided to engage in a sexual activity at a business, and it sounds like it wasn't his only trip, I don't see an issue here. Before you play the morality card, let me add Kraft is obviously in a weird state of his life. His wife died about 7 years ago, he has partied with strippers, hung out with rappers, and even started wearing a gold chain….he is clearly self-destructing. He went to this place for a little rub and tug, and while definitely he has no sense of morality, I don't see a crime. This won't play well but I see a nothing burger here, move along and focus on the real criminals in this case.
While he may have engaged in the sex act, it took 2 to tango and sadly this is the part the media doesn't want you to hear. Kraft is widely seen as a villain, his Patriots have won like 20 Super Bowls in the last 21 years, so he is a manufactured villain. Time to take him down. I remember these conversations in my childhood, 'life isn't fair", "takes 2 to tango"….however that doesn't apply today, the generation in charge now including the police chief, DA and others in South Florida are ignoring the bigger picture to snag the "big one." How come no charges have been announced against the owner? What about charges against those holding the girls against their will? The girls were supposedly kept there and not let out, and silence? Your detectives installed cameras, but you didn't try to save the girls? Just catch Robert Kraft, a pro golfer, the head of Citibank's banking division, and so far a bunch of no names? This is the type of backward thinking that has become common over the last 10 years, it's not about identifying the criminal; instead, it's about ensnaring the biggest catch. I guess public relations is a path to better funding next fiscal year.
The problem is Police, District Attorneys and judges have far too much power, and it is not more obvious than this! Actually I hope someone has a good answer for why surveillance went on so long. If you think people are in danger you get them help ASAP. If you're wrong, apologize, pay a sum to settle and move on. In this case, how come we haven't arrested the human traffickers? Many men are behind this, and a few women too. It's a horrible crime but it doesn't feel right making Bob Kraft out to be the bad guy here. The crimes are no laughing matter but seriously? This is how low we have stooped as a country? Completely ignoring Jussie Smollett and his half-baked crime?
I just see an old man helping out a local small business. Kraft also makes for great headlines, Spygate…Deflategate….now……Tailgate? Additionally, why does everyone say they "look forward to their day in court?" People actually look forward to that? When I hear that I mark down guilty.
Kraft also openly supports President Trump so I wonder if this is political payback for his support of Trump. Clearly, the league favors the other party.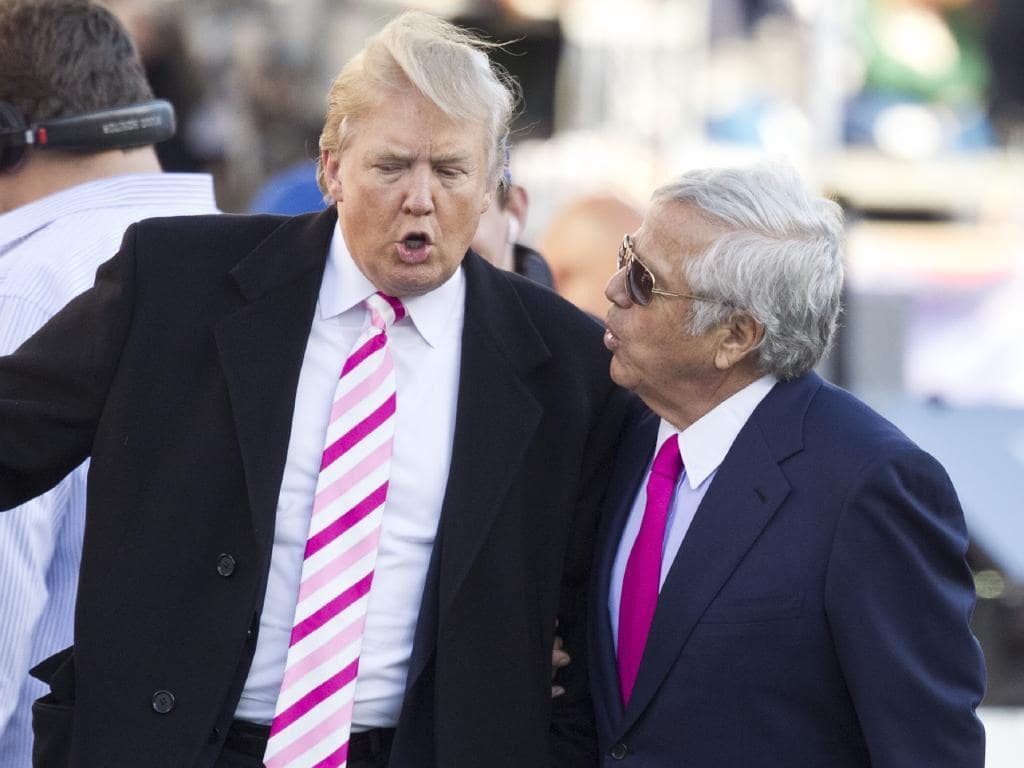 UPDATE
It has come to the attention of this blogger that there is a movement underway to make Mr. Kraft sell his team.
Regardless of the eventual outcome in the investigation in general or Kraft's case in particular, this is an opportunity for the NFL to live up to the moral standard it touts so fervently. Sports writer Jane McManus called on Saturday for the NFL to ban Kraft from the league if the allegations are true…
Link:
Robert Kraft's arrest is a chance for Roger Goodell to show the NFL is serious about its morality policies
Apparently we live in Soviet Russian where the governing powers can just force you out with little notice. I think there is a racial element at play here. 90% of the NFL players are black, the owners are overwhelmingly white, and players can be suspended for conduct such as DUI, domestic violence, drug/gun charges and the like, owners really cannot be. This reeks of a way for the players to punish someone who is without a doubt is one of the most popular owners in football with fans in the "New England Area."
Stay tuned folks,
"The Chief"