William, the Blog Father, and I met for lunch a couple years ago and both us had our "tin foil hats on" according to the cheerleaders of this disaster of an economy. A ton of issues were discussed but one item I brought up could reign supreme very soon, the topic of the car loan market. More specifically I spoke about the fact that the market was being flooded with subprime auto loans (not standard loans, think the No Income, No Job, No Assets, No Problem loans for homeowners during the meltdown a decade ago).
For a time, my prediction seemed baseless and unsubstantiated. There was nary a word from any media at all, until Wednesday, when CNBC had an article about it. As predicted at our lunch many years ago, its jaw dropping folks. William runs this site and perfection is not asked for, it's demanded. We stand behind our predictions, and in this case I wish I was issuing a retraction. Here are some brutal highlights from the article:
7 million American borrowers are at least 90 days behind on their car loan
1 million more than 2010, when we went through the credit crisis
Total auto loan debt has increased by 584 billion, the highest levels ever recorded by the FED
Link: A record number of Americans are 90 days behind on their car payments
When I digest these numbers, even I myself, the "Nostradamus" of this crisis, am somewhat dumbfounded….aren't we told that we are in a period of major economic growth and expansion? I am told the stock market is making new highs almost weekly; wage growth should be keeping up as well right? Problem is while most of the above is true, the results say otherwise. We have had economic growth, largely due to low interest rates; this carries over to the stock market increasing to all-time highs. What I am saying is you cannot earn a decent return in a savings account so as a result you invest the money, driving the market up. Corporations, can make loans on the cheap through a bank to finance a large acquisition, like Kuerig buying Dr. Pepper Snapple, or Pinnacle Foods being bought by Conagra. I cannot blame these corporations just like the ones who borrowed money just to juice earnings returns, but back to the car aspect of this blog.
During the last 9 years, banks were able to borrow money from the Federal Reserve Bank for 0% interest. Subsequently, they lent it out at far higher rates of return depending on your credit or FICO score. To sum this up, the bank is taking zero risk, and you the borrower are at their mercy.
So how does this pertain to the above article? Well you walk onto a car lot or dealership because you need a means to get to work. Just like that, you are circled by the vultures posing as car salesman. I say posing because they don't care about you, they see you as a sale not a person. Don't believe me then go see for yourself. These dealers will literally hire anyone. Still don't believe me, these people make money only when they sell, not so much when they are standing around, so when they find a live warm body, you're dinner! You're literally their meal ticket because they are on commission and without selling to someone like you, they don't eat.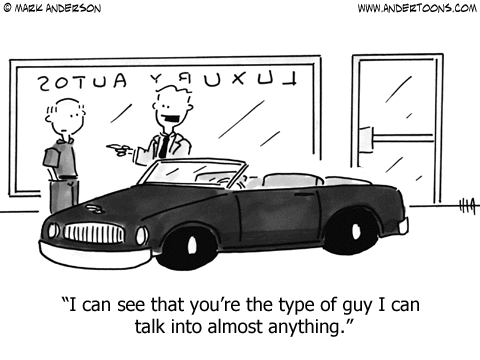 Since you need a ride to get to work, they don't want you to see the affordable compact commuter car. Oh, you have a family then you need that SUV, or crossover, or full size car….think about going to the beach, or snow, or grandma's house then get our all-wheel drive car over there! You test drive several, and you make a decision. You decided to buy a little more car than you needed but it's ok because it will pay off in the long run. The sales guy made you feel like a million bucks, sadly, you don't have said millions so you finance the purchase.
The finance guy (known as "The Closer") sets up a payment plan…0% APR right? Isn't that what the ad said? Well not in your case but we can probably do it for 15%. Then he runs your credit. You can't make the payment over 48 months, so….let's make it 72 months, and maybe it becomes 29%, but you need to get to work and the payment works so you sign. Congratulations Chief, you are now the proud owner of a new car or used car. It's a ton of payments but we know you can afford $475 a month. Read the last part again. You got taken but you don't realize it yet. You whip out the credit card for the down payment, you need the car now but it won't be ready until tomorrow.
Excitedly, off you go in your new vehicle. Typically you get 45 to 60 days before the first payment is due. The first couple payments are a bit of a struggle but you make them. Eventually a life event happens or other bills just increase as they always do. (Seen what rental prices are doing lately?) All of a sudden a couple years into the loan, you realize you bit off too much but too bad. The car sales guy, he may or may not work there anymore, the finance person, ditto however both got paid up front. Keep in mind there is no fiduciary duty law in this business.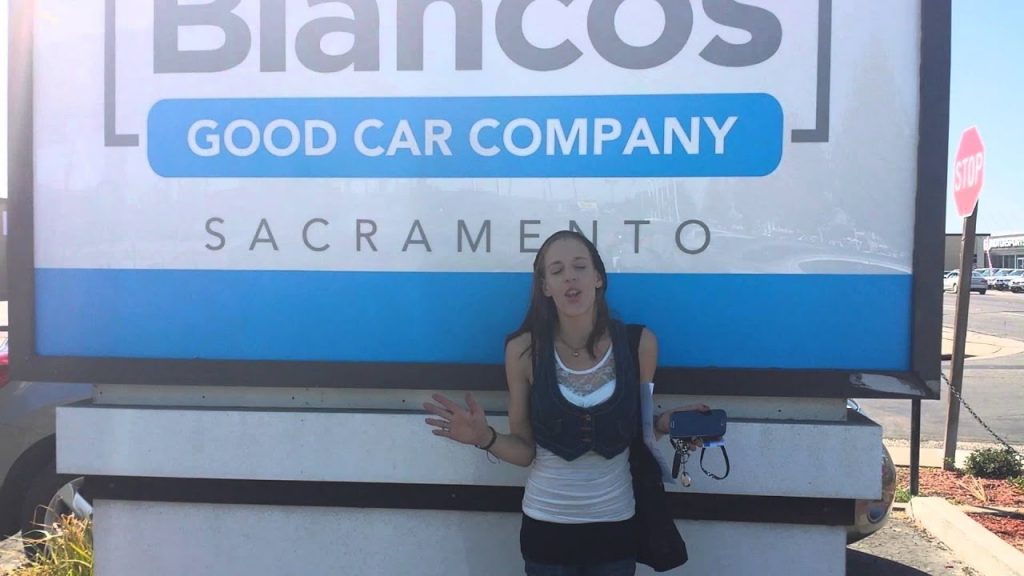 A local car dealership (Paul Blanco) literally runs ads saying we will get you in a car even with bad or no credit…and hence we have this auto loan issue. Frantically you call seeking to work out a payment plan…sorry the car is worth less than you owe, no refinance options exist Chief. Surely your credit union/bank can do something for you, you have been with them for years…negative Ghost Rider. Sadly your car is worth more repossessed even if you keep making payments on it. Surely this is usury or something, there has to be a way out…sorry, no one can help you. By the way, your car will be repo-ed and they will sell it again to another sucker, lather, rinse, repeat.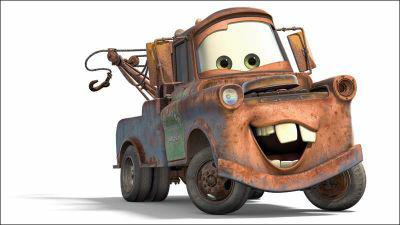 If you pursue legal action, you have no leg to stand on since you signed the papers. You also will find out the law firm hired by the finance company is Dewey, Skrewem, and Howe…while the in-house finance company hires law firm Howie, Keepum, Kurent. You were took, and are now on the hook, just another statistic in the actuary's book. The sad cold hard reality is you need a car to get to work, you bought too much car, and got saddled with a high rate loan on a vehicle whose value depreciated tremendously upon leaving the lot. We never learned our lesson from 2008, and we are going to repeat it yet again, in a way that is going to be cataclysmic to the economy and credit markets. As pointed out earlier on this website, you won't be getting that large tax refund to bring your payments current.
In this case I do wish I was wrong, however I was Really Right.