Not that anyone cares about the pathetic life of Jorge Riley, and we here at reallyright.com hate piling on but I came across this gem of a story the other night. Jorge Riley was back in court again last month on 4/16, not for his federal charges but for charges filed in Sacramento, his home county. However, this hearing had to do with Riley turning himself in to police as a bench warrant had been issued since he skipped his court appearance 3/16. For those of you scoring at home, skipping court is one of the stupidest things you can do. Think about it, a judge, and a prosecutor waited around, and you decided to skip, so a bench warrant is issued, and the local sheriff/PD tries to track you down.
Why did I mention the names above? Well coincidently on March 9 Riley was being honored at the SRA monthly meeting. Bill Cardoza made sure to put the photos all over Facebook. The people mentioned are all pictured in several photos. Folks Jorge has a known history of being an alcoholic and having admitted to being a huge marijuana smoker. He was always verbally abusive to any women around him, and it is unknown how many children he has. Read on to see what Mr. Riley was charged with.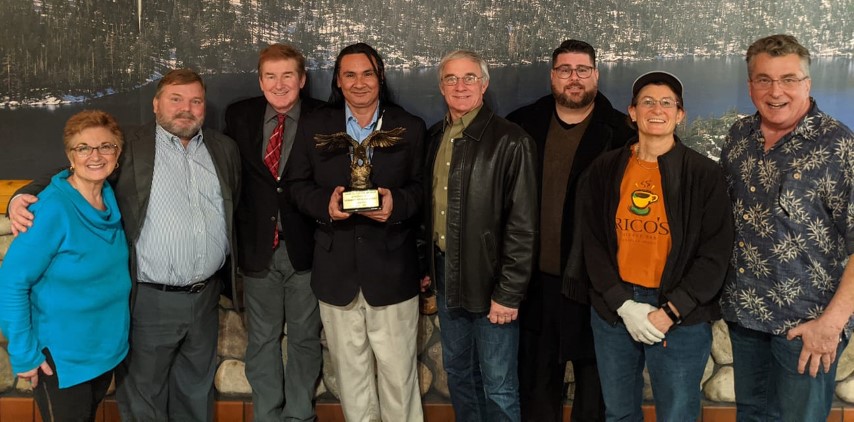 A week later he skipped court. I want to focus on a statement his lawyer made:

Riley was before the court for missing a court appearance March 16 on two outstanding felony child endangerment charges—his bail, after Friday's hearing, is $250,000. It was $500,000 but he claimed he's homeless and used a $600 government stimulus check to fly to D.C. in January.

According Russ Miller, Riley's court-appointed attorney, Riley had left the state to protest at the capital and when he came back, all of his property, including electronics, were confiscated by the FBI.

Basically homeless at this point, his attorney claims, Riley had to stay at a friend's place where he awaited the Zoom information to attend court and a working laptop to video chat.

Sacramento Man Arrested for U.S. Capitol Insurrection in Court about Child Endangerment Charges, Bail $250,000
This is what we call a lie folks, take another gander at that photograph, does the man in the middle look homeless or "basically homeless?" Looks pretty well groomed to me. So the government stole all his clothes and other stuff? Come on, Jorge looks just fine in the photo shared above, with a "drunken glare" I may add, so obviously someone in the photo sprang for the sacrament prior or during this event! Lovely.
Jorge is known to share everything about his personal life, he likely bragged about court being just a couple days away. I find it very hard to believe not a single person there knew about his pending court date, also I had heard rumors of these charges many months before now. Here is what he is charged with:
One Riley felony charge involves an incident where his child nearly drowned when the two went kayaking, and another charge accuses Riley of beating his son in front of bystanders for nearly six minutes straight while intoxicated.
Bill Cardoza has admitted to driving Jorge around and trying to help Jorge legally, as mentioned before Tom Hudson and Sue Blake are licensed attorneys, and Angela Azevedo had a long career in justice. I don't know much of anything about Justin Hardcastle, Russell Gray or Todd Freeman but tethering yourself to Jorge is not a very wise move. Hat tip to Bill Cardoza for taking this photo, showing a "very homeless" Jorge a week before he skipped court, you can always count on the worthless, useless, idiot Bill to have his camera out.
To quote Joe Biden "What the hell is wrong with these guys?"
By the way, here is the prosecutor of the case on how much trouble Jorge is in:
Deputy District Attorney Daniel Jensen argued Friday Riley is in deep trouble on his Sacramento felony charges, too.

According to Jensen, there were many attempts to contact Riley by calling him and messaging him, and his previous Sacramento attorney even gave him the Zoom information. It wasn't until Riley was told there was a warrant for his arrest three days later that he actually responded. He turned himself in on March 25.
We will just go ahead and say it, Jorge you can check out, but you can never leave. Sounds like the feds and the state are going to crack the whip on you. Get used to jail house oatmeal buddy. "You will be eating on the payers for a while, but sadly you have lived off the payers for most of your life so not a big deal for you."