Blogger Note: no business names will be used at all during this review as to keep Comrade Newsom, Fake Dr. Beilensen and their ilk guessing.
While we respect all laws here at Reallyright.com, we love small local businesses! We do. Be it the salsa bar, or the new salsa bar. All the places I review are local, some may be chains, but it's a local flair. We recently went under a lockdown where restaurants cannot do indoor or outdoor dining, only take out. Even after fake, racist, alcoholic Dr. Beilensen admitted only 7% of folks were identified as catching the rona at a eating establishment. Good luck staying in business doing take out only, unless you're a Chinese restaurant.
So anyway, Johnnie Does on a Friday mind you, went to a local shop to order take out.  This place has been around for a while, and it's rare to see a place on this side of town (sparsely populated) in business hopefully they survive the rona.  The owner asked if I would prefer dine-in, and I said only if it's ok.  He responded saying if Newsom can dine at The French Laundry you can dine in here, and I did.  I ordered my typical takeout meal here, but it seemed to taste better, maybe it was rona infected as here in CA the rona gets you between 10pm and 5am, also if you dine out or in, and seems to avoid you at Wal-Mart, Home Depot, and the like.
I was not the only one dining in, the place was packed, roughly 50% capacity and all were vigilant.  There was joy and a lot of don't give an f*** going on, I loved it, why should we become slaves to a group of folks (I include both R & D here btw) saying what we can and cannot do, based on wild science that makes no sense.
The food was great, I tipped well, and I will be back. I may even bring the Chief, Troll, and William here too at some point.
Sadly, what I wish to point out is this.  These places spent $$$ to buy plexi-glass partitions to go between booths, made staff wear masks, adapted to take out only, and then spent a ton of $$$ on outdoor heaters, custom over hangs, etc.  Now they must go to take-out only.  Money wasted or money well spent?  I say the former.  The rules change here in California literally every 10 minutes, and these folks have adapted, but now the push back is real.  Why are these folks being punished?  This will be the final nail in the coffin of most of these places, before you say; Chilis, Applebee's, and Olive Garden are going to be ok, those are chains, the parent likely took PPP money, or gave the operators a break on fees.  The small business folks will perish, and it will not be pretty.  Retail will follow them down the drain, likely after the Christmas season.  For context, the end of year blog party was charged $1.50 for using more than 2 bowls of salsa, folks that means this is real!
It's sad, and I have no way of putting this lightly, the Blog Father, his better half, child, and dog all know my beliefs on this, but it's going to get very ugly. Support your small business nearby, and tip for takeout, it may not be tradition, but these folks need it. Sadly the 90-Day Guy and others think closing businesses and ending livelihoods is the best way to beat this infectious disease. Think of someone else not yourself for a couple minutes.
RIP Local eateries.
Johnnie Does
BTW Gavin Newsom, 90-Day Guy and others, you're jerks! Closing stores and altering lives solely for your own gain? Think of others, some of us don't work in government.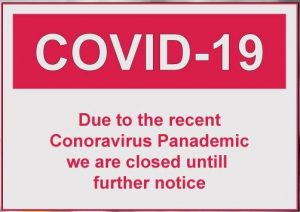 Editor's Note: Just to prove that Johnnie Does is right, California's chief health official admits that closing restaurants is not related to science. Here's the meat of the article.
… California's health and human services secretary, Dr. Mark Ghaly, addressed the matter to the press. According to this expert, science has nothing to do with it.

"The decision to include, among other sectors, outdoor dining, and limiting that, turning to restaurants to deliver and provide takeout options instead, really has to do with the goal of trying to keep people at home, not a comment on the relative safety of outdoor dining."

"We advise against anything that you can do in another way, in a lower risk way, that avoids you leaving your home…"

So, there's no science saying that outdoor dining is unsafe. It's just unsafe for you to leave your house in the first place. According to experts. The same experts who told us fifteen days to flatten the curve. Nine months ago. The outdoor dining ban isn't about science. This "expert" confirmed that. It's all about control. California doesn't want you to leave your house. So they'll take away reasons to leave your house. You know, for your own good. But only some places.

California Health Secretary Admits Real Reason for Outdoor Dining Ban. HINT: It's Not Science …