Cicada Cantina is a new joint that moved into the old Logan's Road House near the Best (expensive) Buy in Elk Grove.  They are what appears to be a family owned joint with the legacy store being in Redding, CA.  Cicada serves Mexican food with a traditional style as opposed to American style.  They had a tent set up outside to be Covid compliant, a garage area, and an outdoor dining area. 
Here is the review. (Blogger's note: we go easy on places due to it being Covid and all)
Ambiance: we will leave this blank since outdoor was all that was available.
Food: Cicada Cantina offers traditional Mexican food such as tacos and burritos, but in addition, they have some cool things on the menu, such as seafood plates. It's what you would expect from a chain restaurant based in California. However, …
This place charges for chips and salsa. Yeah, they claim if you buy a food item, they will reverse the charge but that is petty. By the way the chips and salsa is listed as costing $7.99. Covid or not, you are a Mexican food joint, that is standard and to be expected. How about a Chinese place without fortune cookies, or an Italian place without bread. SAD!
A friend of mine ordered the Cabo Salad, it consisted of a typical cobb salad, just very little outside of wilted lettuce greens.  The price for this?  $14, not only did my friend say it wasn't worth it, but it took 40 minutes to come out during lunch.
Here is an experience shared by someone near and dear to me:
"We dined there in mid-November and since its local we figured we would give it a chance. Since it opened about the time Covid shutdowns began, we didn't know much about the place. Boy was it a disappointment.  Not having been there before, we looked the menu over and asked our server questions before ordering.  An item that caught my wife's eye was a spinach enchilada that was listed on the menu as coming in a corn tortilla. My wife asked if she could change to a flour tortilla but was told by our server that it only came in corn. Disappointed, she ordered the chile relleno (think large stuffed jalapeno pepper) for a cool $17.29.  The portion was large, and the pepper appeared to be deep-fried but after a bite or two, it was still icy in the middle and required to be sent back.   I don't like saying this, but icy food, and unable to change meaningless parts of a dish such as choosing corn or flour tortillas, means only 1 thing, their food is frozen.  Its very expensive freezer food warmed in microwaves and toaster ovens. My chicken fajita looked to be more of the same, processed, frozen, and precooked. There is no excuse for food to come out cold. It's even more disgusting at the prices that this place has. We are charged for fresh food and get frozen. I expect better."
Oh, in addition to being microwave meals, my friend's the total ticket, sans alcohol came to $50 after tip. Whoa!
I have spoken to a couple other dissatisfied customers that said they were less than impressed and based on the experiences  described above, "unimpressed" is the understatement of the year!
I am going to attach photos of a couple shots of the menu and while some food looks good, look at the prices.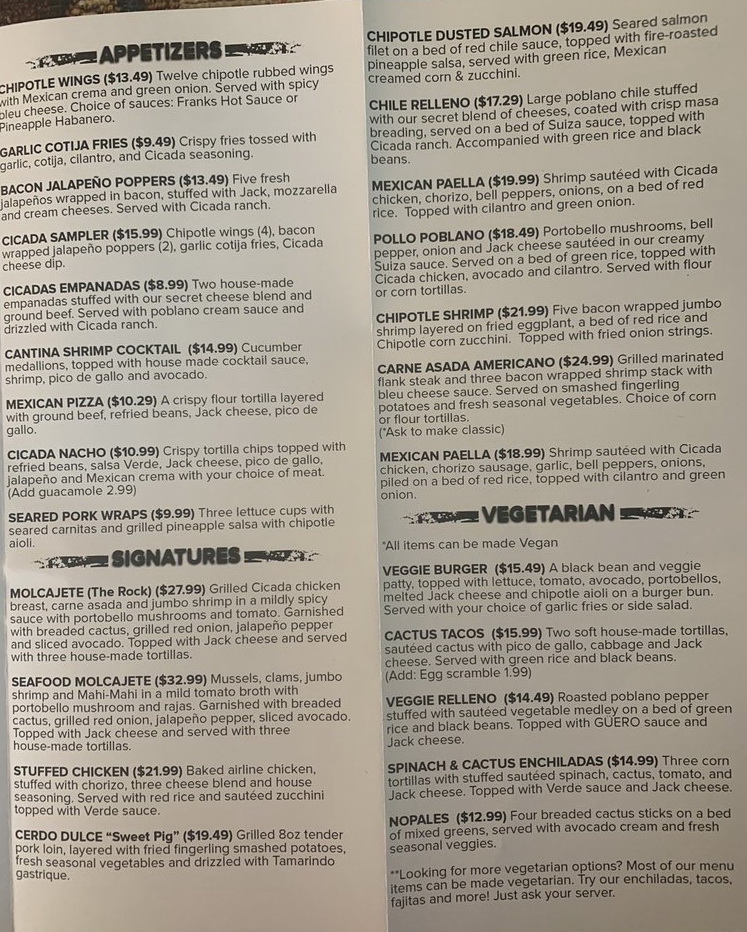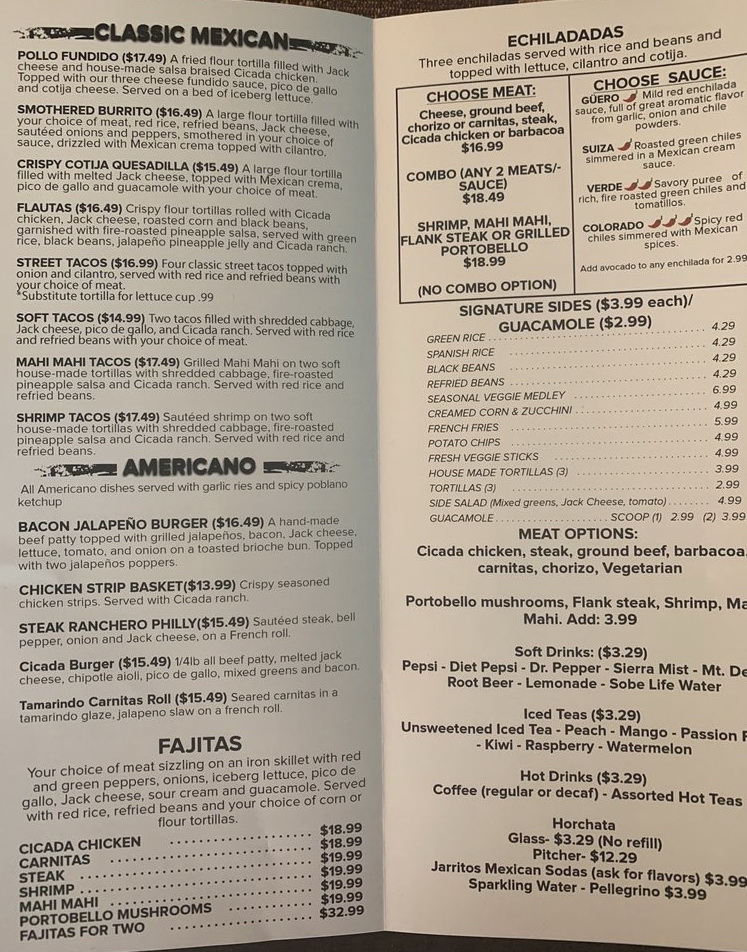 I am sorry it ain't just Covid, this place is actively ripping off everyone it serves.  This place is basically a very expensive TGI Fridays, where the entire menu can be found at the freezer section at your local grocer.  I see no reason to visit this place.
0/0 seriously, don't go.
Johnnie Does