Sabor a Mexico is a family owned restaurant that changed ownership from one family to another a few years ago. They offer classic Mexican food such as tacos, burritos, salads, fajitas etc. It's a small location in a not so easy to access shopping center, here is my review.

Ambiance: This place is not very big. It has a nice old school authentic almost hole in the wall feel. (Considering the original tenant was a New York themed specialty sandwich shop, the remodel to a Mexican themed place was pretty good–Editor) This business has adapted nicely to Covid by having ample outdoor seating which is pet friendly. There is nice artwork on the walls and windows to make you feel in an authentic Mexican food joint. Since reopening under Covid rules, the manger has furnished authentic music for outside diners. You get full service at your table, like a typical sit down place, in addition to a small bar area, and they have a brisk take out business. Small, comfortable, and homey. 4.3/5
Food: Again, typical Mexican fare on full display, tacos, burritos, salads, fajitas, etc. They had ample meat selection including ground beef, shredded beef, chicken, pork, etc. I went with a 2 item lunch special and ordered 2 shredded beef burritos which came with beans and rice on the side. $10. The food was great, not greasy at all, and I felt this was a great bang for the buck. Only gripe is the chips were over salted, but that's ok, and the salsa was lacking in the heat department, but again that's ok since I tend to prefer hotter things than most. 4.7/5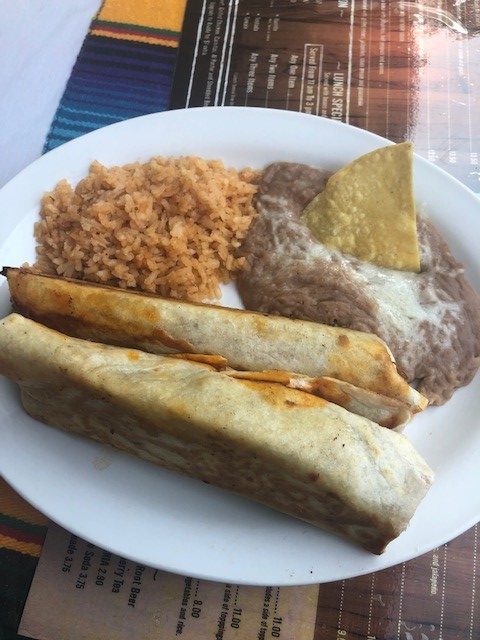 Overall: The food was great, the service even better. It is family owned and it appears family does it all at this place. It was refreshing to hear the words "my pleasure, or absolutely" after speaking to the wait staff. It felt like Chic-Fil-A in many ways, like we were welcomed not a bother. The owner was very engaging, and you could tell he is worried about the Covid lockdowns and the toll it will have in the future. Uncertainty is not your friend in the food business right now. 4.9/5 I definitely recommend this place.
Johnnie Does
Blogger note: The order included a $2 upcharge for the burritos I hadn't encountered before, that being said $14.55 after tip didn't seem like a bad price, certainly better than $18 plus for a salad and soda at a certain other place.