By Johnnie Does
When this virus thing went down, it started as "we must flatten the curve" and for the most part, we all tried to do our part. We put up with essentially house arrest, social distancing at stores, and admired most folks who were viewed as essential. Now the narrative has changed, we now "can re-open fully when there is a cure." I want to examine that last statement closer.
Until we "have a cure" is the literal definition of weasel words that can be used to pick winners and losers. Governors Newsom, Cuomo, and Wolf (PA) are the worst of the worst when it comes to this. To be fair Cuomo has a big problem in NYC, and Gavin has issues in LA County, and depending on how you look at it, the surrounding areas should be cautious. Governor Wolf in PA is an absolute tyrant. He actually exempted his family's cabinet manufacturing business from the shutdown…. well I guess his royalties are essential, aren't they?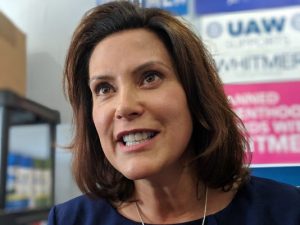 These governors, including Duchess of Michigan Gretchen Whitmer, have very little interest in your health or financial well-being; instead, they want to pick winners and losers. If you voted/campaigned/donated to a rival, now is their chance to get even. They have shutdown dine-in operations, movies, and retail shopping, forcing millions of low-income workers from the workforce. Worse yet, they are forcing grocers, slaughterhouses, and certain big box retail to remain open, regardless of worker fears.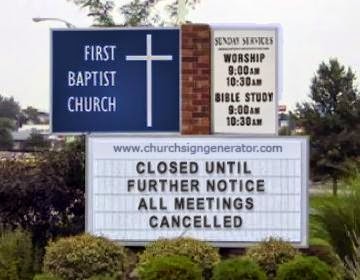 Why is it churches cannot open? Not necessarily for service but for funeral/weddings? Yet one can get married at the County Clerk's office if you file the right paperwork? This is punishing a business you do not care for, and in my opinion, Gavin has a large bone to pick with organized religion ever since the Prop 8 (Anti-gay marriage) commercials that used his likeness in 2008. What better time than now to keep the lid on and stymie the church's finances/well-being going forward. Since churchgoers tend to skew older, I don't see any services being held this year. Notice, sports with fans, movies, and churches all fall in "phase 4" of the re-opening which is when a vaccine is produced.
My issue is why are they treating the entire state like its one gigantic outbreak? Let's take the hometown of our blog, if you look at the "Sacramento Area" (Sacramento County) last I checked we have had 54 total deaths, in a county with a population north of 2.1 million.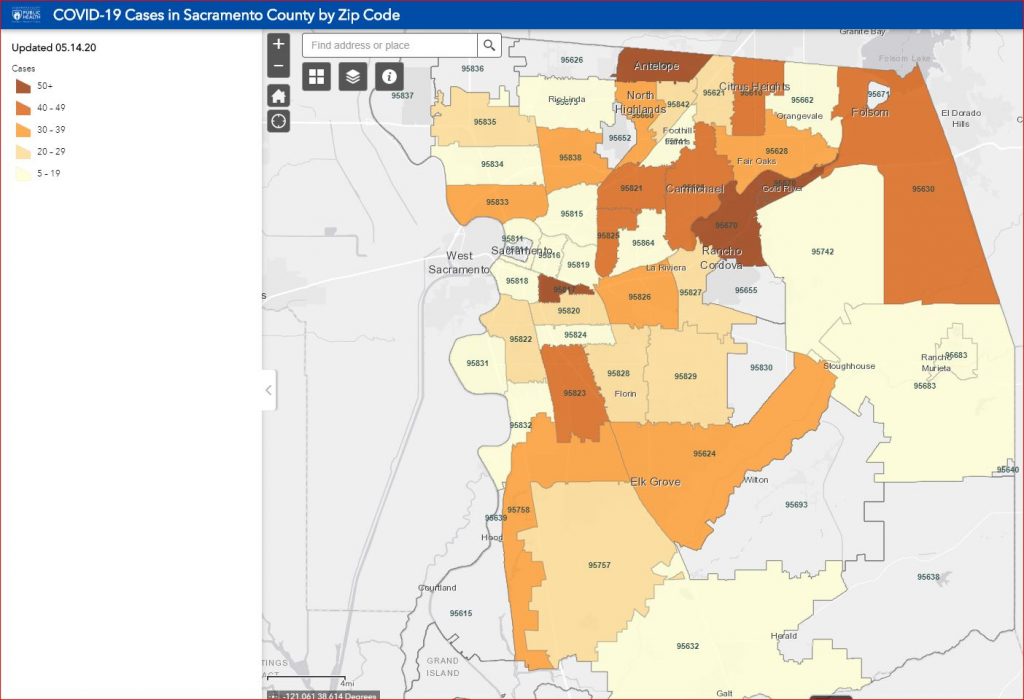 If I was a betting man, I would lay heavy odds 7/9ths of those deaths occurred in nursing homes.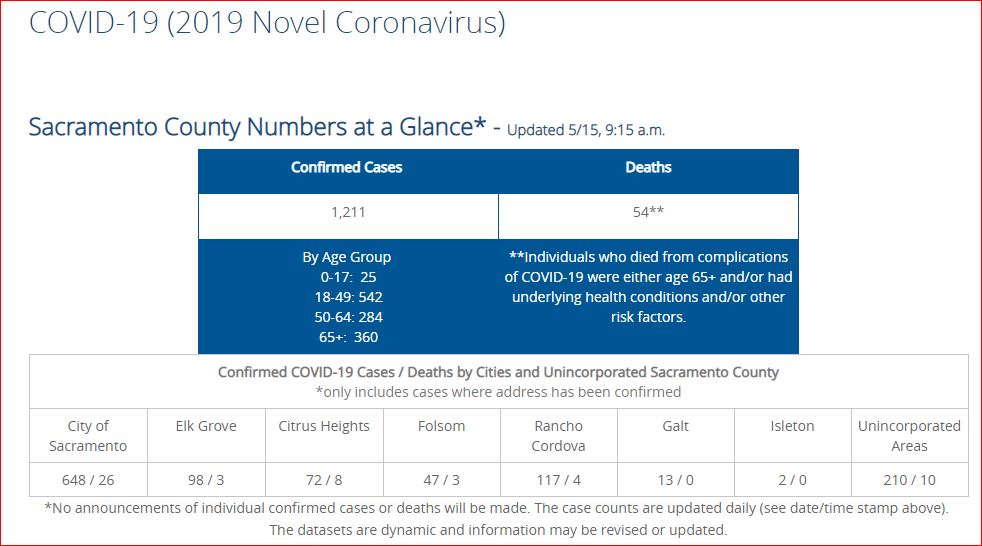 How come we cannot apply for the county to re-open? Oh, I forgot, seems we had a one person in Sac City die of Covid-19 on Tuesday, so we had to restart the "2 weeks no deaths" clock. Notice Dr. Beilenson even stated we should get a waiver from the Governor because our infection rate is low. Sorry Dr. but Gavin lives in the Sac suburb Fair Oaks, and most if not all the electeds in Sacramento reside here as well, so we are not going to re-open until it's absolutely safe. Even when we are allowed to reopen, things will not be the same for a very long time.
As William has stated, when exactly do we think we will have a cure? Let's be real, cancer, AIDS, the common cold, and the flu, we may have shots or feel good remedies, or in the case of cancer use a combination of tactics to defeat it, but we do not have a cure let alone a magic elixir to prevent it altogether be it a vaccine or whatever. Truth is we probably never will. With the Corona virus mutating like it has, we do not even know what we are up against. Even If we were able to find one vaccine to prevent all the various types of Covid-19, how do we mass produce it? How will it be mandated? Remember here in California, we have a large group of anti-vaxxers. To see what kind of pushback to expect from them, look no further than the recent measles outbreak and Disney or the anti-vax headquarters of wealthy Marin County. It is clear that Governor Newsom intends to mandate that everyone have whatever experimental vaccine gets to market first and damn the side effects.
Try to internalize what's happening now. We have shutdown fairs and firework shows, and recently have moved our Junior Colleges and CSU classes to online only for the fall semester. L.A. has promised to be shut down until the end of August at the earliest. Does anyone really think we are just going to re-open everything after Labor Day as if none of this had happened? We all know that answer.
Hey, Johnnie if you were in charge, what would be different?
Given all the above, I was posed a question by 90-Day Guy asking me how I would have handled all of this if I were Governor. What follows is my answer and it may surprise some of you. Keep in mind that 90-Day Guy didn't offer his own plans as the nightly edition of Cable's Primetime Lineup hadn't aired yet to tell him what to think.
As governor, my hands would have been tied. I think Newsom did well reading the initial outbreaks. It seemed like the lion's share were in the Bay Area and parts of LA. Keep in mind the Bay Area has cases, but not many deaths. I would have kept monitoring and received daily updates from the counties themselves. Once a few Bay Area counties and LA County had their Directors of Health Services shut the county down, my hands were tied. Sacramento and a few others followed suit and I had no choice. I would have to shut the state down. (Remember that at this point in the outbreak, the experts were projecting that millions would die if we did nothing.) While many will disagree, we cannot just have people traveling all over the state to do shopping that does pose a public health risk. Yes, I would have shut it all down for two weeks, everything. No cars on the roads, as far as food goes, I guess you could leave the grocers/pharmacies open for pick up only. But what we needed was to stop the transmissions, not simply say try to stay at home but its ok to come out if you need to.
After the two weeks, I would have lifted the order, but said to the counties, it's up to you to enforce, continue, or rescind. I would have put out suggestions like the older folks should consider staying home longer. Ditto for those with bad immune systems; leaving it up to them to form a plan with their employer. Those who are scared of their own shadow may continue to cower at home but know that we would eventually get back to normal. This would give me some insulation and make the counties do their own work. In truth the Bay Area and LA area counties would remain closed longer and maybe a smattering of more populated areas, but the rural ones would re-open in full. Boom, just like that I would be lauded for shutting down for a bit, putting no one out of work for a prolonged time, yet making folks aware of distancing.
That is precisely where Newsom went wrong. He enjoys playing king and loves power. Instead of supporting small businesses, he threatened their livelihoods by bullying them with threats of pulling their cosmetology/alcohol licenses. That behavior is rule by a dictator and an evil one at that. Newsom wants us kept at home and enjoys seeing businesses closed. Need more proof? Why is it that the government workers still get paid, essential workers get paid, and the teachers get to stay home collecting their full salaries, yet regular working families are paying a heavy price and being expected to do without with no end in sight? Most hourly employees have now gone two months without the dignity of working to support their families. The working poor are the hardest hit by this shutdown and stand to lose what little they have accumulated. Newsom has no care for them, his only solution is telling Donald Trump to print more money and give it to California because we don't want to help ourselves.
Final Thought
Keep waiting for a cure folks, just understand we aren't all in this together because some of us are getting paid and still doing well, it's the rest of you we want to stay confirmed in their homes. At least until there is a cure…….
Johnnie Does