By Chief
Well folks Measure B was defeated in 2016, by the slimmest of margins—talking fractions of a percent here people! So, we were spared from a county-wide sales tax increase, which actually resulted in a decrease believe it or not. Sales tax measures here at the Sacramento County level require a 2/3 vote of all voters to go into effect, I believe it may be different for just local governments.
Editor's note: the percentage needed for passage of sales taxes depends on whether funds are dedicated which needs 2/3 voter approval or just going to the general fund which requires a simple majority.
Legislative Analyst's Office
Politicians hate tax decreases, it's actually one of few bi-partisan things both parties can agree on. William has explained this better than I ever could but in essence: say there is a fund for a new overpass for 20 million. Money has already been set aside, but the general fund is running low due to lower than expected holiday shopping, so a tax hike is proposed to "pay for road condition improvements." It passes and the government gets more tax revenue. The voter approved money goes into the transportation fund as promised, but since transportation is now fully funded by dedicated funds, other money that was being spent on transportation, is now freed-up and re-directed into the general fund to pay for pet projects. The net result of the tax hike is often that no additional funding increase—in real dollars—ever happened for transportation; money just got freed-up to be spent for other purposes. This bait and switch is a bi-partisan approach because everyone can find a project in their district to direct monies to, and when it's completed, the elected can nominate himself for sainthood and give voters a reason to re-elect him/her/it. The City of Sacramento actually just did this saying the funds were needed for additional police/fire but re-directed it saying they had a "surplus." Cities never have surpluses, trust me, it's called creative accounting.
But I digress. There is a task force, the Sacramento Transportation Authority, made up of 16 elected members of this county (all 5 supervisors) (5 Sac City Councilmembers) (1 member from Folsom, Citrus Heights, Rancho Cordova, Galt/Isleton) and (2 members from Elk Grove). So, in essence, your tax dollars are funding a committee of your electeds to find ways to tax you even more on a countywide basis. To be clear, I have no problem with the mix of elected officials on a board, as they were elected by us the voters; however, I do have a problem with obvious conflicts of interest. Here is a glaring one: Sacramento's Regional Transit (RT) is the local bus/light rail service in the county and of these "members" look how many reside on the RT board as well: Kennedy/Serna/Nottoli all Sac County Supervisors, Hume (Elk Grove), Howell (Folsom), Miller (Citrus Heights), Hansen/Harris/Schneier (Sac City).
Nine of 16 members sit on both boards. Thus, the Sacramento Transportation Authority has a vested interest in raising the local sales taxes and directing the money to RT which will be given a large slice of this new tax money. While you cannot do much about the supervisors, I find it hard to believe the other cities couldn't find other city councilmembers to replace them due to a conflict of interest. RT is slated to receive a very large split of this money, I've been told upwards of 30%!!! No wonder Regional Transit took over/bought out Transit in Elk Grove and Citrus Heights last year, now they have a monopoly over the transit monies from this tax!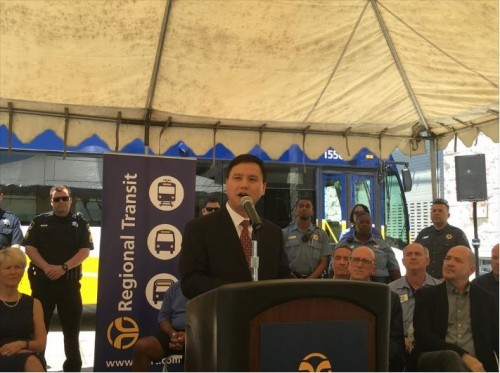 City and county leaders in Sacramento are in the midst of debating a sales tax measure for the November 2020 ballot that would fund a long list of projects transportation projects, from freeway interchanges and bridges to sidewalks near schools.

Measure A could raise more than $8 billion through a half-cent sales tax over the next 40 years.

The decision to place a measure on the ballot will be made next year by the Sacramento County Board of Supervisors, if the project list is approved in coming weeks by the Sacramento Transportation Authority board. The STA board is made up of council members from cities around the county as well as members of the county board of supervisors.

Here's what your community will get if you vote for Sacramento's transportation sales tax
There is a whole list of projects this additional money will go towards, and while some of it seems like worthwhile ventures; widening bridges, replacing old ones, repaving roads, it's also chock full of waste. Expanding bike lanes, creating one way streets downtown, making bus only lanes, making Interstate 5 add carpool lanes (this is occurring already by the way), walking trails, and creating a four lane mini-connector highway from Elk Grove to Folsom! It includes a slew of wasteful transit spending, everything from newer hybrid electric buses to expanding light rail to Elk Grove in the south county and the airport in the north county. Basically, the money is divvied up proportionally and the projects are already in the planning stages. Of course, it's California so combating climate change even worked its way into the conversation.
I call these projects "wasteful" because we as a county have not maintained these assets since they were constructed. I call it the "plug the holes and pretend all is well plan." I drive a couple roads to get from my house to my job, the roads are horrifically maintained. When a pothole appears, the City tosses some asphalt in it, hammers it down with a shovel and moves on; only for said pothole to reappear a couple days later. When a re-seal or re-pavement should be done, we put it off in the name of saving money. Same goes for our bridges and overpasses, we ignore them entirely. I know this for a fact as a former Cal-Trans engineer told me no one even inspects them anymore, and if they do its more of a drive-by affair. This is not called a needed tax, it's called fixing a bureaucratic time bomb waiting to blow up. Also what irks me is these planned "traffic easements" are total bunk, that mini-highway on Grant Line is only being proposed and funded because Folsom is building 10,000 new houses not far from there. Ditto with the new highway on ramp at Whitlock Road in Elk Grove. We are adding a casino and about another 8,000 homes there. I have heard rumors of a paid toll road on the 80, I thought toll roads paid for themselves? This wild looking bridge we are replacing at "I" Street seems necessary, but how come West Sacramento isn't sharing in the cost? The street enhancements for autonomous cars seems very forward thinking but shouldn't we wait until this becomes a bigger thing in the Bay Area…like you know, where all this tech seems to originate from?
I'm down on the transit funding for a couple reasons. First, I already fund transit whilst filling my vehicle with gasoline. The truth is that the Legislature is diverting money from gas, diesel, and other transportation taxes for use in other areas. Instead of fighting this diversion of funds, local government is trying to establish their own revenue stream to replace money diverted from them at the state level. Second, transit is required to recover so much of their operating costs at the fare box, and it seems like every year they are cutting stops, consolidating routes and raising fares, the business model seems very un-user friendly. Third, public transit just seems to constantly miss the mark. There is rampant fare-evasion, crime (including; violent, sexual, and petty), and in general people do not feel safe.
For example, look at the newly completed light rail extension to CRC junior college in my hometown. If I wanted to ride RT's light rail to the Kings game, I must drive my car 20 minutes to the RT station, leave my car in a questionable area, and ride the train through quite a few downright rough parts of town on my way to the game and back. RT services are predicated on the expectation of leaving my car at a lot where everyone knows my vehicle will be unattended for many hours. RT just expects me to put my trust in the good citizens lurking in and around their parking lot.
Since I have lived, here everyone has talked about RT going to the airport. (I remember Joe Serna talking about light rail going to the airport back in the 1980's when I was at Sac State—editor.) At one point they started work on the green line…but due to low ridership it was halted, now they want to use this tax hike to revive the idea yet again. Furthermore, they want to expand RT further south into Elk Grove. That seems all good and well, but land will be at a premium as much of that Bruceville Road route is built up already. This idea just seems like a boatload of waste. In addition, this light rail expansion…. completely skipped over our shiny new upscale mall built out at Delta Shores…just saying.
The task could be tough: Sacramento County transportation officials would have to persuade voters to agree to what would be a third ongoing transportation tax. The county already collects a half-cent sales tax for transportation projects, approved by voters in 2004 and set to last 30 years. Meanwhile, California state officials raised the gas tax in 2018 to provide more money for state and local transportation projects.

A 40-year sales tax to tackle climate change is likely headed to Sacramento's November ballot
I predict a very close ballot box result next November, but don't be shocked to see ballots "found" after counting ends.
Chief