Yesterday, the Washington Examiner simultaneously ended Joe Biden's flailing political campaign for President not just for 2020 but forever and they also ended the farce of impeaching President Trump.
The 2020 Democratic candidate with whom the CIA whistleblower had a "professional" tie is Joe Biden, according to intelligence officers and former White House officials.


Lawyers for the whistleblower said he had worked only "in the executive branch." The Washington Examiner has established that he is a career CIA analyst who was detailed to the National Security Council at the White House and has since left. On Sept. 26, the New York Times reported that he was a CIA officer. On Oct. 4, the newspaper added that he "was detailed to the National Security Council at one point."


Michael Atkinson, the Intelligence Community's inspector general, told members of Congress that the whistleblower had a "professional tie" to a 2020 Democratic candidate. He had written earlier that while the whistleblower's complaint was credible, he had shown "some indicia of an arguable political bias … in favor of a rival political candidate."


A retired CIA officer told the Washington Examiner, "From everything we know about the whistleblower and his work in the executive branch then, there is absolutely no doubt he would have been working with Biden when he was vice president."


As an experienced CIA official on the NSC with the deep knowledge of Ukraine that he demonstrated in his complaint, it is probable that the whistleblower briefed Biden and likely that he accompanied him on Air Force Two during at least one of the six visits the 2020 candidate made to the country.

Joe Biden worked with whistleblower when he was vice president, officials reveal
But folks it's even worse than this. Did you know that the Ukraine energy company in question paid Joe Biden $900,000?
As the son of then-Vice President Joe Biden, it seems pretty clear that he was there selling access. That's the allegation. It's a question that hasn't gone away, and one that has irritated Joe Biden to no end. And now we're hearing that Joe Biden was also paid $900,000 which was part of his lobbying fee on behalf of Burisma. The former vice president has repeatedly said that he and his son never discussed overseas business, despite being pictured in a photograph golfing with two Ukrainian energy executives. They didn't talk business. Who are you kidding?

Joe AND Hunter Biden Were Both Paid by Burisma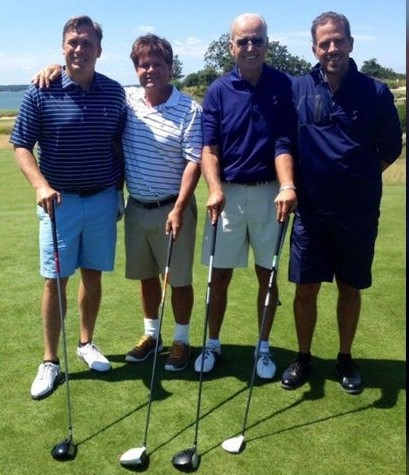 Rudy Giuliani has alleged that a Ukrainian natural-gas company that employed Joe Biden's son Hunter also paid the former vice president $900,000 in lobbying fees.


Appearing on Fox News' "Hannity" Wednesday, President Trump's personal lawyer cited as evidence claims made by Andriy Derkach, a member of Ukraine's parliament.


"Biden, his son and his brother had a 30-year-long scam to make money, millions, selling his public office," Giuliani told host Sean Hannity.


Derkach held a press conference earlier Wednesday in Kyiv where he claimed to have documents showing how Burisma Holdings paid Joe Biden the lobbying fees.


Hunter Biden worked for Burisma while his father served as vice president and acted as the point man on US effort to stamp out corruption in Ukraine. Hunter was paid $50,000 a month.


"Funds in the amount of $900,000 were transferred to the US-based company Rosemont Seneca Partners," Derkach told reporters, referring to the investment company the younger Biden founded with Chris Heinz, the stepson of former Secretary of State John Kerry.

Giuliani claims Ukrainian company paid Joe Biden $900,000 in lobbying fees
Please note again that this is how people in Washington become multimillionaires on $125K a year salaries. Joe Biden gets a cut for allowing access, his son gets millions of dollars while Joe is Vice President and magically, we have John Kerry's son involved in this too. Do you see the pattern?
Bill and Hillary Clinton lived off Bill's $35K a year salary as Arkansas Governor and were flat broke when Bill took office. Now they are worth close to a billion dollars. Similar story with the Obamas. Go back and look at Lyndon Johnson, same song second verse… This has been going on for decades in Washington circles.
Meanwhile, Trump has put his assets in a blind trust and is working for free—he donates his salary to various groups. Unlike the others, Trump is taking a pay cut to be President.
Oh, The New York Post ends the article with a fake news fig leaf for Joe Biden trying to excuse what he did.
Derkach claimed Joe Biden pressured Ukraine in December 2015 to force the resignation of Ukrainian Prosecutor General Viktor Shokin and dangled $1?billion in loan guarantees as an incentive.


Prosecutors have found no evidence that either Biden did anything wrong, and Giuliani did not respond to requests for comment about details of the alleged documents.


Joe Biden's presidential campaign did not respond to a request for comment.


Trump and his allies, including Giuliani and Republican members of Congress, have alleged that Joe Biden sought to have Shokin fired because Shokin was investigating Burisma.
The fake news is "Trump and his allies…have alleged…" Yo dudes, Biden admitted it in front of a live audience. I've seen the tape and the transcript. Here's one account of the event.
In his own words, with video cameras rolling, Biden described how he threatened Ukrainian President Petro Poroshenko in March 2016 that the Obama administration would pull $1 billion in U.S. loan guarantees, sending the former Soviet republic toward insolvency, if it didn't immediately fire Prosecutor General Viktor Shokin.


"I said, 'You're not getting the billion.' I'm going to be leaving here in, I think it was about six hours. I looked at them and said: 'I'm leaving in six hours. If the prosecutor is not fired, you're not getting the money,'" Biden recalled telling Poroshenko.


"Well, son of a bitch, he got fired. And they put in place someone who was solid at the time," Biden told the Council on Foreign Relations event, insisting that President Obama was in on the threat.

Joe Biden's 2020 Ukrainian nightmare
Once and for all, America is saved from this pompous knucklehead ever being in the White House. Joe may be on the campaign trail for a while longer but his end is certain.