Yes, its time for the Service Employee's International Union (SEIU) to negotiate contracts with the State of California again. If you want to follow all the action, see it for yourself here. Bargaining Unit Updates
Current Contract with SEIU: Memorandum of Understanding (MOU) with SEIU, July 2, 2016 to January 1, 2020
Four years ago, Jerry Brown showed restraint when negotiating with this union, but this time around, the union is asking for the moon and very likely to get most of it from Gavin Newsom. Look at this laundry list of goodies.
Economic Justice
21 percent salary increase over three years.
This is partially because many SEIU members are making starting wages less than the magical $15 an hour that is somehow the holy grail of wages.
GoePay
If union members live in high cost areas like Los Angeles or San Francisco, they want members to get extra pay due to the higher cost of living.
Housing differential
If employee is paying more than 30 percent of income in housing costs then you get more loot.
Comments
A 7 percent a year wage increase on its face is ridiculous in the current environment; however, due to the stupid political endorsements of this union, 21 percent over 3 years would almost restore the relative earning power members had before the last contract was enacted. You see SEIU endorsed candidates that raised taxes and fees so much in California that their members were worse off and had less take-home pay (in real dollars) at the end of the day than before the last contract was signed. To site a few specific examples, gas taxes increased, DMV fees increased, minimum wage increased which cause things in the state to become more expensive while simultaneously reducing earning power of people represented by the union, etc.
GeoPay and regional adjustments sound good on its face but…
What does this do for retirement? Is retirement now based on base wages plus regional earnings so in equal job classifications, two people from different parts of the state get different amounts when they both retire to Arizona? How is this fair? Remember when spiking retirement was an issue?
Housing differential…
Regional housing allowance? How do you pull this off? Actual numbers reported to state and union? Median pricing in a given area? What are housing costs? Rent? Mortgage? Water, gas, electricity, sewer, garbage? Does this make cable TV or Internet a right? Wouldn't raising the renter's credit on California income tax returns make more sense? Currently its $60 per year for single filers.
Healthcare Justice
SEIU wants all healthcare and vision paid by the state, pay for insurance for employees living in other states, and cap contributions to retiree healthcare at current levels.
Comments
California's state employees currently have most of their personal health insurance paid by the State—80 Percent. In addition state employees are covered by basic dental and vision plans. For an additional cost, premium versions of this insurance are offered to employees as well.
As for California paying for health insurance in other states, wow! So I can live in Oregon and work at Pelican Bay Prison and Gavin will pay my insurance in the Oregon healthcare system? Or you work for Cal Trans and live on the Nevada side of Lake Tahoe and you can get Nevada's insurance. Arizona would have to be in this mix too but where else? Would such a move allow California politicians to deploy lobbyists to other states to influence their healthcare laws to be in compliance with our laws?
The retiree healthcare contribution was implemented in the current contract as a way to set aside money now for healthcare premiums in the future. This fund is earmarked for use when current employees retire. This currently is 3.5 percent of wages. The final 1.2 percent of this withholding is scheduled to begin with the paychecks July 1, 2020. Total tax 5.38 percent.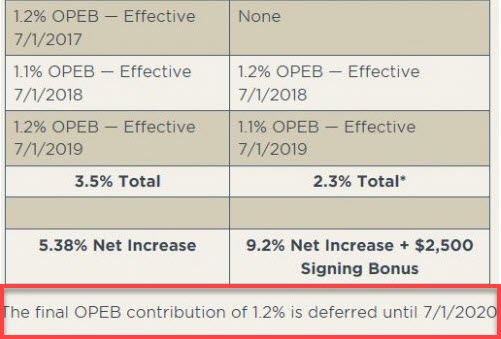 Worker and Family Justice
More flexible hours, telecommuting, 20/20 program, and long commutes.
Comments
Many SEIU employees work in offices with set business hours. SEIU wants flexibility of hours and schedules but for many people this is just not practical. Other than not offering a work schedule of four ten, hour days, the state offers many options where I work including lots of time off without using their generous vacation and sick policies. Apparently the union wants even more.
Telecommuting is not practical for many people represented by SEIU. Imaging allowing someone in the accounting department to work from home. The state will insist on supplying a secure laptop to such employees that have access to names, addresses, and social security numbers, plus info on wages and benefits; all from the comfort of home or Starbucks or Panera Bread, or … What could possibly go wrong with this? Note: if this idea doesn't bother you, ask a high school kid how secure he thinks your personal info–and everyone else's that you have access to–will be in this scenario and whatever dire things he says, triple the severity and you'll be close.
The 20/20 plan is getting paid up to 20 hours a week while you attend college and then work the other 20 hours. This does not appear to be limited to improving your knowledge to better perform your job for the State but for the sake of self-improvement.
Below is standard language for an existing program:
Employees interested in pursuing this opportunity shall develop an education plan and/or Individual Development Plan with supervisor input. The 20/20 program endeavors to provide the opportunity for employees to participate in state sponsored, college or university courses for up to twenty (20) hours per week without loss of compensation when employees would otherwise be scheduled for work. At the request of the Union, individual department(s) shall meet to explore the development of a 20/20 program(s).

MOU Page 311
Oh, applications for this program are sent up the department's chain of command as well as carbon copied to the union.
Conclusion
Dear taxpayers, thanks for generously volunteering to pay for all these wonderful benefits for government workers. It's too bad your employer doesn't have any money left to give you the same deal.
I'll keep you updated as our political class negotiates goodies for the unions that keep them in power. After all, it's the least I can do for you.