Meal kits are becoming very popular, with all kinds of players entering this space: Sun Basket, Home Chef, Blue Apron to name few. Recently Albertson's parent of Safeway bought Plated, and I was offered a free kit with my club card. Johnnie Does loves free stuff, so I had to check this out. The selection was not great, and they were a little picked over, and frankly there were some really exotic meal kits available. I chose steak au poivre, of the other kits available, there was Moroccan chicken, shrimp with glass noodles, and lasagna. This review will differ from my other reviews as ambiance does not apply.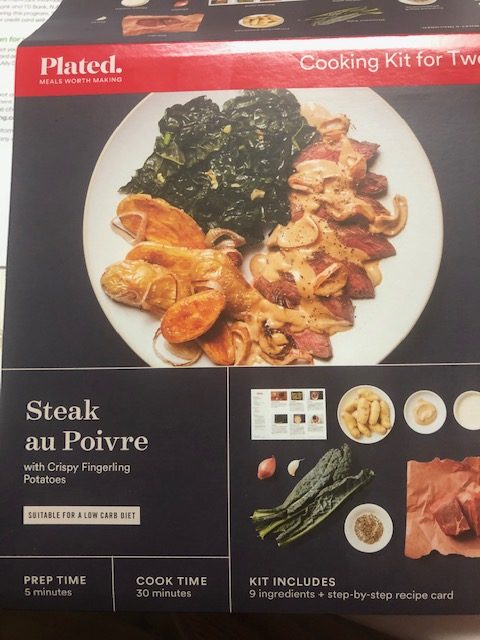 First an introduction, meal kits are very popular. In essence you sign up for service and they send you a meal kit for two, proportioned out and essentially ready to cook. These kits usually run about $20 each and you can pick what meals you want sent so you don't end up with tofu with marijuana buds. Just kidding about the last part, but they cater to every lifestyle, active, dieting, keto you name it. The steak kit is a meal for two consisting of steak, kale, and fingerling potatoes; also it came with all spices/liquids to fix the meal. That's right you cook it yourself. A very detailed direction manual came with it, walking you step by step to complete each part of the meal.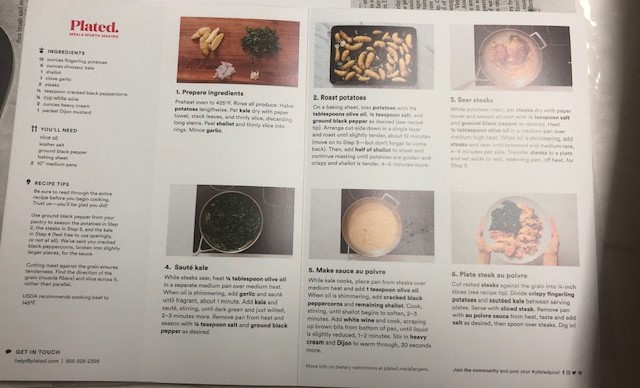 First I had to cut the potatoes in half length-wise, put them face down on a baking sheet, season with salt, pepper and olive oil and bake for 12 minutes. While they were baking I had to sear the steaks on a pan on the stove, I minced a shallot (fancy name for an onion) and added half of it to the potatoes and roasted for another 10 minutes. When the steaks were done I removed from the pan, and in a different pan added the kale (I had to chop it), olive oil, and garlic and cooked that down. While that was occurring I had to prepare the sauce for my steaks, it consisted of cooking wine, cream, and black peppercorns, all included with the kit. This took a few minutes, using the same pan with the steak's juices. Just like that, it was time to plate the meal. Easy 4.5/5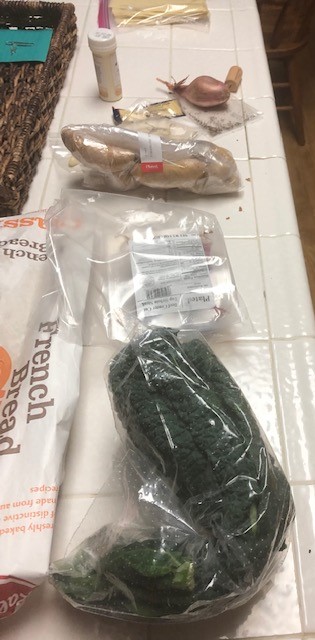 I was eating this kit by myself, so I plated it all on one large plate, sliced the steaks, and poured the sauce over them; I added some to the roasted potatoes as well. The kale cooked down nicely and I placed it between the potatoes and the steaks. The meal was very tasty, I'm not a huge kale fan but you cannot make any changes to the kit. 4.7/5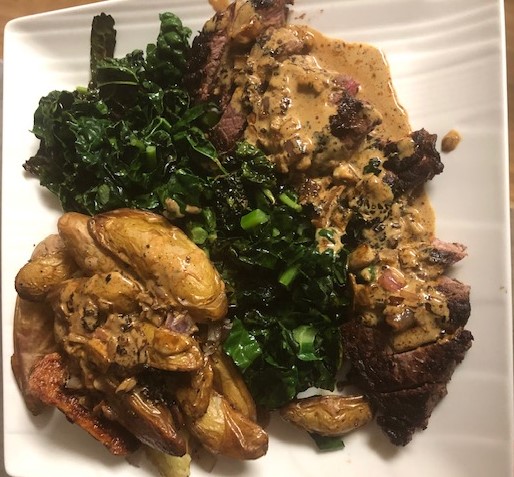 Overall: The ingredients were fresh so that was a definite plus; the directions were super easy to follow. All the spices and other items were included, so it saved on last minute trips to the store. The meal was awesome, but now the hard part, the negatives. The meal doesn't seem like 2 people could eat it and then be full, almost like you needed a dessert or an appetizer. Additions and subtractions can't be made, so you're stuck with the box's contents. You will use quite a bit in terms of dishes, this meal called for a baking sheet, and 2 different pans, so in essence you will fill the dishwasher up. On the issue of pricing; $20 seems fair if it's being shipped to you, which all of these companies do by the way, however the cost of said ingredients are far less expensive at the store. I understand convenience, and most people cannot cook these days, so I guess it's a decent product. Seems like a really cool date night, or like a night with the spouse dinner, but I think overall it's a bit pricey, now for $15 like it's advertised sometimes, I would be intrigued. I'll go 4.5/5 I like the concept and ease of the meal, and you can get quite adventurous as well.