I visited a fairly new establishment downtown about a month back, it is called Yard House.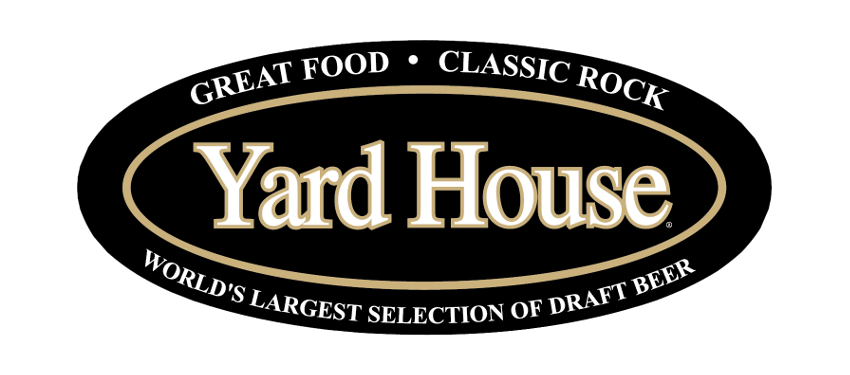 First some background, Yard House was bought by Darden Restaurants (owner of Oliver Garden, Longhorn Steaks etc.) back in 2012 as a small regional chain in the Northeast and has been expanding ever since. Yard House is an American sports bar type establishment, and has a claim to fame of offering over 100 beers on tap at all its locations. I decided to check it out, what follows is my review.
Ambiance: Yard House is very similar to BJ's Restaurant and Brew House in a sense they are both large open air establishments. Yard House has very tall beer glasses almost appearing like a bong on its doors…more on this later. There is a very large bar area, very large seating area, featuring booths and tables as well as a fairly large sized outdoor patio, covered and with ample heat lamps. The restaurant was fairly dark, not sure if it was because it was late (8 pm) or if this is done to set a mood. Hundreds of TV's donned the walls in various corners of the store, all were set to music videos, and the accompanying music was being piped in via a surround system…it was a little loud. I assume if a game was on, or football Sunday, this place would be rocking. They had all kinds of random pictures on the walls, it is definitely a place one could hang out while sampling all 100 beers. 4.5/5; half a point deducted for having a picture of "The Chief" on the wall, apparently they wanted The Chief to do the food review not Johnnie Does!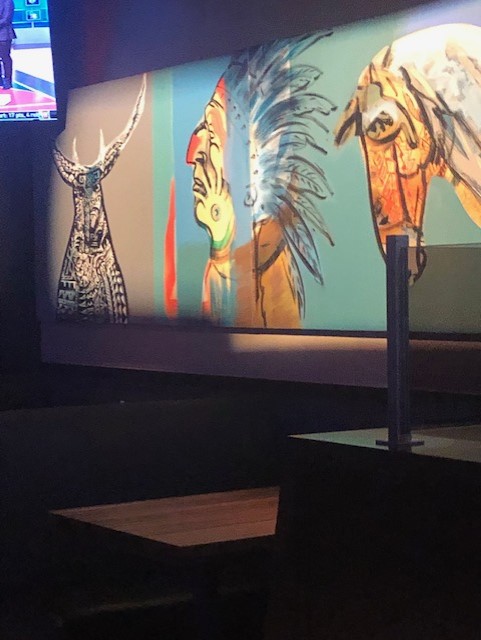 Food: Yard House has a menu that rivals Cheesecake Factory or BJ's. In a sense, there is definitely something for everyone; however, I also view this as a downfall. The menu basically was typical bar food like fried mac n cheese or nachos, to regular items like burgers, wings and pizza to high end items like steak, salmon, and sea food pasta. While I am sure this works great as far as something for everyone, it is very intimidating, and how many people instead of "trading up" for an expensive dish, decide to "trade down" for cheaper dishes? The wings were great, and my burger was perfect; however, the mac n cheese sticks were cold. I think this is due to the extensive menu and trying to have cooks make all of said food. 4.2/5

Drinks: I tried 3 beers–they have a sampler platter you can buy for a nominal fee; that essentially amounts to wine tasting. I liked this since it's hard to find something you like off a list of over 100 beers. I found one I liked and ordered a half yard….it's the same size glass donning the doors on your way in!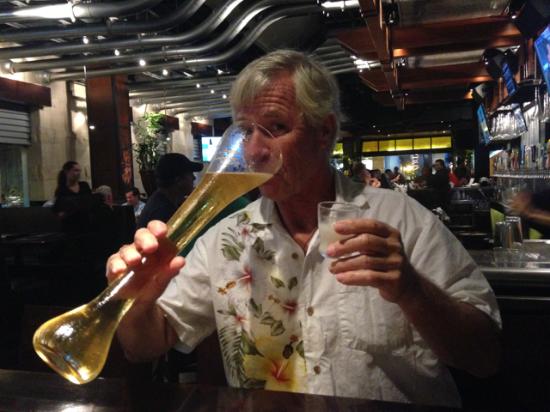 A large amount of beer and while I finished it, I did not need 1 more that is for sure. Great selection, cool glasses, I would say 5/5.
Overall: The service was awesome; I really liked the beer selection, and cool ambiance of the place. Only couple quibbles I have are the extensive menu, which I think hurts food quality control, and stock keeping must be a doozy, and the place just seems too similar to other restaurant's in the same competing space. I found it very similar to a BJ's or Cheesecake Factory or Buffalo Wild Wings and the lack of differentiation makes it a place that can get "lost in the shuffle of other chains" such as Applebee's, Chili's, Outback or Friday's. I just wish there was something different that made me want to return. That being said 4.5/5
I would most definitely return.