Yes, that was my first thought too when I saw this headline to the website for local TV station KCRA.
Ok, based on the headline, this is how I picture this going down:
The man with the sword was clearly a real life Jedi. The police confront him and he refused to drop the sword. He moves toward them and fearing for their lives, the police open fire. The guy with the sword, in a move reminiscent of a Bruce Lee movie or a Star Wars battle, uses the sword to deflect the bullet and it hits the offices instead. One officer is struck in the hand and the other is hit in the arm. At this point, the Jedi turns to flee and is struck from behind with a bullet in the head which ends his life.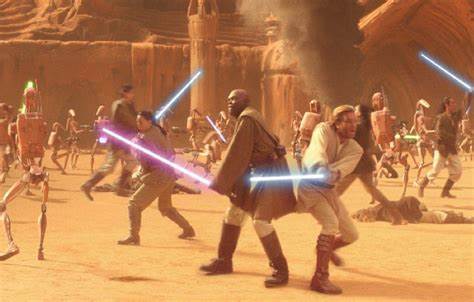 Remember that the winners write the history so here is the account from the police per Associated Press:
Two officers were wounded and a suspect was killed during a shootout after police responded Wednesday to reports of a man with a sword entering the Church of Scientology in Inglewood, California, authorities said.
The suspect was shot in the head and died at a hospital, Inglewood police Lt. Oscar Mejia told reporters at the scene. He was not immediately identified.
Gunfire erupted around 3:30 p.m. inside the front entrance of the church after police approached the man, who was wearing a hooded sweat shirt and wielding the sword, officials said.
One officer was struck in a hand, and the other was hit in an arm, officials said. They were hospitalized in good condition with non-life-threatening injuries, police Chief Mark Fronterotta said. Both officers are in their late 20s, the chief said.
Officials didn't say who fired first or whether a gun was recovered from the suspect.
Link: 2 California officers shot after confronting man with sword
Please note that nothing in the story indicates that the man was armed with anything other than a sword. So he either got the cops to shoot themselves or it happened like I said. I'll let you decide.