Oprah Winfrey's name is being floated as the Democrat candidate that can rid the political world of Donald Trump and reestablish the Democrat brand in Washington. Under her leadership, we will get a person much like Hillary but with a reputation of making us feel better about being a second rate people.
In the wake of her Golden Globes speech Sunday night, Oprah's people were talking up the prospect. Her longtime partner Stedman Graham told the L.A. Times, "It's up to the people. She would absolutely do it."

And NBC seemed to be on board. "Nothing but respect for OUR future president," the network tweeted…
The pundits swoon over Oprah for 2020 – but running for president is brutal
My wife came home from work yesterday and I asked her about this and the Liberals at work were joyful that Oprah would be their candidate. They were ready to go vote now. The lunch room was ecstatic at the prospect of Winfrey in 2020 and retaking the White House.
However, would Oprah subject herself to the scrutiny of a campaign?
Truthfully, I think it will never happen no matter how good a friend and supporter of the Obama or Clinton clans that she has been. She has much baggage that will haunt her. Below are a few reasons that she will never run.
After Oprah Winfrey's highly publicized speech at the Golden Globes sparked speculation of a presidential run, actor James Woods tweeted three pictures of her with disgraced Hollywood producer Harvey Weinstein.
After Golden Globes Speech, James Woods Shares 3 Photos From Oprah's Past
Here is one photo that actor James Woods shared on Twitter.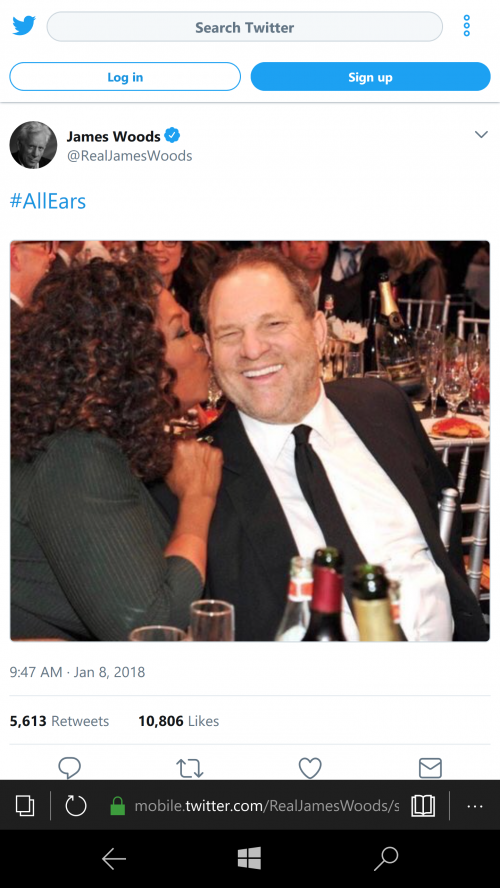 Another factor that would kill her candidacy is her residence. Lest you forget, Oprah lives in Chicago. Yes, the murder capital of America.  This place is owned, lock, stock, and barrel by Liberals. The guys running this place into the ground are her friends and supporters. Most of the violence is blacks murdering other blacks. Where is Oprah while this carnage is occurring? What has she done to help in her own backyard? She has armed security, drivers, and doormen to care for her. She can never claim to be "one of us" even if she came from an impoverished background.
Oprah is just the latest generic candidate.  Remember Colin Powell? Everybody liked him until he started taking positions on issues and then his political stock fell like a rock. He lost my interest when he came out for abortion on demand and defended Roe v Wade. Powell was just another RINO in a shiny uniform. Likewise, Winfrey is just another Liberal in a different package. If she is really as smart as people claim that she is, she won't run but will bask in the praise of the moment.
Liberals can't beat Trump this easily. Besides we just got rid of one President named "O" from Chicago, I don't think we need another.