My series on the Just Us Brothers has concluded. I have left out the third brother in this triad, but today we will spend some time with him too.
Today's long and sordid tale includes fraud, deception, treachery, jealousy and the stuff that you would expect from the novels of Agatha Christy or Allison Brennan. Some of this information was presented in previous blogs, but without context. Today, dear reader, you will get the context.  Once you do, you will be mad as hell. So without further explanation, here we go.
The seeds of their plan have been germinating for some time now in the fertile recesses of George and Aaron's minds. The original plan was revealed last year when Aaron proposed eliminating the office of Executive Vice President. Aaron pulled the proposed bylaws amendment, but was still moving forward. The goal was the same, but the path was modified due to changes in the battlefield.
The revised plan was to elect Aaron as Executive Vice President and then promote George to President of CRA. The Park brothers would control CRA. They could promote their friends and dismember their enemies. Like Barbara Alby and her friends, they could be major players in the State Party and the GOP.
The plan was moving forward until they hit some unexpected resistance on two fronts. In their own backyard were Barry Pruitt and the Nevada County Republican Assembly. The other obstacle was those nagging, pesky committees for Chartering and Credentials.
January 24, 2015
Despite their best efforts, the Park boys could only get to fifty percent on a two-thirds vote to suspend the charter of the Nevada County RA. They blamed Tim Thiesen and the Charter Review Committee for screwing up what should have been a slam-dunk vote. The opposition to the Parks at the January 2015 board meeting was led by Tom Hudson, the Executive Vice President.
When Charter Review refused to recommend a second suspension vote, the alliance the Parks thought they had with the members of Charter Review was broken. George shutdown access to the membership files and battened down the hatches to ride-out the storm until the Convention. Placer County RA was the host of the 2015 Convention and George was the Convention Director.  Going into the Convention, George and Aaron did not ask for help from the neighboring CRA units. Instead, they chose to run the entire convention themselves.
Annual Convention March 13 – 15, 2015
At the Convention, the Park boys controlled everything, including the Senate District elections. They were trying to shape CRA into one even more favorable to them. They purposely tried to keep paper copies of everything limited and in short supply. This was partly due to a lack of preparation and also a way to get items approved by the Board and Convention without too much scrutiny.
In the proposed 2015-2016 budget, George gave himself $4,000 for expenses. The CRA President was given $2,500 for travel expenses. This was their walking around money to build goodwill with local units and build a base for George's ascension to the Presidency. Who decided to abort the traditional Board meeting after the convention I'm not sure, but it certainly was.

John Briscoe would often negotiate business items with others on the Board and then get overridden by George and Aaron. The abbreviated Board meeting after the convention was one example and the other was the call for a May 30th board meeting. Briscoe agreed to it and then balked.
April 15, 2015
John believed that was the end of the meeting idea and had moved on; but eight state officers, seven district directors and seven deputy district directors thought it was necessary. Since Briscoe failed to act, they utilized a seldom used provision in the CRA Bylaws to call a board meeting for May 30, 2015 in Santa Barbara as was originally agreed to by John and eight Vice-Presidents.
At first, the Parks tried to disqualify enough board members to invalidate the call to meeting. They had leverage because they possessed the caucus ballots for the Senate District elections. No one has seen the ballots since Aaron and George took possession of them at the Convention. However, they could not theoretically disqualify enough Board members to invalidate the call, so they had John put up what they falsely called an alternative which was a July 25th board meeting. This was put to an online vote. Voting took place from April 15 to 20.
As results began to come in on the online vote, Aaron and George were dumbfounded. They had never been rebuked like this in CRA. This was their organization, how dare others oppose them.
Aaron decides to post his famous five blogs on April 17th. Then a curious thing happened, these folks didn't back down. They were pressing for more. It was clear that CRA was not the friendly playground that the Parks thought it was, so Aaron and George implemented plan B.
April 18, 2015
Before the voting period was even closed for the proposed July 25th meeting, the three Park brothers—Aaron, George and John—implemented their version of Operation Chaos.
Not only had they implemented a scorched earth approach on their blog, but they had done so behind the scenes as well. You know about the deletion of our records on Hightail and Mailchimp, but that was only part of the plan.
The other part of the plan required subterfuge and stealth. Also on April 18, 2015, Aaron Park registered the domain name for the website that he, George and John Briscoe planned to create. Impact Republicans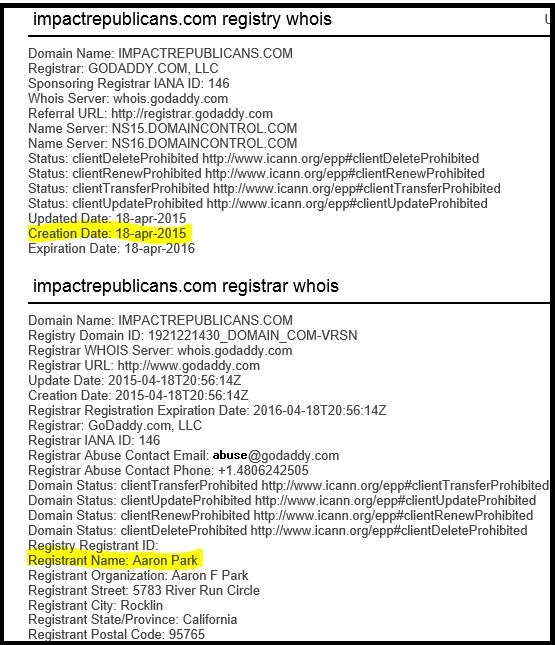 www.whois.com/whois/impactrepublicans.com
April 20, 2015
As a stall tactic, John Briscoe rolled-out the proposal for an Investigative Committee even before voting was completed on the July 25th meeting. This was their version of three card Monty. John was to keep the Board occupied while Aaron and George went to work.
Before forming their own group, the Park boys made an attempt to find a new home in another existing organization. Aaron and George began hunting for sanctuary within competing groups such as the Conservative Republicans of California. Can you imagine the stones these guys have to run Karen England from CRA, ban her for life, and then talk to her group and offer to join? Oh, and as an added bonus, they promised to bring at least one third of the statewide CRA membership with them.
Well, surprise, no one wanted them. So they did the next best thing, they started their own Republican club to compete directly with CRA. Their group is called CIR on their internal emails. To this end, Aaron and George repurposed the CRA membership lists.
It costs lots of money to start your own group. It was reported that Aaron was looking for at least five thousand dollars to start the new organization. It was also reported that he was having trouble finding anyone willing to write him a check.
April 21, 2015
Treasurer closes Legal Defense Fund account and transfers money to general account.
April 22, 2015
John Briscoe resigns.
April 26, 2015
Tom Hudson announces the results of the vote on the Investigative Committee, which was approved.
CRA website just happens to get hacked on this date.
April 30, 2015
George Park deletes the Hightail account and presumably the Mailchimp data also.
gparkjr Apr 30 02:20 pm

I have removed or already retrieved copies of all the files I need from this account. I have cancelled the subscription plan as well. Please delete the free account effective immediately and delete all data that my be left in the account immediately.
Senate District Director Carl Brickey emails the six additional complaints to the Parks and CRA Board seven and a half hours after George had deleted everything.
Here is date stamp from the email
Date: Thu, 30 Apr 2015 23:54:04 -0700
May 3, 2015
Aaron begins to blog about getting banned for life. Please note that the majority on the board did not call for this punishment. At this stage, most just wanted Aaron and George off the board and exiled to Placer County…although that opinion was beginning to change.
May 18, 2015
Convention Financial Summary given to CRA Treasurer with no supporting documents (receipts).
Today
We are six weeks into the Park Brother's version of Operation Chaos. Those of you that stayed loyal to them have been played for fools. They decided to leave before the first online vote was concluded on April 20th and twelve days before the ten charges were sent to them and the CRA Board.
Lastly, and we did save the best for last, is the proverbial smoking gun. You may read from their own email about their plans. The Sith Lord said you guys were idiots when it comes to technology. Here's the proof.
RE: Delays in producing CIR Documents??? We need to be ready to go on 5/30
—Forwarded Message Attachment—
Date: Thu, 21 May 2015 21:10:04 -0700
Subject: Re: Delays in producing CIR Documents??? We need to be ready to go on 5/30
From: benitagagne@gmail,com
To: aaronfpark71@yahoo,com; gparkjr@yahoo,com; tjblair62@yahoo,com; pres@cragop,org

The only changes to this section VI is the deletion of VP Charter Support and substitution of VP Endorsement and Legislation with job duties.

Todd, Marketing VP has outreach communications as part of the job description.

What job duties does the Engagement VP have in your view?
One suggestion: I suggest the order of the officers in Article V get carried over to Article VI.

Benita

Article VI – Officers Duties

Section 6.01.    President. The President shall preside at all board meetings and conventions of the CIR. The President is also the Chief Executive Officer of the CIR.  In order to serve as President of the CIR, the candidate for this office must have been a member of the CIR for a minimum of 3 years.

Section 6.02. Executive Vice President.  When or if the President is absent or unable to perform his/her duties, the Executive Vice President shall Preside and act as President. The Executive Vice President must be a member of CIR 3 years prior to being a candidate for this office. Upon the written resignation of the President, the Executive Vice President automatically assumes the office of CIR President.

Section 6.03. Regional Vice Presidents. Regional Vice Presidents shall organize and preside over regional endorsing conventions and be responsible for developing and starting new CIR Chapters. There shall be one northern Vice President and one Southern Vice President. A Regional Vice President must have been a member of the CIR for 2 years before becoming a candidate for this office.

Section 6.04. Administrative Vice President. The Administrative Vice President shall record the meeting minutes for all CIR Board meetings and shall be the custodian of CIR records not related to membership. The Administrative Vice President shall also responsible for internal communications within the CIR. The Administrative Vice President must have been a member of the CIR for 2 years before becoming a candidate for this office.

Section 6.05. Marketing Vice President. The Marketing Vice President is responsible for all outreach communications, social media, electronic presence, and media relations for CIR. The Marketing Vice President must have been a member of CIR for 2 years before becoming a candidate for this office.

Section 6.06. Membership Vice President. The Membership Vice President is responsible for all membership records, and verifying the integrity of membership data for CIR. The Membership Vice President must have been a member of CIR for 2 years before becoming a candidate for this office.

Section 6.07. Endorsement and Legislation Vice President is responsible for formulating and administrating a procedure for endorsing both candidates and legislation at the state level and assisting chapters, counties and regions to understand and properly engage in the endorsement process. The Endorsement and Legislation Vice President must have been a member of CIR for 2 years before for becoming a candidate for this office.

Section 6.08. Chief Financial Officer. Chief Financial Officer is responsible for the financial management of the CIR.  The Chief Financial Officer must have been a member of CIR for 2 years before becoming a candidate for this office.

Section 6.09. County Commissioners and Senate District Directors. County Commissioners and Senate District Directors shall execute duties assigned to them by the CIR Board of Directors. County Commissioners and Senate Directors must have been a member of CIR for 1 year before becoming a candidate for this office.

On Thu, May 21, 2015 at 6:19 AM, Aaron Park <aaronfpark71@yahoo.com> wrote:</aaronfpark71@yahoo.com>

That ROCKS!

Sent from my iPhone

On May 21, 2015, at 6:14 AM, Benita Gagne <benitagagne@gmail.com> wrote:</benitagagne@gmail.com>

Let me recap the status of the documents as I am aware.

May 19th: George sent out all documents via Dropbox. The Chapter Bylaws and CIR state bylaws have recent changes. The other three may not have had recent changes, however I don't know if Todd and John have commented/cleared them in the past.

We were considering adding an Issues VP – vacant – suggested name – Endorsements and Legislation VP; I think the VP Engagement was for Outreach.I suggest dumping the VP Chapter Support for now as it was created for me and I am not taking it. It can stay a Committee Function under the VP Admin direction, in my opinion.

My suggested workflow as of today, May 21:

I work up the VP job descriptions for my above suggestions and send them around. If that is agreeable I can have that done by tomorrow.

Receive Todd and John's changes (Track Changes option) on any and all documents. By Sunday morning if possible.

My status: Doing a final review. Estimated time/date for this review: Monday, May 25th if not before.

Aaron/George – please let me know if you are ok with this suggested workflow.

Benita

On Wed, May 20, 2015 at 3:51 PM, Aaron Park aaronfpark71@yahoo,com wrote:

Hi Guys – we are almost out of time.

We do not have two months. We need to be able to call people the first week of June and give them somewhere to go.

A lot of people are unable to visualize or grasp "something that might be". I have at least three units that need me to have something in front of them the first week of June.

you may not realize it – but once we get expelled, it is going to set off a mass exodus. If we do not have the unit transfer kit and the organization by-laws ready to go, we will miss the opportunity with several of them.

Please help.

Aaron F Park

http://www.rightondaily.com Blog
Cell 916-316-9570 Fax 916-244-0167
follow me on twitter @aaronfpark
Lastly, why C.I.R.?
Everyone knows Karen England's group is C.R.I. (Capital Resource Institute).
At least you could get original letters in your acronym.

George, Aaron, Benita, John, and Todd; don't bother showing-up of Saturday. We've wasted enough time on you guys. Just go away and take your three chapters with you. If you are fool hardy enough to attend the board meeting, be prepared to answer some though questions.