Dang. I thought I was done with this war in Israel stuff but this one really blew my socks off. Associated Press and Reuters had people embedded with Hamas BEFORE they attacked Israel on October 7th. Yep, Associated Press and Reuters had advanced notice that this surprise attack was coming. Oh, said people also did work for CNN and the New York Times.
These guys were posting photos of the Jewish folks being kidnapped by Hamas. They also photographed the body of an Israeli soldier who was dead being dragged thru the streets.
Let's be clear: News agencies may claim that these people were just doing their job. Documenting war crimes, unfortunately, may be part of it. But it's not that simple.

It is now obvious that Hamas had planned its October 7 attack on Israel for a very long time: its scale, its brutal aims and its massive documentation have been prepared for months, if not years. Everything was taken into account — the deployments, the timing, as well as the use of bodycams and mobile phone videos for sharing the atrocities.

Is it conceivable to assume that "journalists" just happened to appear early in the morning at the border without prior coordination with the terrorists? Or were they part of the plan?

Even if they didn't know the exact details of what was going to happen, once it unfolded did they not realize they were breaching a border? And if so, did they notify the news agencies? Some sort of communication was undoubtedly necessary — before, after or during the attack —  in order to get the photos published.

Broken Borders: AP & Reuters Pictures of Hamas Atrocities Raise Ethical Questions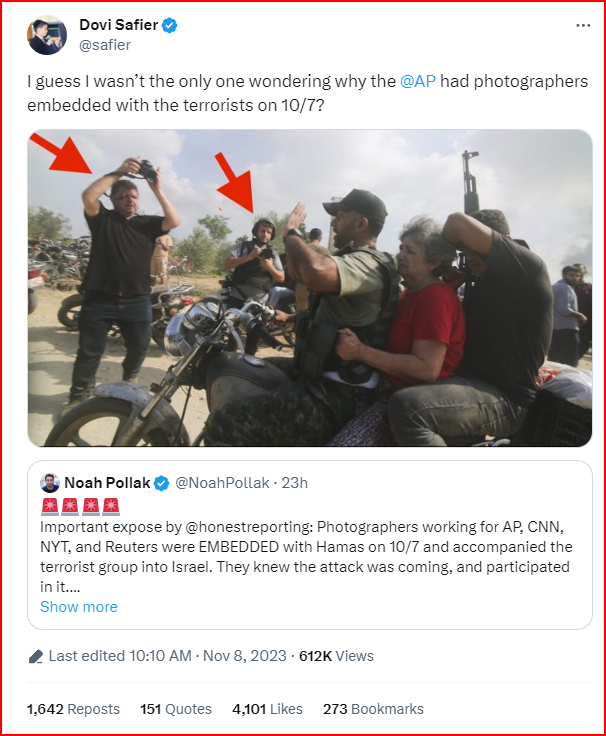 As if that isn't bad enough read this from a related article:
Photos posted by the news agencies of the surprise terrorist attack on Israel include ones showing terrorists breaking the gates to Kibbutz Kfar Aza, where residents were caught completely off guard and dozens were murdered. Photos also show that photographers were on the scene as terrorists took civilians such as Shani Louk hostage, and attacking Israeli tanks on the other side of the Gaza border.

The photos raise serious questions about whether the news agencies had advance knowledge that the terrorist attacks were taking place. The four individuals credited by the Associated Press for images of the attacks — Hassan Eslaiah, Yousef Masoud, Ali Mahmud, and Hatem Ali — are all photographers based in Gaza, where it was revealed in 2021 that the Associated Press shared office space with the terrorist group.

Mainstream Outlets Had Photographers Embedded With Hamas As Terror Attack Unfolded: Report
Did you get that last part? "… Associated Press shared office space with the terrorist group."
And Liberals wonder why folks like us believe that too many coincidences might mean a conspiracy. Every conspiracy denounced in the last few years has turned out to be true, and I think this one can be added to that list too.
Oh, on X (formerly Twitter) is a photo of photographer Hassan Eslaiah being kissed by Hamas leader Yahya Sinwar. Really, this guy's name in sin war? Can't make this stuff up.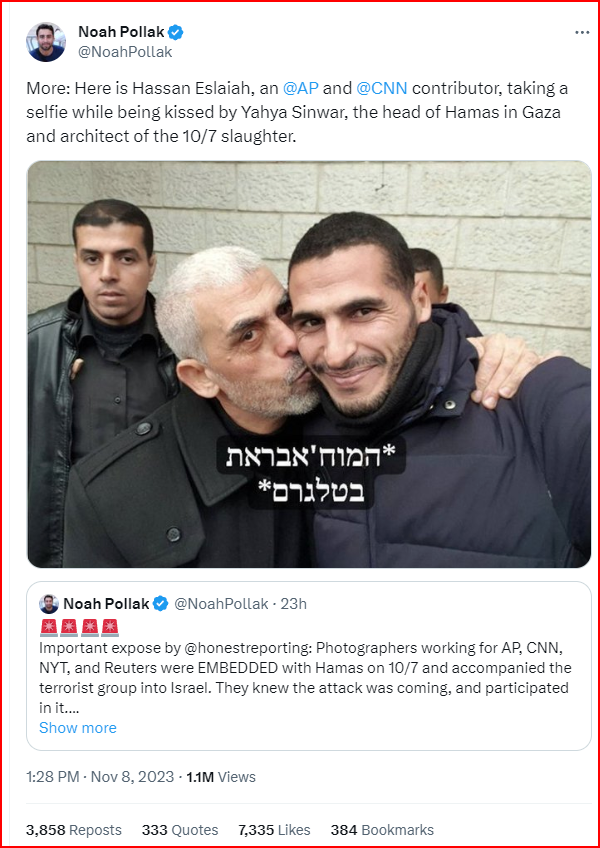 Lest you want to research this article, AP and Reuters have scrubbed their websites of much of the embarrassing photo credits, but the photos are likely still there without attribution.
Oh, per the article:
Reuters did not respond to a request for comment. The New York Times and CNN, which both have worked with the photographers in question, also did not respond to inquiries.
"When international news agencies decide to pay for material that has been captured under such problematic circumstances, their standards may be questioned and their audience deserves to know about it," the watchdog writes. "And if their people on the ground actively or passively collaborated with Hamas to get the shots, they should be called out to redefine the border between journalism and barbarism."
The article also takes a dig at the Old Gray Lady with the final paragraph of the article:
The New York Times is actively publishing stories from a freelance reporter in Gaza who has proclaimed admiration for Adolf Hitler.
This is a bad look for the mainstream media but wanna bet these photographers get a payoff at some point in the future? Maybe a Pulitzer? Maybe a visit from Massad? Meanwhile, look for photo credits from Gaza to be generic.