It is only right to check in on the depressed every so often because…well we need to make sure they are ok. So, we wanted to check back in on Simone Biles.
After doing a thorough check of her social media, we can confirm she was full of human excrement during the Olympics. Check this out, boy does she ever look bad.
Simone has been busy on her Gold Over America tour, but the gymnastics GOAT just got a much-deserved day off. Naturally, she made good use of her downtime.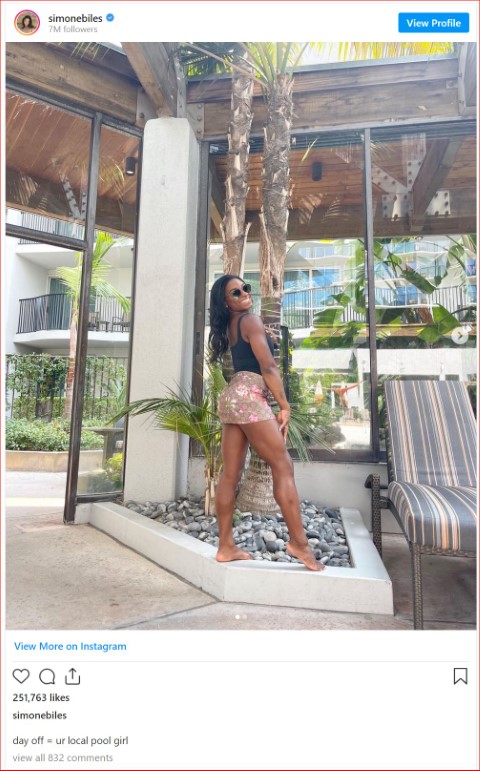 Simone shared some pics on Instagram of herself enjoying a little QT. There's Simone hanging out in a black tank and mini skirt by a palm tree, and Simone posing by a stack of bright towels. "Day off = ur local pool girl," she joked in the caption. Simone looks amazing in the pics, naturally, and it's kinda hard to miss the fact that her legs look super toned.

Simone Biles' Legs Look So Sculpted In A Miniskirt In New Poolside Pics
Yeah, she looks flat out depressed.  In the meantime, I wish we could check in on some of the girls who were left off the Olympic team.  You know the ones who couldn't make the trip so Biles could do the most American thing ever and grandstand?  However, like the question of how many licks to get to the center of a Tootsie Roll Pop…the world may never know.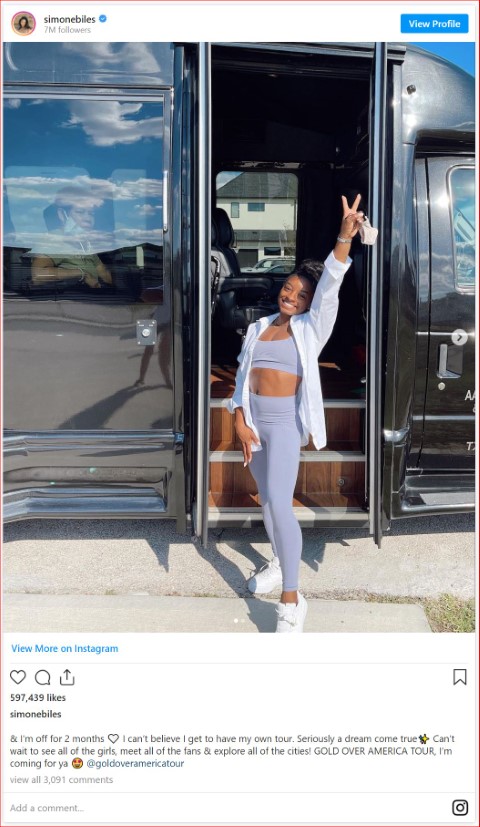 In the meantime, she was interviewed about her Olympic experience. Specifically, her getting the "twisties"
"Say up until you're 30 years old, you have your complete eyesight," she said. "One morning, you wake up, you can't see shit, but people tell you to go on and do your daily job as if you still have your eyesight. You'd be lost, wouldn't you? That's the only thing I can relate it to. I have been doing gymnastics for 18 years. I woke up – lost it. How am I supposed to go on with my day?"

Simone Biles says she never should have made the Olympic team
Yep, no one who is blind ever asks the questions how they will get through their day. What an aloof girl.  The Greatest of all time mind you.  So good at her craft a simple little thing like a mental health cramp shuts her down.  The horror.  Imagine her going through actual trauma like being blind.
She went on….
I should have quit way before Tokyo," Biles continued, "when Larry Nassar was in the media for two years. It was too much. But I was not going to let him take something I've worked for since I was 6 years old. I wasn't going to let him take that joy away from me. So, I pushed past that for as long as my mind and my body would let me."
Yes Simone you should have. What Larry Nassar did to you was terrible. The FBI screwing it up is par for the course, I do feel bad for you. But if your head wasn't right, you never should have made the trip. It exposed your lie about mental illness. As I mentioned above, she looks quite depressed doesn't she?
The Chief