Greetings, I decided to keep it local and hit up a Kabob and Gyro place just down the road from my office this week. Here is my review!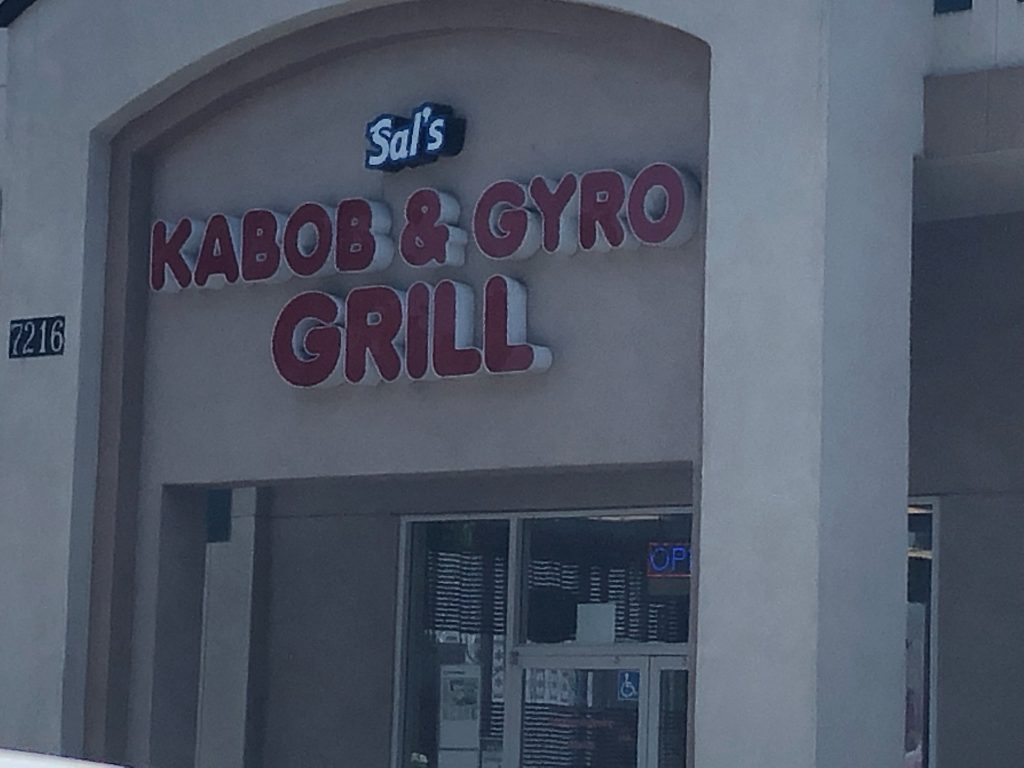 Sal's is a local small family owned business who recently opened a second store in Roseville, which is a strange trend I'm seeing in the family owned business area these days. Why have 2 stores over an hour apart? They serve traditional Greek food; kabob plates, gyros, shawarma wraps, and even have a burger on the menu. I visited the place twice just to get a true feel for the food and service, as the Yelp reviews are inconsistent.
Ambiance: This is a no frills, small business. They have a counter, you can see the entire kitchen similar to a Chipotle and can see the lamb and steak roasting on a spit. Seating is very limited; call it maybe 30 people could sit between inside and outside. 3.5/5 It's a low budget Greek place so I can't go too low, the family works there so it's not a bunch of hired help.
Food: So, I had the Lamb Kabob plate, it came with rice, vegetables and lamb. I thought it was decent. I ordered my plate medium spicy. At $13 after tax, it seemed a little high for lunch. Later in the week I came back, ordered a chicken Gyro medium spicy, with fries and a coke. It came to about $10 and I thought that was a decent price point. The gal behind the counter pointed to a refrigerator filled with cans of coke and said go ahead and grab one…I wasn't in the mood for a can of soda so I passed. I guess I should have been more attentive, fountain drinks are king and have a lower cost for your business by the way. I received my gyro after about 10 minutes, but no fries, I was told they were making them fresh. The Gyro was great! Chicken perfect and spiced wonderfully, the salad was good and the tzatziki sauce was awesome…a home run. I wolfed it down…poor thing didn't stand a chance against me…still no fries. I was ready to walk out as I was irritated at this point, because obviously I was being ignored, other people who ordered did subsequently receive their frozen potatoes thrown into a fryer and called done. She finally brought mine out and they were soggy and cold. I ate them anyway, and well, they were forgettable. 3/5
Overall: I try to support small business and this one could be good with a little better service and a soda machine. I understand in this era that cutting costs is a thing, but a can of coke and fries for an extra $3 is out of touch; especially considering the fries were cold when brought out. The Gyro was amazing and I'm going to order it again, and for $6.99 the price is great! The only other commentary I will add is the location is not easy to access so service needs to be at a premium! 3.25/5
We're going Korean and headed to Bonchon next!
"Johnnie Does"