By Johnnie Does…
Greetings, if you don't know me I'm actually a very good cook, as proclaimed by a former professional chef I know. Things took a rare turn this week and I felt the need to blog about it. As a Safeway club card member I received a free offer, or as the Blog Father would say…an offer I couldn't refuse, for a PF Chang's frozen dinner for 2 meal for a low, low cost of FREE. Free? Whoa! That's weird! I perused the aisles and discovered about 8 choices for said free meal, there was a shrimp one (yeah no) an orange chicken one (basically panda express) nope, I finally settled on Mongolian Beef. The bag seemed small, but I returned to my dwelling, opened said bag and into the frying pan it went. Don't know why it's called a frying pan when it sits over a burner, but oh well, away I went. I took a gander at the ingredients; and was pleasantly surprised; beef with sweet and savory sauce, onions, string beans, and red bell peppers not a bad combination at all. I immediately recognized the beef, string beans and red bell peppers, I didn't understand the odd brown blocks that looked like Lego's. After a few minutes of cooking it all came into focus, the sauce was frozen into the Lego looking bricks.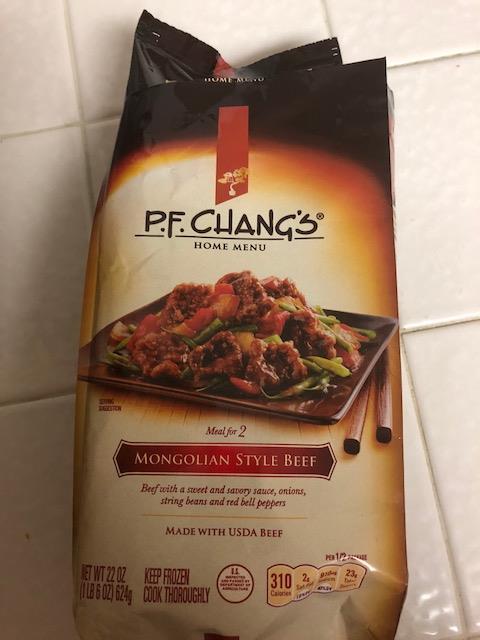 After about 15 minutes in a "frying pan" again…whoa that's weird, the meal was ready and transferred to a plate. I was not able to obtain the brown almost bamboo esque plate in the "serving suggestion" on the front of the bag, nor was I able to acquire the fancy looking chopsticks, so a generic white plate, and a small fork were used. All my large forks were in a cleaning device most call a dishwasher.
The meal was actually very good, sauce was great, the string beans and bell peppers had a nice crunch and great taste, the beef was right on point. I would go a solid 7.8 out of 10 on this meal. Again not an everyday staple but an every so often when the girlfriend or wife is gone and I need something quick and easy (other than a hooker) I would buy this one.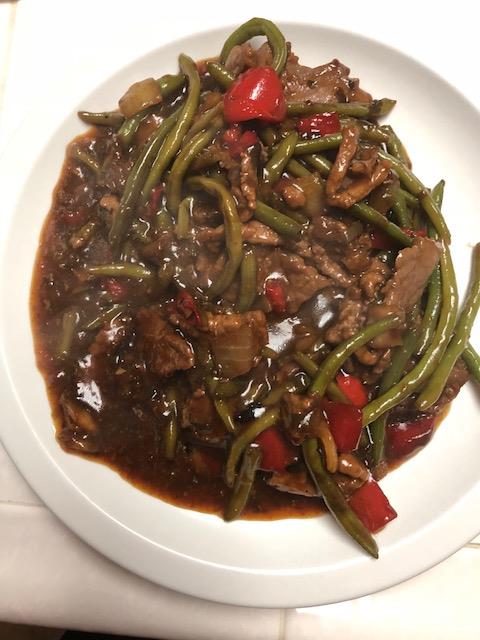 My big drawback was the meal is that it's not big enough for 2, it barely fed me…….Blog Father will collaborate my story I'm an average looking (besides the face for radio) 6 foot 200lb man… and it barely fed me. Which is fine, but the branding of a meal for 2….unless you're feeding Lindsay Lohan and yourself epic fail. The cost when not free didn't seem too out of line, $8.99 for the meal. Every so often I see Raley's advertisements saying $5 on certain Mondays. 310 calories per serving, which means 620 for me, because I ate the whole meal, not complaining, but yeah I would go for it again.

Johnnie Does

San Francisco coming this week.