Back when digital music downloads were in their infancy, many consumer choices were available. In 2001, Apple began their iTunes music while big music companies like Sony had their own services. Amazon decided to wade into this market as well. One reason was that Amazon got into the market is because Apple—in their typical snob appeal fashion—charged more for music from iTunes than other companies and furthermore, they required that it could only be played back on Apple devices. Amazon felt they could charge less and still be profitable in this market space.
Music Encryption
You may not remember this but back in the day, all music downloads sold by Apple were encrypted and only their software could unlock the encryption to allow playback. The only workaround for this was to make a music CD using iTunes and then using third party software rip the songs back to your computer. Once that was done, you could play your music on any device that you owned.
Rootkits
Both Apple and Sony had malicious defects in their software.
In 2005, Sony snuck rootkits into their music software and 22 million CDs that they produced. Rootkits operate at a level below the operating system and could be used to monitor your computer usage and download other software onto your computer without the operation system or antivirus programs being aware of its existence. This software reported user data to Sony without user consent or awareness. Sony produced these rootkits for many years before being outed by the Tech community. However, many of the CDs with preinstalled rootkits are still in circulation today. Link: Sony BGM copy protection rootkit scandal
SONY BMG can take two lessons from its recent wayward attempt to fend off digital piracy: One, in a world of technology-astute bloggers, it's not easy to get away with secretly infecting your customers' computers with potentially malicious code. And two, as many a politician has learned, explaining your own screw-up badly is often worse than the screw-up itself.
FYI: most Google Android devices are built with rootkit features that regularly report your phone info including address book and text messages to third parties including foreign governments which by the way does not include Russia. (We have previously documented these issues on our blog.)
Apple was aware of an iTunes a security vulnerability in 2008 but didn't fix it until bad publicity forced their hand in 2011.
Link: Wikipedia iTunes
Apple also has pushed out rootkits in their music software but since Apple calls it a feature of their program, people somehow don't get bother by it.
Ironically, this news comes on the heels of the recent Sony BMG DRM fiasco, a part of which included an undisclosed "phone home" feature of its own. Is the Apple MiniStore a rootkit DRM? Not from what we can tell, but it is part of a dangerous trend EFF has been witnessing in the digital music space market. When the music players on our computers start monitoring our listening habits, we've crossed a major privacy line. After all, my Sony stereo and my Panasonic boombox don't shouldersurf my listening habits when I turn them on, so where does Apple get off suddenly doing it on my computer?

iTunes MiniStore "phone home" feature part of a dangerous trend in data collection
My recollection is that there were others instances but Apple rarely admits publicly to defects in their security or software.
If you want to get deeper into music encryption, see this article
Hidden Feature in Sony DRM Uses Open Source Code to Add Apple DRM
Amazon Introduces Encryption Free Music
In 2008, along came Amazon and offered essentially the same songs as iTunes for less money and without the digital rights management (DRM) encryption. Eventually, Apple began to relax the DRM requirement and by the time smartphones were a thing (2009), the encryption of mp3 files was eliminated. (Please note that Amazon gets no credit from the Apple folks for breaking the Steve Jobs monopoly on digit music.)
As a result of their overpriced music and lack of trustworthiness, I never use iTunes for anything and am reluctant to install it on any computing devices that I own. Only when some other Liberal company or educational institution grants monopoly status to the iTunes store will I consider using it. Even if Rush Limbaugh or Hugh Hewitt or some other conservative media guy offered their shows for free as a podcast only on iTunes I would still not install it. Yeah, I really hate Apple that much.
Anyway, as time went on, Apple decided to offer a music matching service. The way it was supposed to work was that if you had an LP and recorded the music onto your computer and then uploaded it to Apple, if Apple had a digital version in their library, they would replace your LP ripped version with a clean digital copy—usually at a higher quality that your recording.
Amazon, as Apple's chief competitor in the music download market, implemented a similar offering. Both companies offered the ability to upload files and get the music match option. With an annual subscription, Amazon offered you the ability to upload up to 250,000 of your own songs; plus any music that you bought from Amazon did not count against the 250K limit. Thus the offer was not a dedicated amount of space on their servers but number of tracks. All this for $24.95 per year. Oh, and just to get you to try it, Amazon would let you upload up to 250 songs for free.
Ten years Later
In December 2017, Amazon eliminated the free 250 song upload offer. This month, the other shoe dropped on their digital music business model. It was announced that the paid subscription for warehousing 250,000 songs is going away.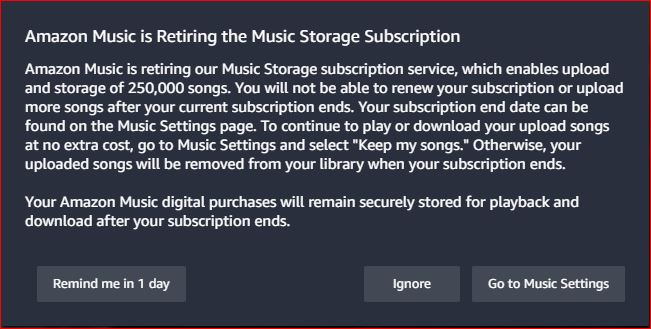 Interestingly, I have yet to see a single article on the tech blogs and news sites that I frequent that even mentions this move by Amazon. I guess maybe not that many folks utilize this feature. I guess the pirated music offered by Spotify is all the rage these days.
Overall, I've been happy with Amazon but I do have a few gripes. Amazon has neglected the music software that they produce. For most of its existence, album art that was wrong could not be corrected and sometimes after they rolled-out updates, the album art would be changed.
The music match offer that Amazon made was never well thought out from a consumer's point of view. Amazon software has never had the ability to give me a visual or other indication of when a music match was successful. This idea of the music match was to give you a copy of the song free of pops and scratches so prevalent in ripping LP tracks to a computer. The underlying assumption was that if you owned the LP copy, you had a license to entitle you to have a digital copy also—for your own personal use. Once matched, in theory you could then download a "clean" copy of the mp3 file.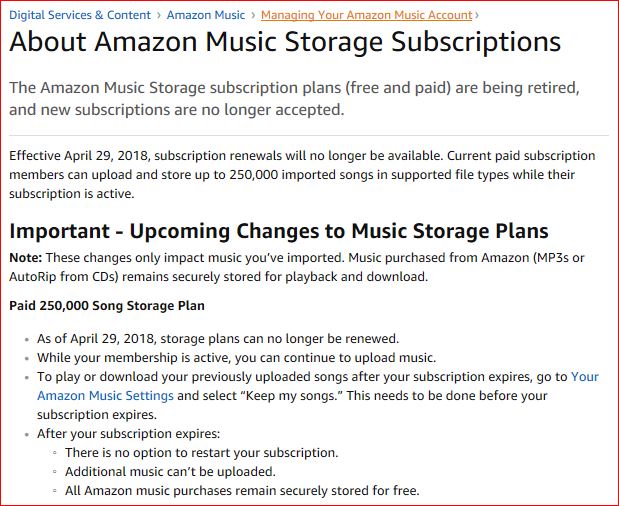 Amazon will let me keep what I have purchased from them but everything else is facing the digital chopping block. It is clear that rather I check the "Keep my songs" box in their webpage or not, my personal stuff will eventually go away. If they want, I suspect they could offer to sell hard drive space on Amazon Drive that could link to their media player but I think they are big enough not to bother with a bunch of us pesky customers anymore when they get so much money for hosting corporate data. At least when Microsoft got out of the music service business, their software will still play music warehoused on OneDrive.

I also like Amazon Music because it is not blocked by the draconian firewall where I work so I can stream anything from my vast library of music. I'm sad that this option will soon go the way of Toys R Us.