G.K. Chesterton's philosophical opponent, George Bernard Shaw is quoted as saying, "Youth is wasted on the Young."  This is one of many ideas that came to mind while reading the latest missive from Jess Winton. Another is a quote that some have attributed to Charles Darwin; "I was a young man with unformed ideas."
Winton and his father produced a pro-gun film called Targeted: Exposing The Gun Control Agenda. It was released at the end of last summer with the hope to inform folks about the agenda of the Left and to influence the upcoming November election. I have previously blogged about attending the premier of the film with Jesse, his father, and others that were in the film. Link: Targeted
Now, six months after it was released, Jesse Winton has decided to repudiate and renounce the film.
Here are a few excerpts of his essay.
"I regret making Targeted."
"I spent four years of my life making a project that, for a time, I was proud of."
"So, I regret making Targeted. I regret that it was fundamentally biased toward a particular viewpoint. I regret that it lacked empathy towards anyone that wasn't a supporter of the Second Amendment, instead judging their motives as evil."
Link: Why I Regret Making Targeted
I knew Winton and his family while they were making the film and know several folks that were extras in the film. Were this all that Jesse repudiated, I would still be shocked but unfortunately, he has made other more disturbing statements. The only difference is that I got a copy of this statement before he deleted it.
You see Jesse doesn't have the courage of his convictions to stand by what he says. Twice I found Facebook posts that he initiated where as soon as he was caught advocating positions contrary to the theology of his father, he would delete the posts. One was a full throated defenses of "gay marriage".
Jesse has left the Calvinist reservation and gone in another direction. Two themes that you will see repeatedly are his proclamation that he is a Libertarian and that he has a hatred of Donald Trump.
"Firstly, hear me say very clearly that … I am staunchly Libertarian. I have a hard time with Conservatism and the ways that it has manifested itself in our culture today."
OK, what does this statement mean? Winton repudiates both Liberals and Conservatives and thinks that Libertarianism is a better way? Really? To some folks, Libertarians are all about live and let live; in a non-judgmental sort of way. The problem that I have with Libertarianism is that followed to its logical conclusion; it is a repudiation of Christianity. Sin is an integral part of being Libertarian. Prostitution, drug use, abortion, homosexuality, and a host of other things (euphemistically called "victimless crimes") are perfectly fine according to a Libertarian worldview. However, all these are contrary to Biblical teaching.
Conservatism is not the same as a Biblical worldview but it often comes closer than either Libertarianism or Liberalism. Conservatives and Christians have many things in common. Politically, we both believe in limited government and that morality has a place being codified into law. The civil law exists to protect citizens from harming themselves and others, punishing crime, and defending the nation. All these are anathema to the Libertarian mindset.
Christianity does not allow room for the axiom, "My country right or wrong" or "the ends justifies the means" as some Conservatives seem to believe. The family, Church, and State have clearly defined roles. The Bible does not proscribe one form of human government as superior to all others but it does say that God's Law is Supreme. Nations and their people are judged on the basis of how well we uphold His Standards.
This brings up to Donald Trump.
"Unfortunately, what we're seeing now under the Trump administration is the result of years of divisive politics that gave American's an excuse to not listen to each other. Everyone looked for ways to point fingers, we searched for methods by which we could confirm our own bias, and on a small level, Targeted was part of that. Fortunately, Targeted's reach was limited. But it still had a reach. And I wish it hadn't."
This paragraph is full of nonsense from someone that should know better. Donald Trump is not now nor ever been a Conservative. Trump is outside of traditional political categories. He is President today because he said in effect, "a pox on both your houses" to the Democrats and Republicans in elected office. Trump called them frauds and said somebody needs to get off the track Obama put us on and go another way.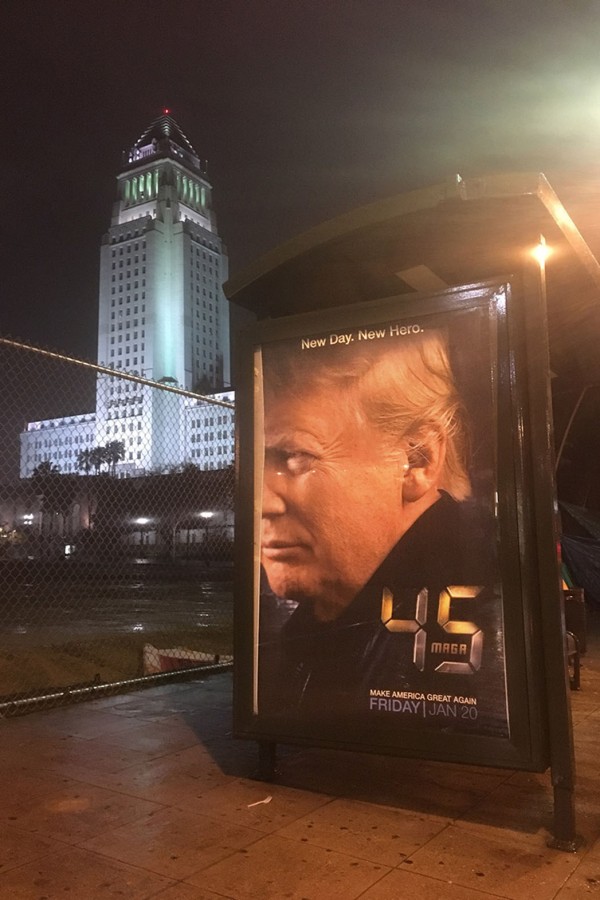 Last time I checked, there was a battle for the hearts and souls of men and the political divide in this country is along spiritual lines even more than policy ones.
If you look at Winton's Facebook posts (at least the ones he hasn't deleted yet), you will see that he endorses the Trump = Hitler meme. Last week, he has posted about Trump shredding the judiciary because Trump is not happy with the Ninth Circuit Court. The Ninth Circuit should have been dismantled back when Reagan was President, the fact that Trump is willing to say it is a good thing and long overdue.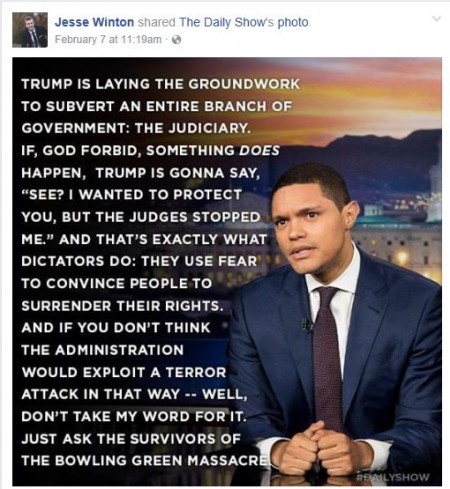 Jesse seems to want popularity and praise more than standing for Truth. He reminds me of another film maker that departed from the faith of his father, Frankie Schaeffer.
Another thing that Mr. Winton seems to willfully ignore is that Donald Trump is there because God put him in office. And yes, ditto when Barack Obama was President. Obama was a judgement from God on our nation for rejecting His values. One of the punishments promised in Deuteronomy is the foreigner ruling over us and whether you think Obama was born in Hawaii or not, his values were not American values but something else. Obama was the first openly Communist or if you prefer, International Socialist President.
Whether Trump is another form of punishment or the savior of the American way of life is yet to be seen. So far, I have no complaints in what he has done. Trump seems content for the church and the family to carry-on without interference from the national government and from my perspective that is a refreshing change from the tyranny of the Obama administration.
Winton also spends part of his article dumping on the guests that he had in his movie. This too I find disingenuous. Unlike many bloggers, I spent part of my time in junior high school thru college in the practice of journalism. I know that part of the craft is finding quotations that help your article. You typically either go to an expert in the field or someone involved in the issue which you are writing about. Just because I quote someone does not mean that I agree with everything that person stands for. Case in point is this article when I quote George Bernard Shaw. I would find much more agreement with Chesterton than Shaw on almost any subject but quoting Shaw makes my point in that particular instance.
Speaking again about Targeted, look what Winton has to say:
I regret that it was endorsed by someone who said that Rosa Parks' contribution to civil rights was "absurdly inflated." I regret that it was endorsed by someone who's sense of class prompted him to compare pictures of Hillary and Chelsea with pictures of Melania and Ivanka with the caption "Make America Hot Again."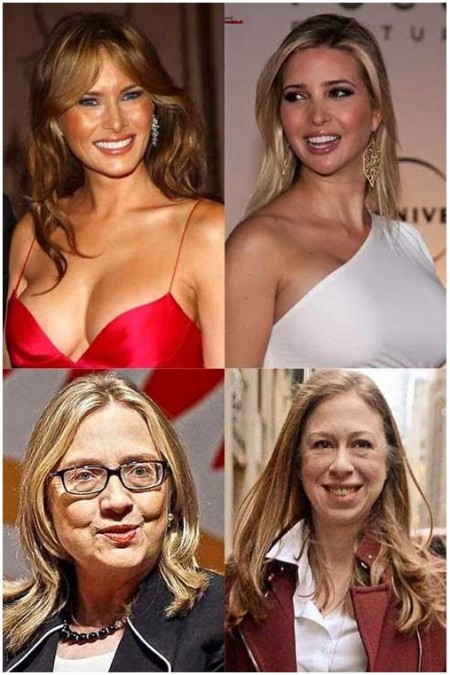 Undeniable truth of life #24 comes to mind "Feminism was established so as to allow unattractive women access to the mainstream of society."
Winton is using a classic logical fallacy of the Ad Hominem attack.
Arguments of this kind focus not on the evidence for a view but on the character of the person advancing it; they seek to discredit positions by discrediting those who hold them. It is always important to attack arguments, rather than arguers, and this is where arguments that commit the ad hominem fallacy fall down. Link: definition Ad Hominem
Winton chose who to have in his movie either because they were a subject matter expert or because he was able to get quotes to bolster his argument. Attacking their character now is way too late. Jesse, you presented them as experts on the Second Amendment and nothing that you say about them now in your current rant diminishes that expertise.
Just because somebody shares something on Facebook because they think it's funny is not sufficient grounds to throw them under the bus so Liberals and fellow Libertarians will like you more.
Jesse had a choice to make and he chose Libertarian values over biblical ones. They may appear to start in similar places but they end in very different destinations. Jesse seems content to swap his birthright for a cup of stew and that's too bad.
In "Ode to the Outlaw", Gary Paxton wrote about "that prison of freedom called hell" The only people with "freedom" in our society are homeless ones, everyone one else has someone telling them what to do. As Bob Dylan said it, "You gotta serve somebody." Jesse mistakenly thinks freedom is the ultimate value. Sorry Jesse, God's Law is the ultimate value not personal freedom.