A week ago, my financial institution killed my ability to use Microsoft Money. Up to this point, I've been happy with Golden 1 Credit Union but this move has given me pause to consider moving my finances to another business.
Three reasons why I'm not happy:
• Golden 1 lied
• Quicken is inferior
• Privacy and Security concerns
Golden 1 Bad IT Guys
Golden 1 lied to their customers when they claimed that their software upgrade just made their site more secure and gave customers more options. They never stated that they would be discontinuing support for Money ahead of the upgrade. Not in emails to customers nor on their website. This is lousy customer service. In fact, they state just the opposite.
Does everything work the same as before the upgrade?
We worked hard to make sure that all functionality within Online and Mobile Banking remains the same.
https://www.golden1.com/OnlineServices/NewLook
The above statement has clearly been proven false.
My wife and I wrote to Golden 1 about this and got the following response. In effect, we were told to go pound sand.
Thank you for your email. Microsoft Money was discontinued in 2009, therefore it is not compatible with our website. Although you may have been able to use the service after it was discontinued, technical support is no longer offered. Golden 1 supports Quicken for Windows 2014 and 2015, Quicken for Mac 2007 and Essentials, as well as Buxfer and Mint.
When Golden 1 upgraded their website, the Quicken file format changed from QIF to QFX. I think they hosed some Quicken users as well.
Again, money was compatible with their website before the upgrade.
Quicken Inferior by Design
You may ask why I'm so upset? Quicken has always been an inferior product to Money.
Here are some samples of the differences:
Transaction entry screens


Money gives you a way bigger area to enter a transaction on the same screen as your account register. In Quicken you have to resort to pop-up windows to find something comparable. This is a clunky design that is not user friendly.
Money lets you hide items that are reconciled without affecting the bank balance.  This allows you to limit your day-to-day interaction to recent items. Historical data is one mouse click away. If you try this in Quicken it will literally change the numbers that it shows for your bank account. This is stupid behavior.
I do accounting for a living. My bank balance is a record of withdrawals and deposits and that is the only things that should change it. If I want to slice and dice my financial information, I can run a report. Reporting is a separate tab in both programs.
In Money my ending balance is my ending balance and the check register stays the same (reconciled items are older and to see them you just scroll up).
In Quicken, this is a convoluted question. If you select to show only unreconciled items instead of all transactions then the running balance in the account goes into crazy land.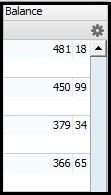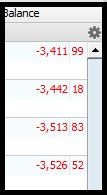 Here are screenshots for the same transactions in Quicken toggling between All Transactions and Unreconciled Transactions. In money the running balance would not change.
The download and matching of transactions in Quicken also seems inferior to Money. Matching transactions in Money was intuitive but Quicken requires much more clicking to do the same task.
The other gripe I have is the invasiveness of Intuit. When I install Money, I click on setup.exe and install the program and go. If I have a Money file, I just double click on it and I'm off to the races but Intuit is different and not in a good way.
When I installed Quicken, it offered to import my Money file. Once I did that, I was forced to go to a registration screen and either create a new Intuit account or login and tie-in my Quicken account to my Turbo Tax account. Without your financial data being tied to Intuit via the Internet you cannot run the program. 
Quicken also gladly offers to keep a copy of all your banking data on their website. As invasive as their program is, I wonder if they are anyway.
The Quicken program does not have a product key required for installation, just the requirement that you have an Intuit account. Without a product key, Quicken can be installed on as many devices as you wish but the program needs an Intuit account in order to run.
Quicken Bugs
I did experience two bugs in the program while messing with all this nonsense.
First, on my Windows 10 desktop, Quicken was unable to connect to the Internet. After messing around for longer than I should have, I finally found the "Mondo Patch" for Quicken 2016.
Link to Mondo Patch
Once installed, I was able to get beyond the registration screen.
I later installed Quicken on my wife's Lenovo laptop and did not experience this issue. After waiting about 10 minutes, the program finally patched itself before completing setup.
A second bug that I experienced was the mess Quicken made of my Money file. Quicken duplicated about twelve transactions in my check register and overstated my bank balance in excess of $4,000. Quicken created duplicates of items that had been reconciled in the previous month plus some other nonsense. I really hated going into my check register and deleting transactions but that's what it took.
Not a good first impression!
Price
Before I get to my next section I did want to mention price.
Microsoft Money Sunset is a free download Money Download is here
Of course I couldn't just get the basic version of Quicken, I needed Quicken Deluxe to import Money files. The program sells at Fry's and Best Buy for $75. Thankfully, it sells at Sam's Club for $55.
I wish back in the day that Microsoft had purchased Intuit but the Clinton Administration nixed the deal.
The Microsoft Corporation, in the software industry's largest acquisition ever, agreed today to acquire Intuit Inc., the producer of the leading personal finance program, Quicken, in a stock swap valued at about $1.5 billion.
Microsoft to buy Intuit
Privacy
I have problems with all my personal information being retained by Intuit. Over the years my concern has grown. I have come to understand that they are retaining large amounts of data on users of their products.  This information is a lot of knowledge and corporate power that they could wield. Intuit is maintaining files on millions of people.
Writing about Mint—another Intuit company—and online privacy concerns I found this:
Finally, besides security issues, there are also privacy issues associated with using such sites. The sites are sitting on financial behavior information that would be extremely valuable in aggregate to marketers and others if they chose to sell it, an option Mr. Patzer of Mint.com has spoken about in the past.

Plus, even if a site promises now not to sell aggregate data about customers, it could change the agreement at any time and go ahead and sell the data. In addition, if such sites go bankrupt, even if they currently don't sell data, trustees may decide to sell it to maximize the value of the assets.
Should you trust Mint?
I found this in the Quicken privacy policy.
If Quicken or its assets are acquired by another company, or in the event of a merger, consolidation, change in control, transfer of substantial assets, reorganization, or liquidation, we may transfer, sell, or assign to third parties, information concerning your relationship with us, including, without limitation, personal information that you provide and other information concerning your relationship with us.
Quicken Privacy Policy
See also Quicken-Intuit privacy hole
Bottom line is "we might keep your info safe but if we transfer it elsewhere, you're on your own".
Also, in the privacy notice, it says NOTE that on April 1, 2016 Quicken has changed ownership and is no longer a part of Intuit.
The notice then goes on to say that Quicken will continue to use the Intuit ID
This will remain in effect as a service that Intuit provides to the Quicken organization.
So presumably Intuit gives Quicken a copy of my financial data because I use their log-in services?
So does this mean hackers have two sets of data they can target? Or can be sold to a third party?
Security Concerns
Intuit seems to have better image control than the University of California at Davis campus.
However, every once in a while, their company makes the news.
As you might recall, there was a security scare with Intuit just last year.
On Thursday the company had stopped transmitting state returns filed via TurboTax because of "an increase in suspicious filings and attempts by criminals to use stolen identity information to file fraudulent state tax returns and claim tax refunds," Intuit said in a blog post at the time. The company began transmitting state returns again on Friday afternoon Pacific Time after determining that the faked filings "did not result from a security breach of its systems," according to a follow-up post.
http://www.cnet.com/news/turbotax-back-to-full-speed-after-fraud-concerns/
Intuit glitch affects one percent of their users.
A programming glitch in Intuit Inc.'s TurboTax software has posed a potential security problem for as many as 150,000 users and may force them to change their passwords, the company said Thursday.
ABC News Technology story
That's right, one percent is 150,000 thousand users. That means over 15 million use Turbo Tax.
As more people move to web based solutions, I think the likelihood that Intuit or Quicken gets hacked increases. I wish consumers like me could reduce this part of our digital footprint to minimize the impact that this will have.
Conclusion
I sure miss the old days of keeping my finances between me and my bank.