I was ready to touch on the pension issue in Dallas but that will have to wait.
ESPN… seriously? This past weekend was huge for college football and you chose to push your liberal agenda.  First things first, William has done a great job recently laying out the agenda that ESPN and other major television networks have been subjecting viewers to in the name of entertainment.  However credit X for bringing this to the light a while back in one of his earlier articles.
Anyway back to the college football game X was watching this past Saturday night.  Virginia Tech and Clemson, not because I like college football—honestly X could care less—but after working outside all day it was a nice break.  The game hadn't started yet, and Chris Fowler, the announcer of the game (more on him later) begins the game by saying, the ACC Championship game is usually held in North Carolina, but is being held in Florida this year due to HB2.  (HB 2 is the so called "bathroom bill" saying use the bathroom of your gender, not the gender you think you might be that day.)  In all fairness, I have no issue with this statement by ESPN resident lowlife Chris Fowler, however he couldn't help himself.  Fowler continued, "…this law is very harmful and discriminatory of transgendered people, and I support the ACC moving the game out of North Carolina."
Sadly this has been the standard method of operation for ESPN for a while.
William and I have both laid out that ESPN has been bleeding viewers for about two years now as more and more people such as William have cut the cord.  X has delayed cutting the cord as his "great deal" from Frontier has yet to run out.  But back to my point, I do not tune in to ESPN to get my political news; if I wanted that I could turn to the CRA website…..oh wait they aren't relevant, so I would probably turn to Fox News.  At least Fox News would have been fair and balanced—even Megyn Kelly would have been better than that political crusader, Chris Fowler.
In all honesty, I'm not sure what Fowler thought he was doing. I'm not sure if Fowler is a) transgendered himself, or b) has a friend or family member who is transgendered.  I really don't care whether he does or doesn't or with whom; enough of your political rants already. I don't want to hear it. I'm trying to watch a game and relax not get your take on the political hot button issue of the day.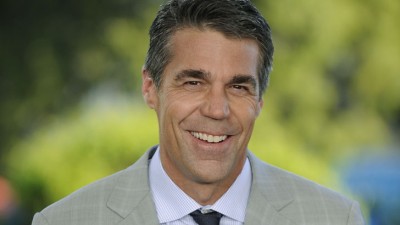 Now to my commentary regarding Fowler…..Fowler is a sexual deviant. I know a very close friend who has seen it firsthand.  A few years ago, Fowler was spotted by a person I will call "FOX" (a fiend of X) with fellow ESPN college game day host Kirk Herbstreit at a bar in Middle America. Both men were drinking adult beverages following a game they had announced together.  What my friend observed was behavior so outrageous that it was reported by "FOX" to ESPN's human resources department.  The story relayed to me was this:
Fowler had way too much to drink, as did Herbstreit, but Fowler was acting a mad fool as the young people call it.  Fowler was not only doing cat calls as young coeds walked by, he also was grabbing quite a bit of derriere.  Actually Bill Cosby may have been jealous, as Fowler was so out of line.  Worse yet he was openly bragging about how he worked for ESPN, and worst of all, Mr. Chris Fowler is married or at least he is when he is in his hometown…..yeah think about that for a minute, his wife, Jennifer Dempster, is a female model/bodybuilder.
Like a fool returning to his folly, Fowler stuck his foot in his mouth yet again after the broadcast. While commenting about a scenario in which the football playoffs had five eligible teams and only four could make the playoffs, Fowler, after listening to a couple guests, said he was flip-flopping on his picks and compared the situation as being similar to the winner of our recent Presidential election and his flip flopping.  Thanks Fowler, you hate Donald Trump, we get it.  Next time rather than listen to you, I'll just cut the cord from cable, maybe then I can get some real rest and relaxation. I pray nightly that you make peace with your wife because based on the stories I've heard and those reported to me by witnesses, you need quite a bit of help.
Until next time,
X